You Guys, Betsy DeVos Says You Really Hurt Her Feelings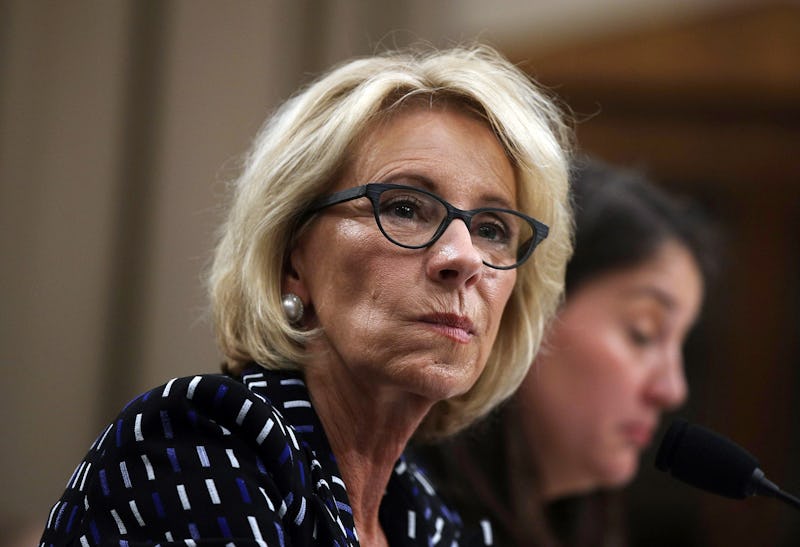 Alex Wong/Getty Images News/Getty Images
In a meeting on Thursday, Education Secretary Betsy DeVos reportedly defended her record to a small number of reporters from different media outlets. Specifically, DeVos called it "hurtful" that critics claim she's failed to defend the civil rights of American students, and insisted that there's nothing in her record to warrant those accusations.
According to a report from Politico Wednesday, DeVos said that it's "hurtful to me when I'm criticized for not upholding the rights of students, the civil rights of students," and claimed that "nothing could be further from the truth." Both congressional Democrats and civil rights observers have criticized her for changes to how the Department of Education handles civil rights enforcement; back in June of last year, the department announced it was scaling back investigations into civil rights violations at universities, as the New York Times reported.
From the very moment she was announced as Trump's pick to lead the Department of Education, DeVos ― a longtime advocate of charter schools ― has been a hugely controversial figure. Throughout her first year in the job, she's rescinded a number of Obama-era policies and education guidelines, including changing the standards and protocols for handling sexual assault allegations on college campuses, a move which drew a huge amount of attention and scrutiny.
DeVos reportedly also addressed the department's changes to the government's collegiate sexual assault guidelines last year. She told the reporters that she hoped the new interim guidelines ― which changed the burden of proof for schools weighing sexual assault allegations from a "preponderance of the evidence" to a standard of "clear and convincing evidence" ― wouldn't have "a chilling effect on any student who has been a victim of a sexual assault or a sexual crime."
"I don't think that the interim guidance that we provided ultimately really does that in any way," DeVos reportedly told the assembled reporters. "And again, I hope that nobody who has been involved in any kind of a sexual assault would feel in any way impeded from coming forward and telling their story. There's nothing about the guidance that would suggest or encourage that."
Critics of the Obama administration's guidelines argued they made it too easy for students accused of sexual assault to be disciplined or expelled without due process, while supporters maintained the guidelines leveled a long-unjust playing field by empowering victims. In short, both the initial Obama guidelines and DeVos' changes to them have stirred controversy.
Out of all of Trump's early cabinet nominations, DeVos resulted in perhaps the most public outcry, with congressional phone lines reportedly jammed up by concerned citizens who didn't want to see her take over the Department of Education. She was nonetheless confirmed by the Republican-led Senate 50 to 50, with Vice President Mike Pence casting the tie-breaking vote in her favor.
Since assuming the job, however, she's maintained a lower profile and generated fewer headlines than some of her fellow cabinet members, like Attorney General Jeff Sessions, or former Department of Homeland Security chief John Kelly, who ultimately switched jobs to become Trump's chief of staff.
The changes to how the department instructs universities to handle allegations of sexual assault, as well as the cut-backs on civil rights enforcement, likely rank as the most controversial actions the department has taken under her leadership.
And judging by her reported comments on Thursday, she seems rather bothered by the criticism. DeVos, based on approval ratings, is a deeply unpopular figure even by the standards of the current administration; a poll from last September gave her an overall approval rating of just 28 percent, making her one of the least popular members of the Trump cabinet.