This Betsy DeVos Statement on HBCUs Is So Wrong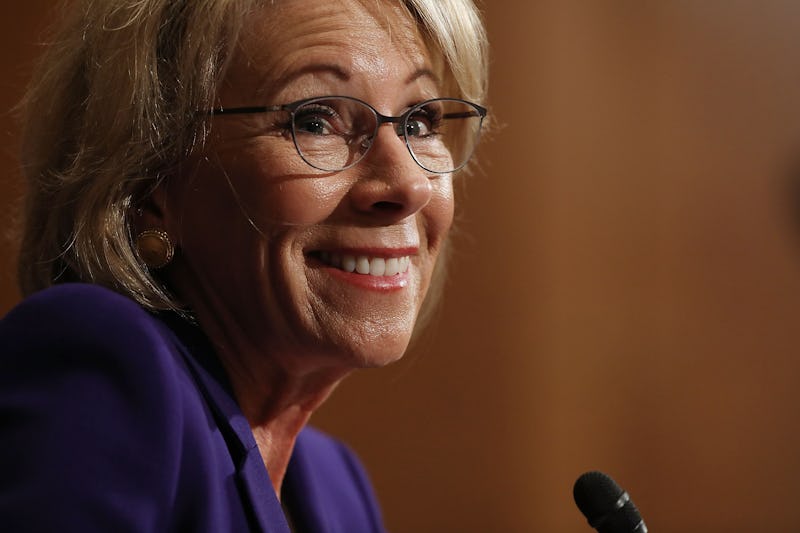 Chip Somodevilla/Getty Images News/Getty Images
Monday saw the release of one of the most tone-deaf statements to be distributed by a member of a presidential administration when Betsy DeVos sent out a press release referring to Historically Black Colleges and Universities as "pioneers" of school choice. DeVos, who was confirmed as secretary of education on Feb. 7, has long made school choice one of her main causes, but the problem is, HBCUs didn't exactly have a "choice" in the matter, considering the fact that they came into existence as a direct result of racial discrimination and Jim Crow segregation laws.
DeVos' statement came after a meeting with leaders of HBCUs at the White House. "HBCUs are real pioneers when it comes to school choice," read her statement. "They are living proof that when more options are provided to students, they are afforded greater access and greater quality. Their success has shown that more options help students flourish."
The school choice movement that DeVos advocates pushes for parents' right to enroll their children in their preferred public, private, or charter school, rather than having to send their kids to an institution assigned to them in accordance to the zip code they live in.
HBCUs, on the other hand, were founded to provide emancipated slaves educations that would enable them to join the workforce. Jim Crow laws later made it impossible for African Americans in the South to even consider attending white schools — in fact, it was undoubtedly out of the question even before segregation was legally enforced, as racism was still a widespread problem in a social sense.
Needless to say, it's not accurate to suggest that HBCUs were "pioneers when it comes school choice." Since, unlike parents with an array of schools to choose for their children, black Americans didn't exactly have the choice to go to institutions that weren't designated to them based on skin color.
Unsurprisingly, DeVos' characterization of HBCUs was widely criticized on social media. Sen. Claire McCaskill denounced DeVos in a tweet. "Totally nuts," she wrote. "DeVos pretending that establishment of historically black colleges was about choice not racism." An Education Department spokesman insisted that DeVos "certainly understands and respects" HBCUs and their history.
DeVos is set to be the keynote speaker at an event on Tuesday at the Library of Congress with leaders of HBCUs. Trump is scheduled to sign an executive order to aid HBCUs following the event.