Civil Rights Investigations In Schools Will Diminish Under Betsy DeVos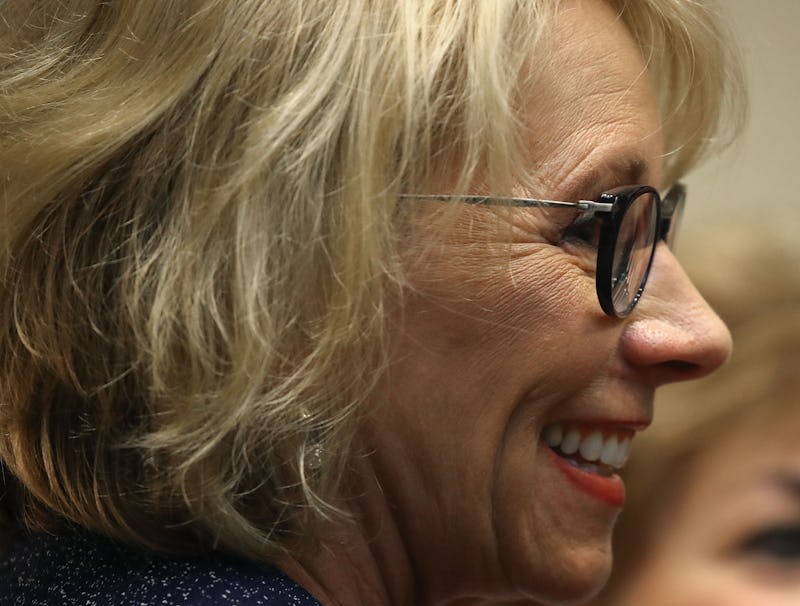 Mark Wilson/Getty Images News/Getty Images
According to The New York Times, the Department of Education is set to shake things up after revealing that Education Secretary Betsy DeVos will cut down on civil rights investigations in schools. This revelation arrived after an internal memo was issued by the acting director of the Civil Rights Office, Candice E. Jackson. The memo was first published by ProPublica.
The memo stated that the investigators within the office would no longer be required to look into sensitive issues within schools. The memo also instructed investigators that sensitive complaints were no longer required to be reported to officials in Washington. These issues include potentially discriminatory attitudes toward minority students within the realm of discipline as well as cases on campus-based sexual assaults.
During Barack Obama's administration, as The New York Times noted, investigations into civil rights issues heightened, leading to a need for investigators to look into individual cases. Such systematic reviews included highly essential findings such as investigating whether minority students were punished more harshly than white students.
In stark contrast to Obama's detailed approach to civil rights inquiries, Donald Trump's administration has been critical of the role of civil rights investigations and has proposed eliminating more than 40 jobs from the civil rights office.
The apparent reason for curtailing civil rights investigations is to cut down on the time and resources spent on cases that soared during Obama's time.
According to The New York Times, Department of Education spokeswoman Liz Hill said that the new approach is to make certain that "every individual complainant gets the care and attention they deserve." According to Jackson, the new guidelines are to place emphasis on efficiency and speed to address inquiries.
On the surface, the rationale for cutting down on the investigations seems to be prudent insofar as cost-effectiveness is concerned. The fundamental crux behind scaling down on civil rights investigations seems to be the need to save the resources used for systematic inquiry and in-depth reviews for more pressing issues.
However, the move has been a source of concern for those opposed to the new guidelines. Critics of DeVos' move say that the effect will be injurious to delivering justice to students. The New York Times reported that Catherine Lhamon, the assistant secretary of the education department's civil rights office during Obama's time, said that the approach to curtail civil rights investigations would lead to a system of "assembly-line justice." A lingering worry for opponents is that the emphasis on efficiency and speed may arrive at the expense of thorough investigations, something the Department of Education cannot do without.