The Internet's Reaction To The Surprise Beyonce & Eminem Song Is Kind Of Priceless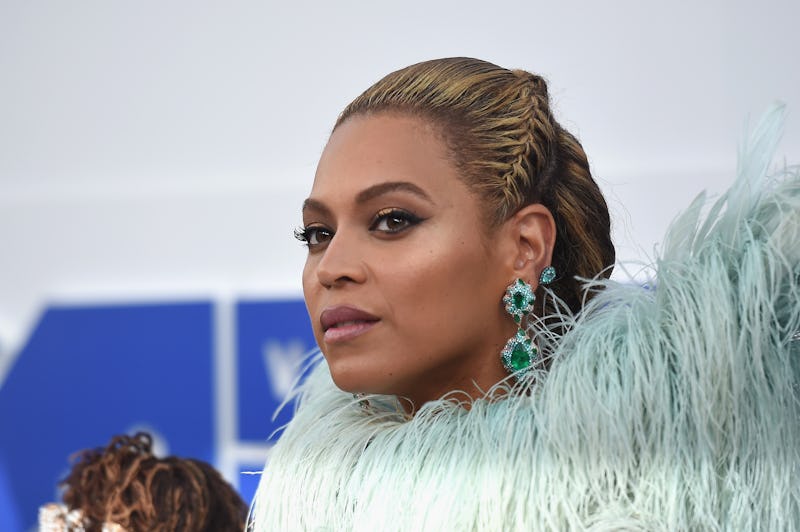 Jamie McCarthy/Getty Images Entertainment/Getty Images
It was just any old Friday until Eminem and Beyonce released "Walk on Water." Eminem's long-awaited return and Beyonce's vocals (AKA anything she does) has Twitter talking — but it seems fans aren't totally on the same page about how to feel about the song. The ballad captures the feeling of the enormous pressure that fan worship and public scrutiny can make these celebrities feel, and Twitter's reaction to "Walk on Water" alone just validates its point.
This is the first time Beyonce and Eminem have joined forces, and they have a poignant message to get across. "I walk on water/But I ain't no Jesus," Beyonce sings in her hook, while Eminem scribbles on paper and sporadically curses in the background. He raps about the high expectations fame makes them feel while she joins him to ensure the world that they're indeed human.
But before even hearing the song, fans have a reason to take their excitement to social media since this collaboration is huge. Eminem has been teasing the release for a few days, one teaser being a photo of "Walk on Water" written on a prescription paper with a "Revival" logo — believed to be the name of Eminem's next album. The rapper's upcoming album will be his first in nearly five years, since his eighth studio album The Marshall Mathers LP 2 dropped in 2013. Fans last heard from Bey in "My Gente," her collaboration with Balvin and Willy William for hurricane disaster relief at the end of Sept. Now, they've unexpectedly come together for this meaningful duet.
Because there's so much to unpack from just one song, the internet's reactions are far from being in unison. For example, some fans are solely stoked about the return of Slim Shady.
Others are just living for Bey and are wondering why she didn't get more vocals since the majority of the song is Eminem rapping.
There are also people who are recognizing that this collaboration is overall epic due to the artists alone (and the fact that it's their first song together).
And there are a handful who have thoughts about it being released on the same day as Taylor Swift's reputation:
But others are already over it and the likelihood of it being overplayed.
Meanwhile, fans who haven't even heard it yet are just psyched that Beyonce did anything.
There's a lot going on here, and it's no wonder why Twitter is conflicted. But the unfortunate reality about the last group of reactions is that they feed into the exact problem Beyonce and Eminem are talking about in the song. Beyonce, specifically, gets adoration and worship for every single move she makes in life (i.e. fans love her new single without even hearing it).
Meanwhile, she sings the following lyrics, which challenge the constant and profound worship she receives every day:
"I'm only human, just like you/Making my mistakes, oh if you only knew/I don't think you should believe in me in the way that you do/'Cause I'm terrified to let you down"
Bey's vocals support Eminem's lyrics about the pain and anxiety that can come from fame and the millions of fans who look up to and adore them, including:
"The rhyme has to be perfect, the delivery flawless... God's given me all this, still I feel no different regardless/Kids look to me as a god, this is retarded/If only they knew, it's a facade and it's exhaustive."
It's an eye-opening song, and one that is necessary in our current time. With social media, stars must feel a heightened sense of pressure since every move they make is analyzed, criticized, and talked about by millions of strangers online. Hopefully, beyond listening, fans will actually hear what Eminem and Beyonce have to say.