This Photo Of Beyoncé Comforting A Hurricane Harvey Survivor Is The Purest Thing You'll See All Day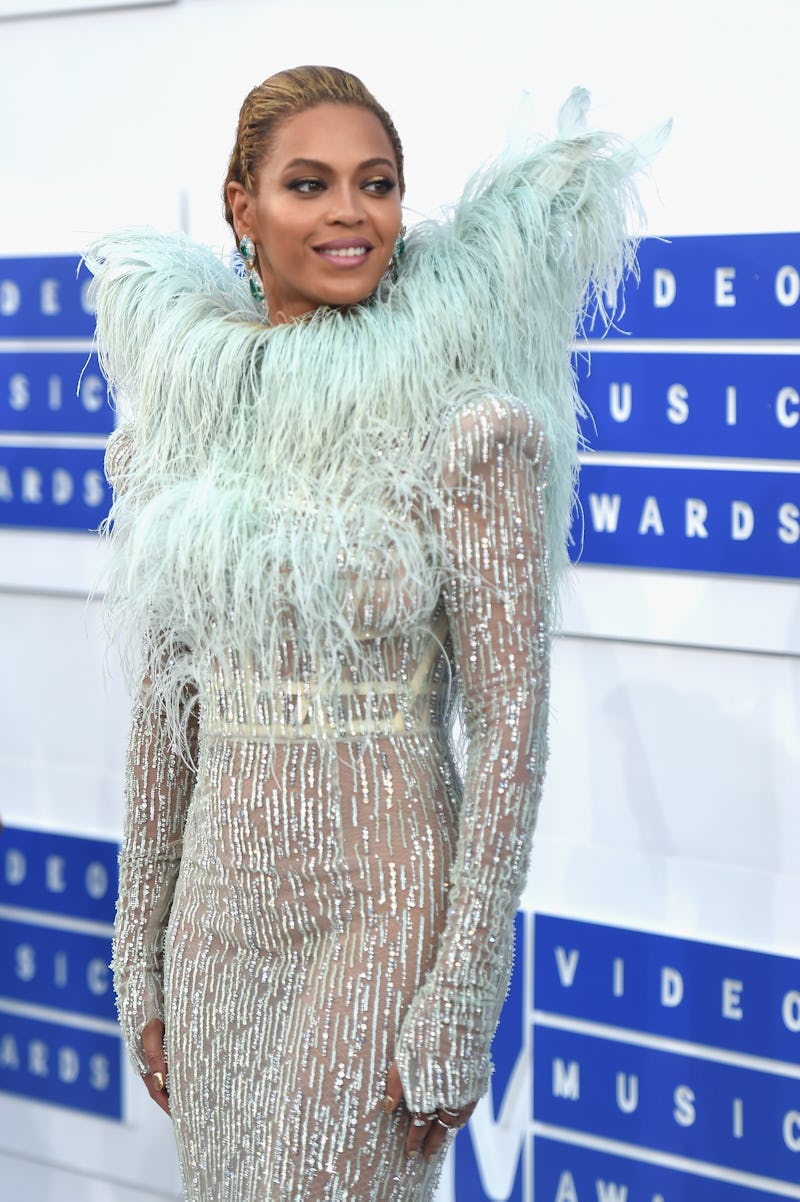 Jamie McCarthy/Getty Images Entertainment/Getty Images
Queen Bey is back in her hometown to support those affected by Hurricane Harvey. On Friday, Beyoncé visited St. John's Church in Houston on behalf of her foundation, BeyGOOD. Joined by her daughter Blue Ivy, her mother Tina Lawson, and her bandmate Michelle Williams, the singer spent time with some Harvey victims at the church she grew up in. Pictures and videos of the event are all over Twitter, including one particularly affecting photo of Beyoncé embracing a survivor. And the Beyhive, understandably, feels as though its collective heart might burst.
As Entertainment Tonight reported, Beyoncé took the stage at the church, which she referred to as her "home," and told the crowd,
"I was maybe 9 or 10 years old the first time I sat there where my daughter is sitting. I sang my first solo here and I just wanna thank you for lifting my family up, for praying for me, and for being such an incredible example of what light and love is."
She deemed the event a "celebration of survival" and called the attendees her family. Bey continued,
"Houston is my home. I thank God that you're safe, your children are safe. I think that really matters is your health and your children and your family. I just wanna say I love you. I've been blessed so that I can bless other people and I ask of God to continue to do that for other people."
During the event, she posed for photos, recorded videos, and hugged survivors and their families. And at one point, this powerful image happened.
My goodness, what a moving moment. And the Beyhive let out all of their subsequent emotions.
Tearing Up? You're Not The Only One
Let it out.
Hearts Can't Take It
Can you blame the hearts though?
Nope, Hearts Still Can't Take It
:(
Keep Letting It Out
No shame.
This Plush Kermit Is All Of Us
You said it, Kermie.
Still Not Over It
Yep, still tearing up.
Nope, Not Going To Stop Tearing Up Anytime Soon
Just going to keep on letting it all out.
The Emotions Are Almost Too Much
She sure is.
Legend Among Legends
<33333
Truer Words Were Never Spoken
Same.
Bey Is Indeed A Caring Legend
And fans love her so.
Beyoncé's support comes at a crucial time, since thousands of people were displaced when Hurricane Harvey ravaged southeast Texas last month. After the catastrophic hurricane struck, Bey pledged to help her beloved city of Houston, one of the areas hit the hardest. She said in a statement to The Houston Chronicle,
"My heart goes out to my hometown, Houston, and I remain in constant prayer for those affected and for the rescuers who have been so brave and determined to do so much to help. I am working closely with my team at BeyGOOD as well as my pastor (Rudy Rasmus at St. John's in downtown Houston) to implement a plan to help as many as we can."
Rasmus recently told ET that Bey is "starting out with a significant donation, and that donation is getting us to launch out into some areas that help us more effectively impact the communities that have been the most affected." She also will be part of next Tuesday's Hand in Hand: A Benefit for Hurricane Harvey, a telethon for victims of the storm.
If you're feeling inspired, you can donate to BeyGOOD's relief efforts here.