Beyoncé Adorable Surprised Her Mom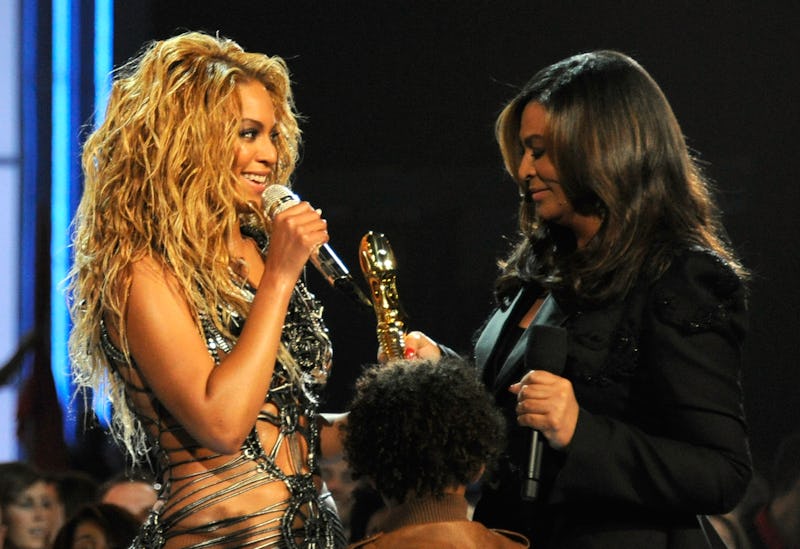 Ethan Miller/Getty Images Entertainment/Getty Images
Alert: Beyoncé and Tina Lawson are mother-daughter goals. The duo served up some serious adorableness this weekend when Beyoncé stepped out in Los Angeles to support her mom's nonprofit on Saturday night. The singer made a surprise appearance at an Alvin Ailey American Dance Theater show and offered a few words of encouragement to the dancers backstage, during an event meant to help Lawson's mentorship organization, Tina's Angels.
It's no secret that Beyoncé is a lover of the arts, so her appearance at the show should come as a shock to no one. The 35-year-old Lemonade singer did surprise the group of young dancers, though — and likely made their night — after the show and posed for a few photos, which were later posted to Lawson's Instagram.
"When Beyoncé surprises you back stage!!!The Alvin Ailey Dancers are the most beautiful and Talented and gracious Human Beings. I was honored to meet them and they were so nice and patient to my girls!!!" Lawson captioned a video.
Beyoncé, who announced back in February that she and Jay Z are expecting twins, has been busy attending plenty of events these past few weeks. Earlier this month, she was spotted at the Beauty and the Beast premiere with daughter Blue Ivy, who honored Adele with a small "25" patch on her green Gucci dress. And now, she went out to support her mother, an act that Lawson, for one, clearly appreciated.
"Backstage after the Alvin Ailey dancers performance it was magnificent. With my beautiful Tina's Angels and with a few of the mentors. My very gracious daughter who met the girls and spent some time with them and made their day," Lawson captioned a group photo.
This isn't the first time Beyoncé and Lawson have been captured being adorable together. After the singer's jaw-dropping Grammys performance last month, Bey's hairstylist took to Instagram to post a few gems from the star's sister Solange Knowles' afterparty, one of which happened to be a photo of Queen Bey and Lawson casually holding their middle fingers up to the camera. If the mother-daughter duo wasn't goals before, they sure are now.