Beyoncé's Mom Posted A Birthday Tribute To The Singer That'll Give Fans So Many Feels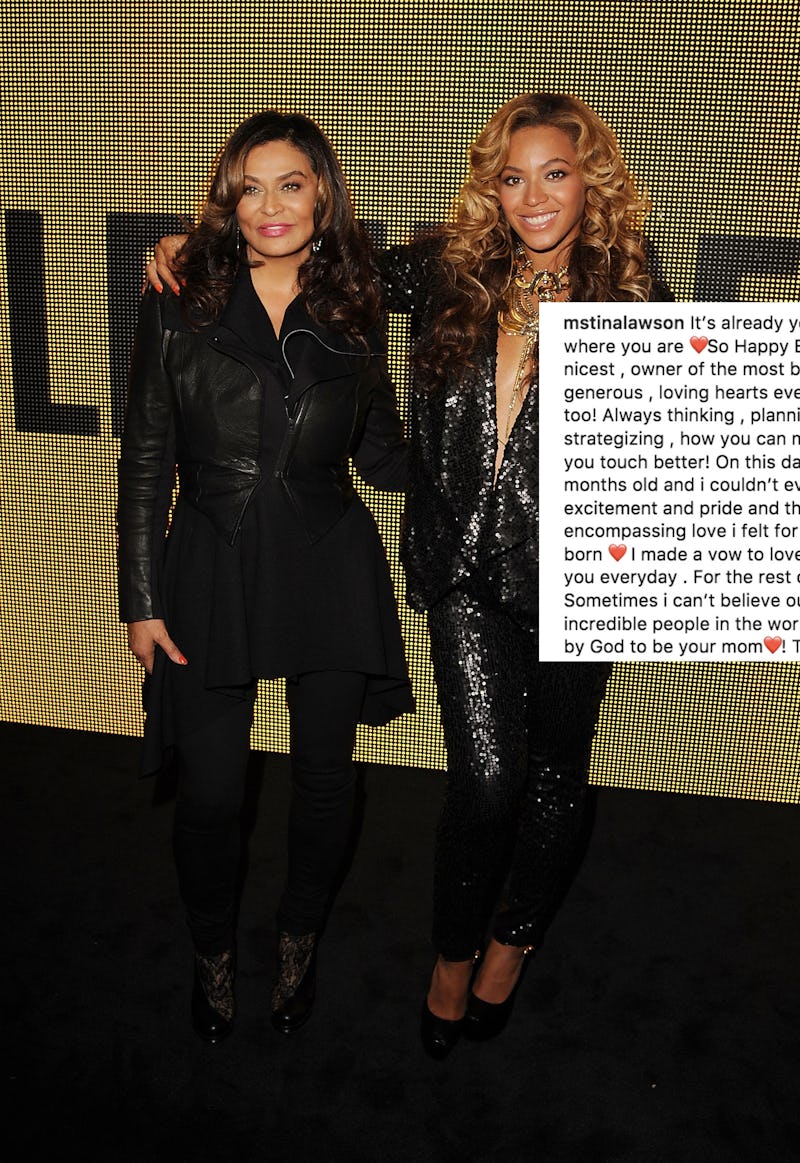 Eamonn M. McCormack/Getty Images Entertainment/Getty Images; mstinalawson/Instagram
Sept. 4 isn't a national holiday, but it might as well be. After all, it is Queen Bey's birthday. And since it's her special day, Beyoncé's mother, Tina Knowles Lawson, posted a birthday tribute on Instagram. The lovely post, complete with the best throwback pic you'll see all day, is sure to get the Beyhive buzzing.
Even though the "Formation" singer is one of the most famous entertainers in the world, that doesn't mean that she can avoid a good, old-fashion baby photo post from her adoring mom. Lawson's post, complete with the pic of Beyoncé at four months old, put her relationship with her eldest daughter on full display. She first wrote that she getting in her post a little early, since it's already her superstar daughter's birthday where she is, "So Happy Birthday to the nicest, owner of the most beautiful, generous , loving hearts ever !!!!"
She continued to praise the singer and said what most of the Beyhive is also thinking. "Always thinking , planning, analyzing, strategizing , how you can make everything you touch better," Lawson wrote, "I made a vow to love and cherish you everyday . For the rest of my life !" To sign off the post, the singer's mom wrote, "Enjoy your B-Day !!! No one deserves it more," along with some heart, cake, flower, and bee emojis (naturally).
Last year, Lawson, and a ton of other familiar faces, got in on the Beyoncé birthday fun in a slightly different manner. As People noted, many of Queen Bey's friends and family members got together to form a tribute to her. This wasn't just any old tribute, though. Instead, Lawson, along with Blue Ivy Carter, Michelle Obama, Serena Williams, and Beyoncé's former Destiny's Child bandmates, Kelly Rowland and Michelle Williams, among many others, all donned their best "Formation" looks in honor of the singer's special day. Thankfully for the singer's fans, all of the fun recreations can be seen on her official website.
As you might recall, in the music video for "Formation" Beyoncé served multiple amazing looks, but one of the most iconic came when she wore a black dress, a wide-brimmed hat, and braided pigtails. So what better way for her friends and family to honor the singer than to recreate this instantly classic look?
In addition to this fun tribute, Beyoncé also got her party on in a pretty lavish way last year. According to The Mirror, not only did JAY-Z serenade his wife on stage in Philadelphia during the Made in America Festival, but he also got her some fancy AF desserts to enjoy during their celebration. The goodies, that were sure to have any Beyhive member craving a bite, ranged from geode-inspired cakes to beehive-shaped cookies.
There's no telling exactly how Beyoncé will celebrate her 37th birthday this year and whether there will be any cool recreations from her other music videos. But one thing is for sure: The superstar already got a super sweet birthday tribute from her mom.