Every Single Item In Beyonce's New Merch Line Has One Amazing Thing In Common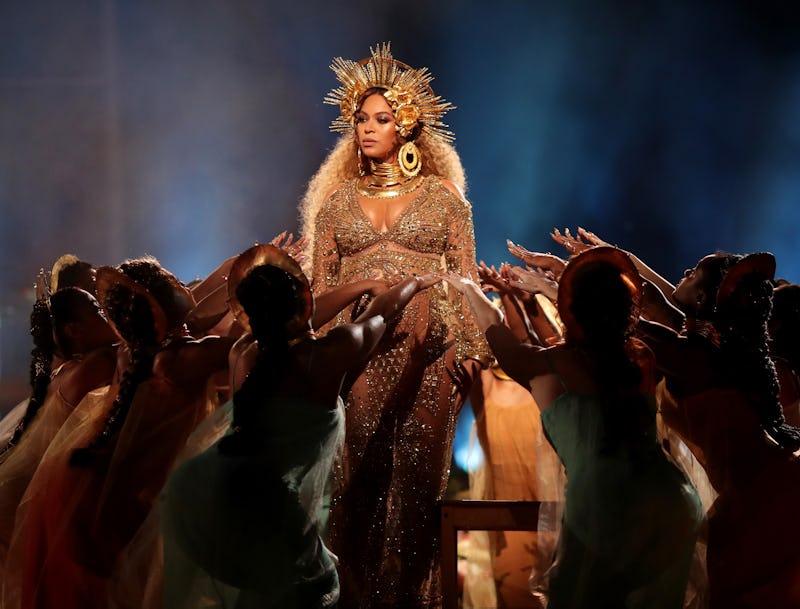 Christopher Polk/Getty Images Entertainment/Getty Images
Beyoncé and Jay Z are teaming up yet again for a tour. While that leaves a whole lot of on-stage fashion moments to come, you can also have some of your own a little early. Oddly enough, Beyoncé's On The Run II Tour merch features selfies of the singer dressed as a queen. As in, sans her husband. The design says a lot about the singer's relationship, but not what you might think.
The singer is known for creating some seriously iconic tour merch, and this time is no differently. Specifically because it was inspired by someone even more historical than herself. Each of the five new shirt designs features Beyoncé as a queen. Not just any queen, but Nefertiti, according to the names of the shirts.
Nefertiti is the woman who ruled in Egypt alongside Pharaoh Akhenaten, according to the History Channel website. The publication states that Nefertiti might have even ruled after her husband's death, which was not common at the time. Oh, and her full name was Neferneferuaten which means, ""Beautiful are the beauties of Aten, a Beautiful Woman has come." Same.
Each photo of Beyoncé shows her wearing a golden crown with minimL makeup on. Other that the jewel-filled crown, the photos show her wearing three large rings on her hand as well as earrings. Some of the designs are single images of the singer while others are photo booth style. While Jay-Z might not be directly on the shirt, there are some ties to him.
All five shirts are available to shop on Beyoncé's merch website right now. While items have been a bit pricey in the past, these shirts range from $35 to $40 with the sweatshirt design capping out at $60. That's not exactly affordable, but it is cheaper than usual. While there is likely more OTR II merch coming out as the date gets closer, this is a great place to start stocking your wardrobe.
Of course, the line is limited edition. If you want to stock up, you're going to want to do it soon. Some of the sizes are already selling out online. Here are all of your unisex shopping options, so you can plan accordingly.
1. Bright Orange Longsleeve
2. Colored Crop Top
3. Black & White Sweatshirt
4. Queen Tee
5. Orange Photo-Reel Crop Top
Honestly, you can't go wrong with any of these styles.