Beyonce's New 'Vogue' Cover Was Shot By A Black Photographer For The First Time Ever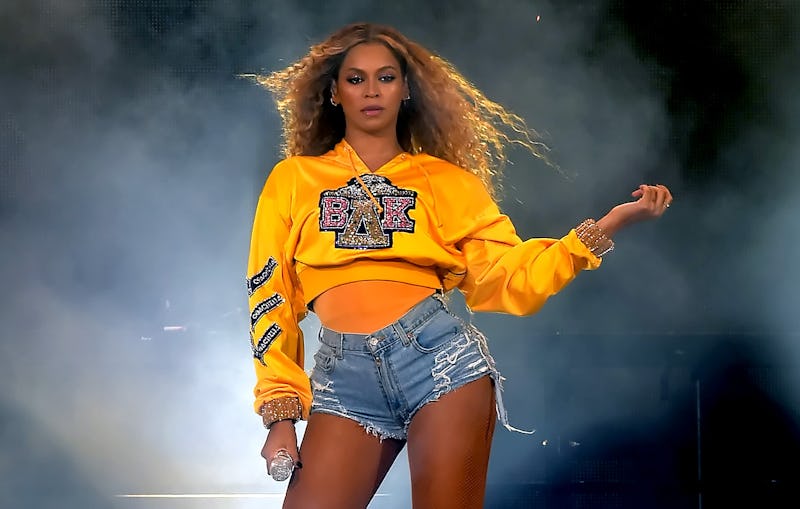 Kevin Winter/Getty Images Entertainment/Getty Images
Beyonce is making history. Yes, again. The singer, actor, and icon is allegedly about to make Vogue history so hold on to your hats, Beyhive. According to sources, Beyonce is Vogue's September issue cover person, and while that's major, it's not the full reason she's making history with the publication. Sources are saying that she isn't just appearing, she's basically running the ship for her inclusion in the glossy and in doing so, she helping make history in other ways.
While Vogue has declined to comment on the news that Beyoncé will be their cover model or the rumors that she will be in charge of both her image on the cover as well as photographs inside, sources have spoken with the Huffington Post regarding the issue and revealed that Beyoncé's control is a historic move as no other cover person has been granted the honor.
Beyoncé is using her power to help another person make history, too. According to both the Huffington Post and the New York Post's Page Six, 23-year-old Tyler Mitchell will be photographing the star, making him the first-ever black artist to ever shoot a cover. For reference, the magazine has been in publication for 126 years.
If Mitchell's name sounds familiar, there may be a reason. He also shot Teen Vogue's Gun Reform cover, which features gun safety advocates Emma Gonzalez, Sarah Chadwick, Nza-Ari Khepra, and Jaclyn Corin. He's also shot major campaigns for design houses such as Givenchy and Marc Jacobs. Interestingly enough, Mitchell is also already followed by Beyoncé's sister, Solange, on Instagram.
As for Mitchell's selection, a source told the Huffington Post that Beyoncé used her control over the issue's cover to hire him for the job. In 126 years, Vogue has never hired a black person to shoot their cover. Mitchell will mark the end of that century-plus-long injustice. Together, alongside Beyoncé, he'll be making history.
According to Refinery29, the cover could also allegedly mark Vogue editor-in-chief Anna Wintour's last issue. Back in April, they reported that Wintour was rumored to be departing the Condé Nast-owned magazine, but when they reached out for comment, they were told that there was "no truth" to the idea that Wintour would be leaving. Now that Beyoncé is allegedly covering the issue for September, the rumors of Wintour leaving are surfacing again.
Refinery29 actually posits that Wintour giving Beyoncé control of the cover could be a way to "usher in a new era" for the magazine and cites many other longtime Vogue staples' departures as further proof that Beyoncé's cover could be Wintour's last.
This won't be Beyoncé's first cover, though. She graced Vogue back in 2015, but journalist Yashar Ali at Huffington Post, author of the breaking post about Beyoncé's control over the images, revealed on Twitter that there will be a similarity to her 2015 cover. She won't be giving an interview. She'll be doing long form captions alongside her images instead.
If the rumors and sources turn out to be truth, Beyoncé will have yet another history making moment in her cap, but more importantly, she'll have helped a young, black artist make history. That is why Beyoncé is Queen Bey.