The Bey Hive Is Not Pleased With Beyonce's Wax Figures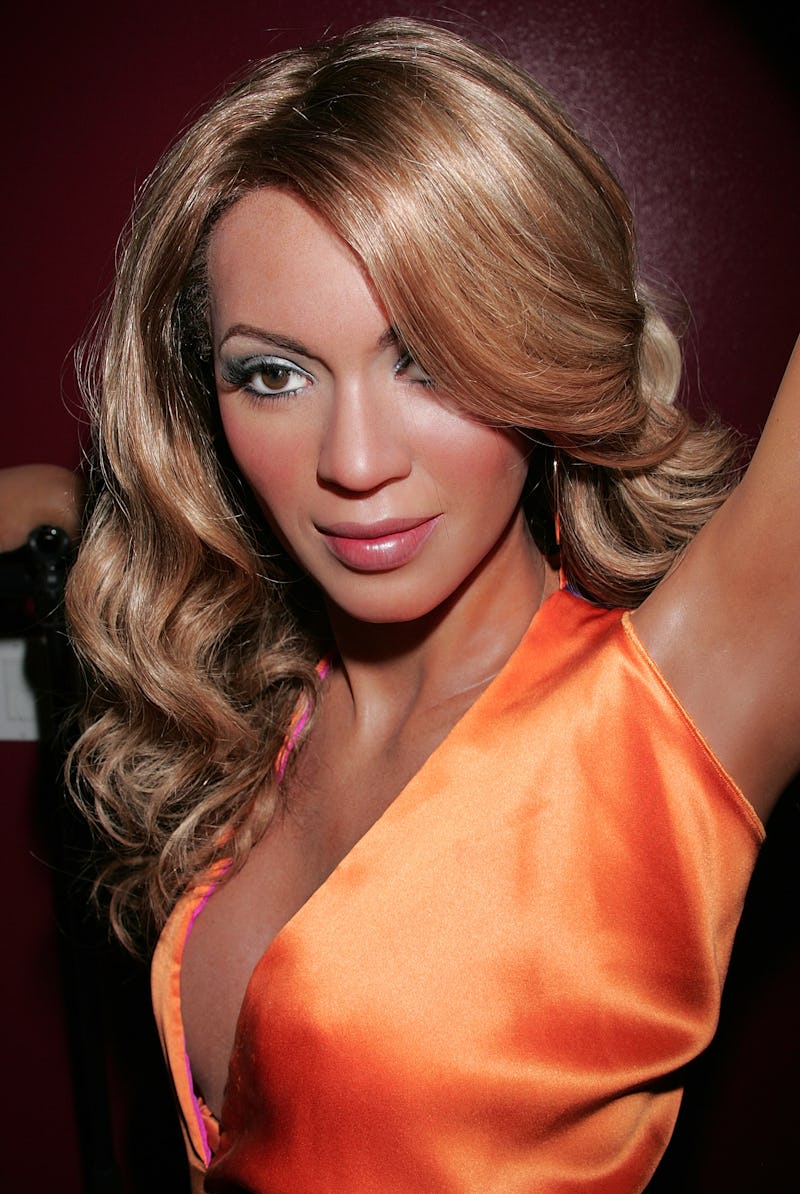 David Livingston/Getty Images Entertainment/Getty Images
On Tuesday, a well-meaning user tweeted a picture of a Beyoncé wax figure which he claims is on display at one of the Madame Tussauds locations. The picture was met with instant criticism, as while the figure in question was supposed to be Beyoncé, the likeness was not perfect, to say the least. In fact, the Beyoncé wax figure looks nothing like her, and fans are not happy about it.
UPDATE: According to TMZ, the wax figure was reportedly removed from the floor of the museum and brought back out with some modifications that make it look slightly more like Beyoncé.
EARLIER: Almost nothing about the wax interpretation looks like Queen B. People noted that the face bears a spooky resemblance to Lindsay Lohan's, the hair is too flat, and the skin is noticeably lighter than in real life. For all of these reasons, the wax likeness doesn't do justice to the star, and members of the Beyhive went online to criticize it.
It also came to light that the star had been wronged by wax museums in the past. It seemed impossible that any figure could look less like Beyoncé, but Twitter users rounded up other attempts to capture the star in wax that were even more appalling. There were so many variations that some fans wondered if any of these sculptors had ever seen Beyoncé IRL, and if so, why they chose not to capture the queen's likeness. It does seem like they must be trying not to capture the star's features, and to disregard her beauty and fierceness seems like a true insult. Check out the initial tweet below:
The original post was met with an instant backlash, and inspired further conversation on the matter. A lot of users were shocked that the figure was even supposed to be the star, and tweeted out their questions:
This wasn't the first misinterpretation of the star, and other users shared other failed Beyoncé attempts by wax museums:
The only thing that wax sculptors seem to know about Beyoncé is that she sometimes puts one hand in the air. Another failed Bey showed as much:
It's not clear who these wax figures are exactly, but fans seems to agree that they are definitely not Bey. Shakira, perhaps, or Britney Spears or Lindsay Lohan, maybe Uma Thurman if she pursued a pop career. But none of these interpretations read Beyoncé at all.
To make matters worse, Kylie Jenner revealed her own wax figure on Instagram on Tuesday, and it's uncanny:
Jenner captioned an Instagram she posted of herself with the figure: "thanks @tussaudsla for this amazing honor! 😻 go visit my girl tomorrow in Hollywood and see the actual dress I wore to the Met Gala last year!"
Some fans wanted to know why the reality star was captured in such shocking likeness, and yet an accurate Bey was nowhere to be found.
Bustle reached out to Madame Tussauds about the original photo of the wax figure for comment and to see if they claim ownership of it, but did not receive a response at the time of publication.
Perhaps the outrage this sparked will inspire wax sculptors around the world to watch a Beyoncé music video or check out a picture online. If Jenner's photo is any evidence, a strong characterization can be done, and nobody deserves this more than Queen B.