"Bigfoot Erotica" Is Stirring Up A Local Virginia Election & Twitter Can't Even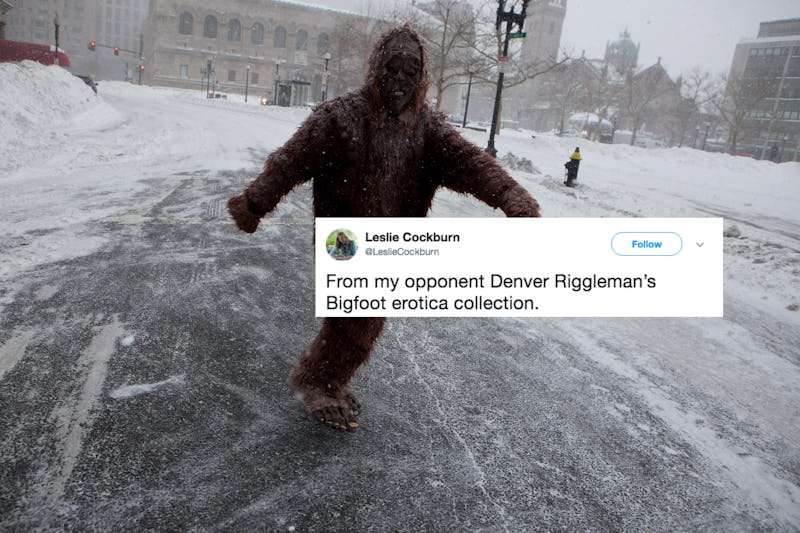 Kayana Szymczak/Getty Images News/Getty Images
If you thought you had seen it all in politics this year, the bizarre battle in one of Virginia's congressional districts will give you a run for your money. On Sunday, the Democratic challenger called out her opponent for one of the weirdest things the public's ever seen: Bigfoot erotica is stirring up Virginia's 5th Congressional District race, and even the most highbrow of journalists can't help but crack jokes on Twitter.
The Democrat in the House race, Leslie Cockburn, put the Republican nominee, Denver Riggleman, on full blast for his posts of Bigfoot erotica, Mediaite reported.
Cockburn posted a screenshot of Riggleman's Instagram post and tweeted out: "My opponent Denver Riggleman, running mate of Corey Stewart, was caught on camera campaigning with a white supremacist. Now he has been exposed as a devotee of Bigfoot erotica. This is not what we need on Capitol Hill."
Riggleman's Instagram account is currently set to private, though screenshots of his apparent drawings are included in Cockburn's tweets, which include Riggleman's rendering of a nude, six-packed Bigfoot with a "censor" bar over what is presumably his genitals. In the Instagram post, Riggleman's caption says: "Cover art for mating habits of bigfoot almost complete. I hid nothing in this magnificent tome. Don't erase the censor box..."
According to The Daily Progress, a daily newspaper in Charlottesville, Virginia, Riggleman said the posts were meant as a joke between his military buddies and him. He apparently also called Cockburn's accusations "absurd."
Cockburn's accusation that Riggleman is a "running mate of Corey Stewart" connects him to Stewart's past controversies, in which he's been linked to white nationalists, an allegation that Stewart has refuted, according to The New York Times. When Stewart ran for governor in January of 2017, he complimented and praised Paul Nehlen, calling him "one of my personal heroes." Nehlen is a vocal anti-Semite who is running for Congress in Wisconsin.
In a second screenshot posted by Cockburn, Riggleman's Instagram post shows another naked Bigfoot with another gray censor bar covering up his private area. This one had a headshot of Riggleman plastered over Bigfoot's head. In it, the caption reads, "My 'buddies' thought this pic was fitting for my birthday next week and to celebrate my new book release in about a month or 2... 'Mating Habits of Bigfoot and Why Women Want Him..."
Following Cockburn's tweets, Twitter users started expressing their confusion and regret over going down the rabbit hole.
One journalist had to remind herself over and over again.
The editor in chief of The Daily Beast could already see the script for one of Fox News' hosts.
Another reporter was delighted that political reporters —usually confined to stuffy, highbrow subjects — now have to discuss Bigfoot's private parts as a matter of staying current in their field.
Another used the transitive property of equality to make sense of it all.
This New York Times writer wondered, clicked, and instantly wanted to take it back.
Some people would disagree with Paul here, but people get where he's coming from.
If you've already cut the cord, this might be a reason to get your cable back — to watch eloquent, Ivy-educated analysts discuss Bigfoot and sexuality at length.
Politics and The Twilight Zone might be at a crossroads here, but if anything, that's all the more reason to make sure you're registered, reading up, and ready to vote when the November elections roll around.