Bill Clinton & James Patterson Are Writing A Political Thriller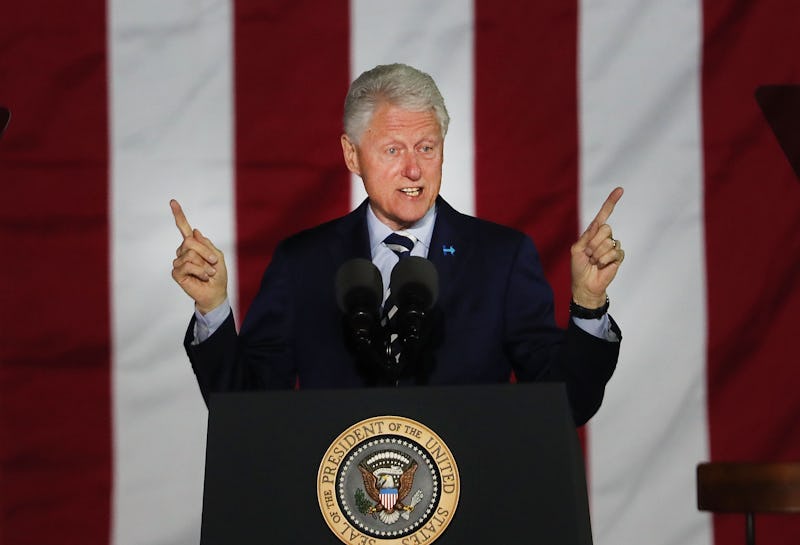 Spencer Platt/Getty Images News/Getty Images
It's been an interesting year for former President Bill Clinton. Instead of becoming the first male spouse of a sitting president, a bitter defeat during the election in November kept the Clintons from returning to the White House as expected. But as Hillary Clinton figures out life post-election, Bill is doing the same thing, and his next project is a bit of a departure. Having authored several biographical and other nonfiction works, the former president is stepping into the fiction game. Set for a June 2018 release, Clinton is co-writing a political thriller with James Patterson, the renowned American author.
Although this is Clinton's first foray into fiction, he is certainly familiar with the book's subject matter. The book's title, The President is Missing, is pretty self-explanatory in terms of the main plot point: a president goes missing.
As someone who knows firsthand the security surrounding the presidency and what a missing president might entail, Clinton is a great person for Patterson to collaborate with for a more realistic work of fiction. According to Deadline, Clinton said of the project, "Working on a book about a sitting President — drawing on what I know about the job, life in the White House, and the way Washington works — has been a lot of fun."
Patterson is known for his novels about psychologist Alex Cross, as well as more than 150 other adult and young adult books, according to the Washington Post. He has had 67 books make the New York Times bestseller list — more than any other author.
This collaboration between Clinton and Patterson is also a partnership between two rival book publishers: Alfred A. Knopf, a Penguin Random House imprint which has published Clinton's previous works, and Little, Brown, a Hachette Book Group imprint that has published Patterson's previous works. The terms of the deal, however, were not disclosed.
Although many presidents opt to write or work on nonfiction titles after their term(s), it's rare for a president to author a novel. However, President Jimmy Carter wrote the historical novel The Hornet's Nest in 2003, and first daughter Margaret Truman wrote a mystery series called Capital Crime.
In a time when real politics seem quite unrealistic, political works of fiction can be a great way to escape from the insanity of day-to-day political talk. With Clinton's deep knowledge of presidential conduct and Patterson's penchant for thrills, this political thriller could shape up to be a great collaboration for both — and a much-needed break from reality for readers.