Bill Cosby Is Holding Seminars On How To Avoid Sexual Assault Accusations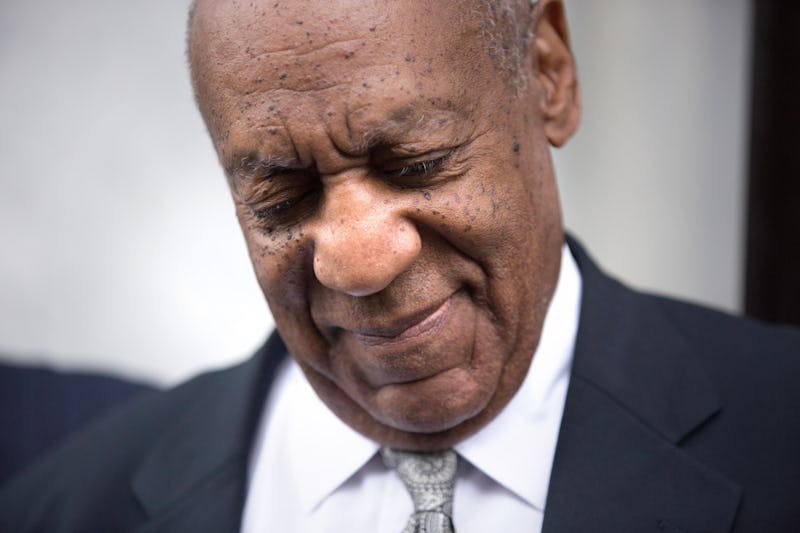 Kevin Hagen/Getty Images News/Getty Images
In what may be one of the most bizarre twists of the Bill Cosby sexual assault trial, a spokesperson for the entertainer revealed Thursday on WBRC's Good Day Alabama that Cosby will hold town halls to discuss sexual assault. Specifically, he will address how to spot warning signs from "potential victims" as well as how to handle sexual assault accusations that could stem from "hanging out and partying."
Yes, you read that right. Cosby, a man facing three counts of aggravated indecent assault stemming from allegations he drugged and sexually assaulted a woman more than 30 years his junior (he denies the accusations), plans to educate other people on how to keep from getting hit with similar accusations.
"Mr. Cosby wants to get back to work," Andrew Wyatt, a spokesman for Cosby said during an appearance on Good Day Alabama. "We're now planning town halls and we're going to be coming to [Birmingham] sometime in July … to talk to young people because this is bigger than Bill Cosby."
"Laws are changing. The statute of limitations for victims of sexual assault are being extended," Cosby's other spokesperson Ebonee Benson said in the interview. "This is why people need to be educated. A brush against the shoulder, anything at this point, can be considered sexual assault and it's a good thing to be educated about the laws."
Wyatt cautioned that being accused of sexual assault was a serious issue for today's youth. "This issue can affect any young person, especially young athletes of today, and they need to know what they're facing when they're hanging out and partying, when they're doing certain things that they shouldn't be doing," Wyatt said. He added it was also an issue that affected married men, like Cosby.
Nearly 60 women have publicly accused Cosby of sexual assault over several decades — charges his legal team has vehemently denied — but only the allegations of Andrea Constand led to criminal charges. Constand alleged Cosby gave her drugs and then sexually assaulted her in his home in 2004. In an affidavit filed by Pennsylvania police in 2015, Constand claimed that Cosby gave her three blue pills the night of the alleged assault. She soon felt incapacitated, "experiencing blurred vision and difficulty speaking," and was "in and out." According to the affidavit, Constand claimed she remained aware that Cosby "was fondling her breasts, put his hand into her pants and penetrated her vagina with his fingers."
Cosby, however, has maintained he only gave Constand Benadryl, that their sexual relations were consensual, and that Constand never said "no."
A Pennsylvania judge declared a mistrial in the criminal court case against Cosby on June 17 after jurors announced they were unable to reach a unanimous verdict following six days of deliberation. Prosecutors have said they would retry the case.
Wyatt told Good Day Alabama Cosby was doing "great" and had been spending time with his wife and children since the mistrial declaration.