Bill Cosby Suggests His Accusers Are Motivated By Racism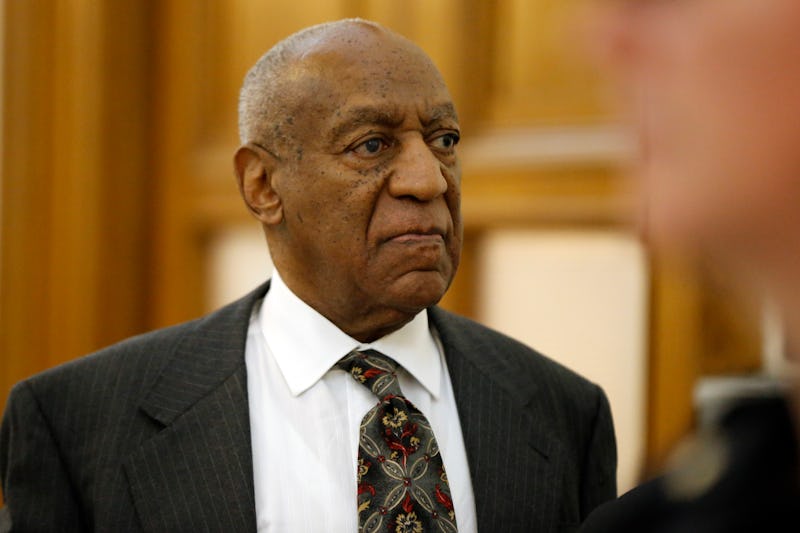 Pool/Getty Images Entertainment/Getty Images
Perhaps one of the most astounding fall-from-grace stories in modern culture has been Bill Cosby's. The once-loved Cosby Show actor and comedian's reputation has taken a beating in the last few years after dozens of women stepped forward to accuse him of sexual assault, with one even pressing charges. He has largely remained quiet throughout the process — save for the occasional remark defending himself — but on Tuesday, he gave an interview to Sirius XM radio in which Cosby said his accusers may be motivated by race.
On Monday, Cosby's daughter released a statement to The Breakfast Club radio show, saying, "I strongly believe my father is innocent of the crimes that are alleged against him and I believe that racism has played a big role in all aspects of this scandal. ... My father is being punished by a society that still believes that black men rape white women that passes off as 'boys will be boys' when white men are accused."
Host Michael Smerconish asked Cosby about his daughter's statement, and he replied, "Could be, could be. There are so many tentacles... nefarious is a great word." However, when Smerconish reminded Cosby that some of his accusers are black, Cosby didn't change his mind about the potential motivation. He said, "When you look at the power structure, and when you look at individuals, there are some people who can very well be motivated by whether or not they're going to work. Or whether or not they might be able to get back at someone."
While Cosby's daughter makes an interesting point about the difference between when a famous black man is accused of assault and a white man has similar accusations leveled against him (like those against President Donald Trump, who has also denied allegations of sexual assault), it's still a pretty bold claim to make, especially considering how many women have accused Cosby of sexual assault.
On the radio show, Cosby also addressed the sheer number of his accusers, saying, "I think, that the numbers came because the numbers — prior to the numbers — didn't work. So, the piling on, so to speak, is a way — and certainly an impressive, impressive way — to get public opinion to come to the other side." Cosby's interview coincides with the week leading up to jury selection for his trial where he has been charged with drugging and sexually assaulting Andrea Constand. Cosby and his team of lawyers have denied the allegations mounted against him.
Although Cosby is speaking out about the accusations now, he won't be doing so in court. He told Smerconish that he won't testify during the trial because, he said, "I just don't want to sit there and have to figure out what I believe is a truthful answer."
Cosby's trial is now one step closer to being played out. It will be interesting to hear what is presented during the arguments — and if his lawyers will focus on the potential motivation of racism.