Billie Lourd & Taylor Lautner Rock Animal Onesies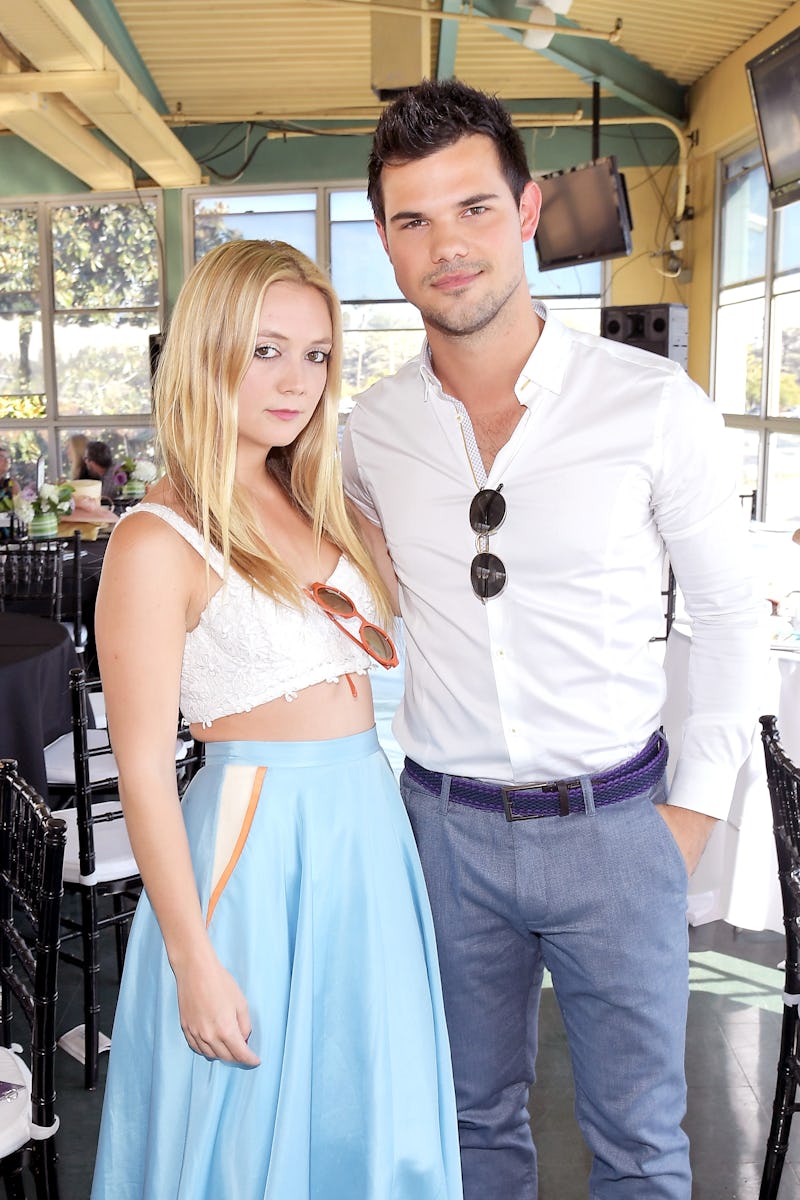 Charley Gallay/Getty Images Entertainment/Getty Images
Actor Billie Lourd experienced a significant loss last month. In late December her mother, the great Carrie Fisher, and her grandmother, Debbie Reynolds, both passed away. When times are tough, there is nothing more important than the support of friends and family. Luckily, The Scream Queens star's friends have been there to surround her with love. This includes Lourd's co-star and rumored boyfriend Taylor Lautner; the two have been spotted together around LA and have Instagrammed pictures from their vacation in Cabo San Lucas, New Mexico. (Bustle has reached out to reps for Lautner and Lourd for comment on the rumors, but has not yet received a response.) The most recent snap from their adventures together is from a dress-up party, where both Lautner and Lourd were spotted rocking animal onesies.
Since her mother's passing, Lourd has been vocal about the the incredible outpouring of support from her friends, family, and fans. Co-stars have been vocal in their love for the actor, with friends like Ariana Grande and Lea Michele reaching out on social media to offer their condolences. Lautner has been a particularly strong source of comfort, as the two have grown quite close during their time working on Scream Queens. He also reached on social media to share an Instagram message of love and support for his, ahem, close friend. In the caption he called Lourd "one of the strongest, most fearless individuals I've ever met."
Lourd has handled this difficult time with such grace and humor, qualities that she definitely learned from her mother and grandmother. On social media and in interviews, she has talked about finding funniness and love, even in this dark time. If it takes getting the gang all dressed up in hilarious fluffy onesie costumes to cheer yourself up, that is definitely the way to go.
In the caption of her onesie party photo Lourd gave special thanks to her crew for being there for her. "This group of onesie clad supremely supportive humans (and many others #notpicturedbutinthepicture) are the kings and queens of my world #gratefulfortheirgreatness #friendsfindingthefunny" she wrote. The photo features Lourd's stepfather, Bruce Bozzi, and her BFF actor Romy Byrne. If you squint, you might also notice that Lautner and Lourd are wearing matching (squirrel? bunny? penguin?) costumes.
Their twin attire might be further evidence of their couple status. While all signs, and the pictures for that matter, point to something romantic, neither has confirmed they are dating officially. Either way, they've swept away for a relaxing vacation together, and Lautner's been there for her when things got rough and is totally game for a silly costume party, so he is prime boyfriend material.
If they are dating, it's clear they both share a passion for the ridiculous. This might be a sign their relationship is sturdy and strong. After all, couples who dress as chubby squirrels together stay together. That's how that old saying goes, right?