This Shaving Company's Empowering Campaign Celebrates Women Who Don't Actually Shave At All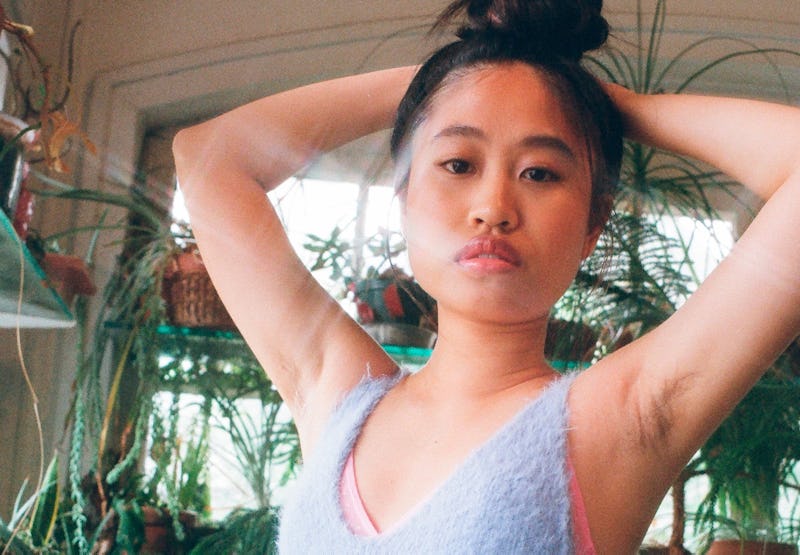 Billie/ Unsplash
Billie is a subscription brand that delivers high-quality shaving razors and natural body products to women at a reasonable price — and all without the sexist pink tax. And now Billie's "Project Body Hair" campaign is going one step further to take care of women and their body hair, by setting out to change how we view it. Seeing how the brand is all about sending quality razors to your door and helping you nix your fuzz, it seems odd that they would create a campaign in support of women's hairy armpits and fuzzy shins. But the company has noticed one crucial oversight in the body hair industry, and they want to be the ones to correct it.
"For more than a century, advertisements for razors have shown women 'shaving' smooth, airbrushed legs — never showing the actual hair that the razor glides over. Strange, huh?," the release shares. "Project Body Hair seeks to acknowledge and celebrate female body hair... wherever it is and isn't. The campaign aims to normalize women's body hair and reiterate that shaving your body is a choice."
Billie says this will make the brand the first women's razor brand to show female body hair. And they're ready to turn it into a mainstream thing.
Part of the campaign is a video set to Princess Nokia's "Tomboy" and directed by film photographer Ashley Armitage, who is known for her pale-pink-puberty-like lens when it comes to shooting women. She has worked with notable publications like New York Magazine and Nylon, and brands like Gucci and Nordstrom. Capturing women and girlhood through the female gaze, Armitage's work is full of girls in sheer granny panties and bikini hair, girlfriends lounging around in red cat eye sunglasses with towels on their heads, and armpit hair decorated in barrette clips, so her realness was the perfect direction for this new body hair project.
The video opens up with a woman wearing pink fuzzy slippers and the camera pans over her peach fuzzy legs, along with the words, "Hair, everyone has it." It moves on to a variety of women staring straight into the camera, revealing their armpit hair patches, bikini line tufts, belly hair, and grown out eyebrows. Ladies blow dry their armpit hair and brush it out with a comb, their scenes accented with images of mohair sweaters, fuzzy socks, and prickly cacti.
The prevailing theme is "the world pretends it doesn't exist, but it does."
But the great thing about this video is that it gives women a choice: You can choose to shave it off if you want (and that's supported by clips of people shaving their legs in the shower,) or you can keep it. Or, maybe, you'll just shave those spots where your jeans have rips and leave the rest behind. Whatever works for you is great.
Not only is the message amazing, but Billie is taking it one step further by committing to make women's hair a normal part of the mainstream image.
"Beyond advertising, Billie found that there is a serious lack of representation of female body hair across the internet — most notably, on popular stock photo sites. To make the internet a little bit fuzzier, Billie will donate its photography from Project Body Hair to Unsplash, providing access to beautiful images of women with body hair for everyone to use," the release shares.
They are also crowdsourcing photos through an upload feature on their website, projectbodyhair.com, that encourages people to share their own pictures using the hashtag #projectbodyhair.
Billie is on a mission to take the taboo out of female body hair and to push back against portraying women in a one-dimensional way in the media. And whether you shave or like to grow it all out, everyone can get behind that goal.