Billy Dee Williams' Lando To Return To Star Wars & Fans Are Already Demanding These Two Things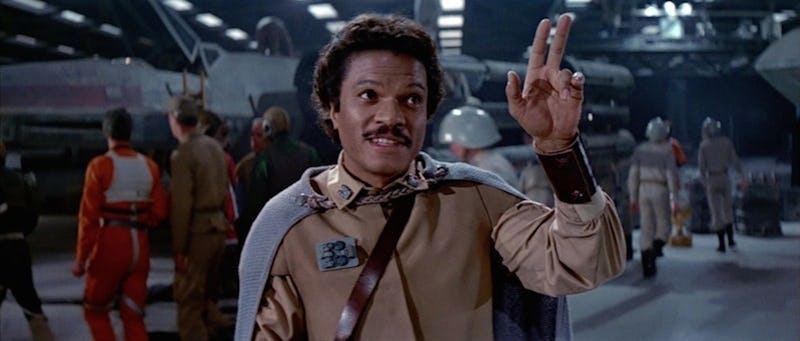 Lucasfilms / Star Wars
As tragic as the deaths of some of the original Star Wars characters in Episodes VII and VIII were, there is still one more familiar face that has yet to join in on the new trilogy fun. On Monday night, The Hollywood Reporter confirmed that Billy Dee Williams will return as Lando in Star Wars Episode IX. Williams' character, Lando Calrissian, recently came back to the big screen when Donald Glover played him in the Han Solo origin movie Solo, so the character is already fresh on people's minds. As amazing as Glover's performance as Lando was, though, everyone on Twitter seems extremely jazzed about Williams' return. It turns out, both iterations of Lando are equally beloved. But, that's not a huge surprise, of course, given how suave and cool Lando is.
One of the most remarkable aspects of Lando, who is a former smuggler like Han Solo, is that he owned the Millennium Falcon before losing it to Han in a bet. That all played out in Solo, and then Williams' roles in 1980's The Empire Strikes Back and 1983's Return of the Jedi followed Lando as he became the administrator of Cloud City and attempted to stay out of the Empire's corruption. Eventually, Lando joined the Rebel Alliance after Princess Leia (Carrie Fisher) solicited his help.
Episode IX, potentially the last of the most recent trilogy starring Daisy Ridley as Rey, is set to premiere in December of 2019, so fans still have a long time to wait before they actually get to see Williams' triumphant return. As The Hollywood Reporter announced, the film, which J. J. Abrams is directing, is set to begin production later this summer, and the notoriously secretive franchise will likely do everything in its power to keep Lando's role in the movie as mysterious as possible. That said, Star Wars fans have taken to Twitter to share their excitement about the original Lando's return, and some have pretty astute predictions for the character, including a joke about the ongoing debate over Rey's parentage.
Many fans are just excited to see Williams return to the role he originated, but some are already wondering if any details from Solo will reappear in Episode IX. Technically, Solo took place decades before Williams' first appearance as Lando in The Empire Strikes Back. And though the movie didn't focus on Lando, there were many aspects to his character that fans desperately want more of, like his beloved droid, L3-37. Fans will also want to see more of the spectacular costumes that Glover wore while playing the mustachioed pilot in the upcoming Star Wars installment, too.
With both Lando's prominent role in Solo, which came out in May, and now the character's return, it seems reasonable to wonder if this means that a future stand alone movie about the character is in the works. Rumors of a Lando stand-alone movie have circulated ever since Lucasfilm announced that Glover would reprise the role in Solo. And, based on fan reactions to the news of Williams' return to Star Wars, the demand for a Lando movie is very much alive and well, no matter what actor plays him.
Contributing to the buzzing about a potential Lando movie is an interview that Lucasfilm President Kathleen Kennedy gave in May with France's Premiere magazine. "We think that the next spin-off will be dedicated to Lando Calrissian. Of course, there are still many stories to tell about Han and Chewbacca, but Lando will be next," Kennedy said, according to Entertainment Weekly's translation.
Whether or not a Lando standalone movie will come out soon remains unknown, maybe even to Kennedy. But for now, Star Wars fans will be able to see more of the too-cool-for-school character in Episode IX. Let's just hope Lando doesn't meet the same end as Han and Luke before him.