A BLM Activist Who Went Viral For Grabbing A Confederate Flag Has Been Killed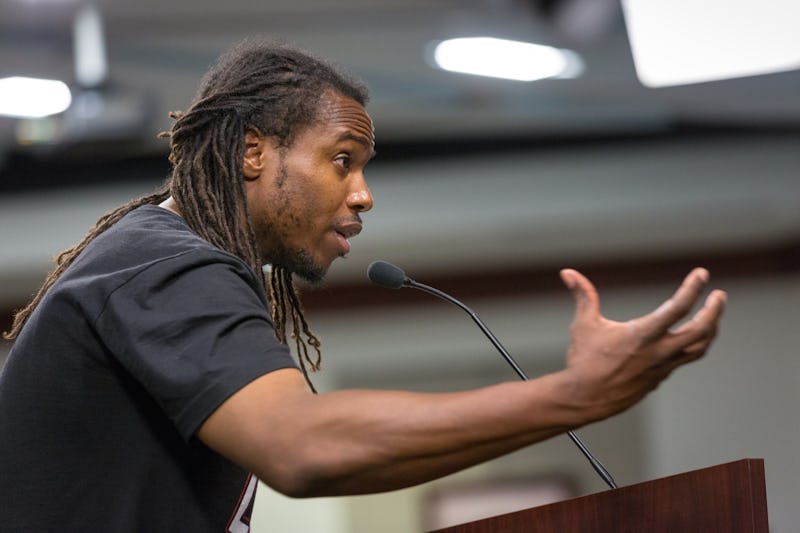 Richard Ellis/Getty Images News/Getty Images
A video of a prominent black activist tearing a Confederate flag out of a white protester's hand went mega-viral last year, against a backdrop of controversy over public Confederate displays across the American south. Now, less than one year later, Black Lives Matter activist Muhiyidin d'Baha has been killed. He was reportedly shot to death while riding his bike in New Orleans.
According to CNN, the 32-year old d'Baha (his legal name was Muhiyidin Moye) was fatally shot early Tuesday morning while biking in the city's Gravier neighborhood. Police reportedly discovered his body after receiving reports of shots being fired. His niece subsequently launched a GoFundMe page revealing that he had died from his injuries, and the New Orleans Police Department then confirmed that d'Baha died while being treated at an area hospital.
In February 2017, d'Baha was captured on video leaping across a line of caution tape and grabbing a Confederate flag out of a white demonstrator's hand in Charleston, South Carolina. They wrestled for the flag in full view of cellphone cameras, as well as in the background of a news broadcast. Thousands of people witnessed that moment, and it became one of many memorable images of racial justice and anti-white supremacy protest last year.
"My name is Camille and I am the niece of Muhiyyidin D'baha (or Moya as many of us knew him). On 2/5/18 around 1:00am, Moya was shot," his niece, Camille Weaver, wrote on the GoFundMe page.
"He was taken to the hospital in critical condition. around 9-9:30am we received a phone call saying that he had died due to excessive blood loss. We don't have many details, but will update as soon as we do."
The page is dedicated to raising funds for d'Baha's funeral and memorial services. At present, it's brought in more than three times its stated $7,500 goal.
According to The Times-Picayune, d'Baha's mother did not want to speak about her son's fatal shooting when contact on Tuesday night, beyond saying that he was a "wonderful person."
He will also be fondly remembered by the family of Walter Scott, the unarmed black man who was killed by Charleston police officer Michael Slager back in 2015. Slager ultimately pleaded guilty to violating Scott's civil rights, resulting in a 20-year prison sentence; according to Live5News, Scott's brother Anthony hailed d'Baha for his support for the family.
"I thank God for placing him here to be the solider that he is, that he was," Anthony Scott reportedly said.
Part of the fundraising effort by d'Baha's family is to have his body transported from New Orleans, to where he'd recently taken a trip, back to his home of Charleston, South Carolina, where his funeral and memorial will take place.
"His body is currently in New Orleans, LA and we are raising money to bring him home to Charleston and then have a memorial service/funeral for his family and friends," Weaver wrote on the GoFundMe page.
DeRay Mckesson, a prominent racial justice advocate and figure in the Black Lives Matter movement, told CBS News that he first met d'Baha following the Scott shooting, and remembered the strength of his leadership.
"He was a strong leader who deeply understood the role of community and the power of helping other people recognize that role," Mckesson reportedly said. In a tweet, Mckesson also called d'Baha "such a force and an incredible guy," calling his untimely death "quite a loss."
It remains to be seen whether the New Orleans Police Department will publicly release any information relating to suspects or potential motive in d'Baha's killing. Thus far, the NOPD has not given any public indications on either front, only saying that they're conducting "an active and ongoing investigation."