BLM Is Protesting A "White Civil Rights" Rally Exactly One Year After Charlottesville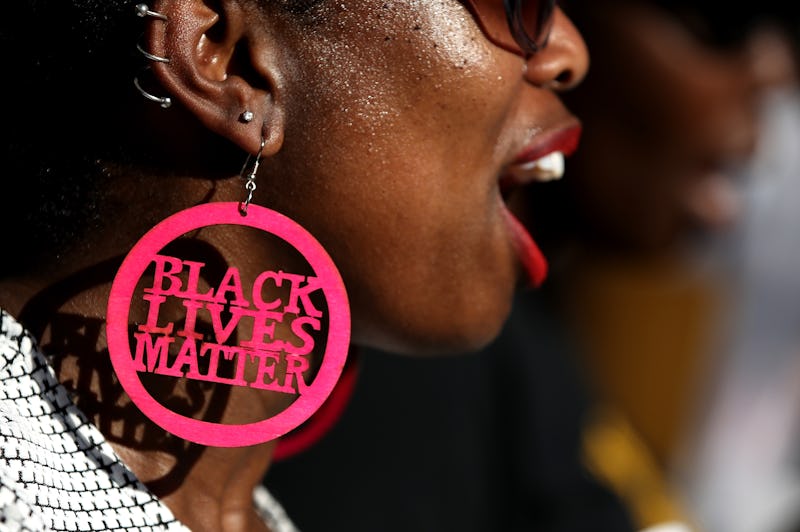 Justin Sullivan/Getty Images News/Getty Images
On the one year anniversary of the deadly white nationalist rally in Charlottesville, Unite the Right organizers will hold yet another rally, this time in Washington, D.C. Now, activists with Black Lives Matter are planning to counter-protest on the same day, according to the Fox affiliate in D.C., but many are concerned about safety since the previous year's rally turned brutally violent.
The Black Lives Matter group in the nation's capital will be working with Shut It Down D.C. to organize the counter-effort to the "White Civil Rights Rally," which is scheduled to take place near the White House at Lafayette Park on Aug. 12. That date will mark a year since hundreds of neo-Nazis and white supremacists gathered in Charlottesville, Virginia, transforming the rally into a vicious riot. In the chaos, a white supremacist-linked protester rammed the crowds with his car and killed a woman, Heather Heyer.
"We are stronger than they are, that they are resistant to change and to progress that Black Lives Matter has been doing over the last four years with black liberation and fighting racism and fascism," Makia Green of Black Lives Matter D.C. told Fox 5. "So it's important that we let D.C. and rest of the world know that we are not going to stand for the hate."
Green added that training classes would be held for Black Lives Matter attendees to anticipate situational safety measures and large crowds.
Jason Kessler, the organizer of the 2017 "Unite the Right" rally, sought a permit to revive another Charlottesville rally for 2018 but was denied. On Tuesday, he withdrew his bid to fight against that denial. But while Charlottesville officials rejected Kessler, D.C. officials approved his permit for a rally.
Kessler has tweeted that "we're going to be focusing exclusively on Washington DC on August 12th." According to USA Today, Kessler has said the rally in August will champion "white civil rights," defined by Kessler as limited rights for white people, especially when it comes to free speech. Last year, torch-wielding "Unite the Right" protesters chanted racist slogans like "Jews Will Not Replace Us." Many were armed. This year, Kessler has reportedly said that only American and Confederate flags — not neo-Nazi representation — will be allowed at the D.C. rally, USA Today reported.
According to Fox 5, Black Lives Matter organizers have said the permit approval by the National Park Service for the scheduled "White Civil Rights Rally" was disappointing but that they would push back against the "white civil rights" message by fighting that fascism and racism.
On top of the counter-protest, Black Lives Matter will also organize a march from New York City to Washington, D.C., to mark the anniversary of the white supremacist rally in Charlottesville, according to The Hill.
The march will start on Aug. 3 in New York and will come from a place of love, not hate, activists told the New York Daily News.
"Our goal is not to confront them physically, but to create a wave of love around them, to say there is no place in our society for bigoted hate groups," activist Hawk Newsome said to the Daily News. The march will stop in different cities every night and culminate in a rally at the Martin Luther King, Jr. Memorial in Washington, D.C.