'Black Mirror' Basically Put All Your TV Faves In One Episode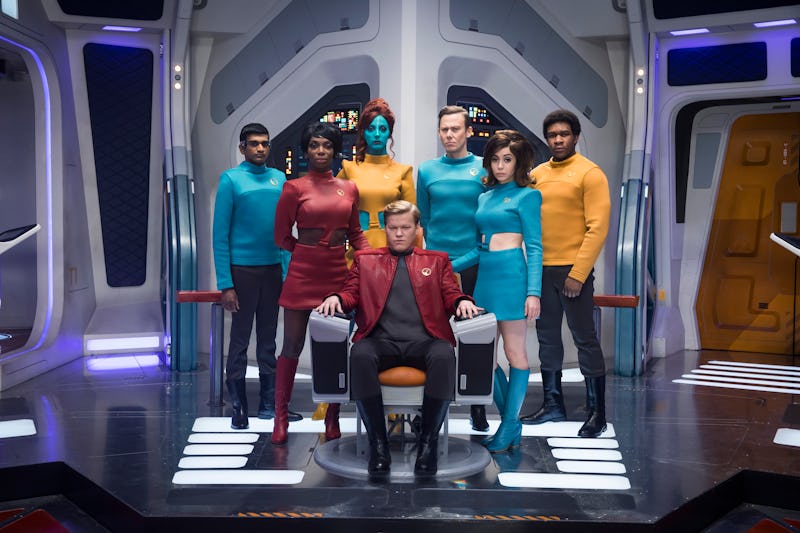 Jonathan Prime/Netflix
Netflix's Black Mirror is perhaps the one thing that could convince even the most social media-addicted millennial to put down their iPhone. But one episode of Black Mirror Season 4 is particularly exciting: the feature-length space epic "U.S.S. Callister," which looks as brightly colored as most episodes of Black Mirror are dark and moody. Even more thrilling, the Black Mirror "U.S.S. Callister" cast is filled with plenty of TV stars from lots of other beloved projects, and watching them all together makes for a perfect entry in this star-studded season of the science fiction series.
"U.S.S. Callister" appears to be deeply influenced by the original Star Trek, from the costumes, to the multicultural cast, to their relationship to the ship's captain, who's the exact same type of swaggering, overly confident and overly tanned type as William Shatner's original James T. Kirk. And it looks like the episode's Kirk-like character, played by Jesse Plemons (more on Plemons and the rest of the cast in just a moment), is more than just a charmer and a quick thinker, but a cult-like figurehead to the members of his crew. Overall, it looks like a tribute to the Space Age vision of the future from the 1960s, right down to the vinyl boots and the miniskirts, and this cast is ready to bring the slightly unsettling world of the Castillo to life. Here's a closer look at the cast.
Jesse Plemons As Captain Daley
As the captain, Plemons is channeling his inner (and outer) Shatner, but he's probably still most recognizable for his role as Landry, AKA "Lance," on Friday Night Lights. But since then, he's been a recurring character on Breaking Bad and was one of the leads of Fargo Season 2.
Cristin Milioti As Nanette
As the resident skeptic on the U.S.S. Callister, Milioti will certainly stand out among the rest of the crew, and it looks like she's the central character of this episode. Milioti has already made TV history by making the Mother from How I Met Your Mother a fully realized character in just a few short episodes, and just like Plemons, Milioti delivered one of the best performances in Fargo Season 2.
Jimmi Simpson As Walton and Milanka Brooks As Elena
From one of the creepy McPoyles on It's Always Sunny in Philidelphia to one of the original customers in Westworld's bifurcated storyline, Simpson has made a stop on plenty of prestige TV shows, including Netflix's first original series, House of Cards. Whether he'll be in heroic mode or dark mode still remains to be seen, but as a blue-shirted member of the team, he could be U.S.S. Callister's Mr. Spock.
In Star Trek, there's often at least one member of the team from an alien, non-human race, and it looks like here, it's Elena, a bright blue woman with red hair. Milanka Brooks hasn't had many iconic roles yet, but she certainly will after playing such an immediately recognizable role in Black Mirror Season 4.
Michaela Coel As Shania
Here's a cast member that's exciting — the creator and writer of hysterical coming of age comedy Chewing Gum is playing a character that's clearly patterned after Nichelle Nichols' Lt. Uhura. Coel hasn't had many other acting gigs besides a recurring part on The Aliens, a now-cancelled UK series, and another spacefaring role in Star Wars: The Last Jedi, so while she's between projects, this feels particularly special. Interestingly enough, Coel had a small role in the Season 3 premiere of Black Mirror as well, so clearly Charlie Brooker and the rest of the team love casting her in their near-future dystopias.
Billy Magnussen As Baldak
You may not have noticed yet, but Magnussen has slowly built a resume filled with lots of unconventional, great projects. He's been a hunk for Unbreakable Kimmy Schmidt, Ingrid Goes West, and Friends from College this year, and when live-action Aladdin is released in 2019, he'll be his second Disney prince (after Into the Woods). But here, it looks like he'll be playing one of the Callister's foes.
Osy Ikhile As Nate
If you recognize Ikhile, it's probably from one of his many roles in films and UK TV. He was in the Heart of the Sea and The Legend of Tarzan recently, and in 2015 he starred in SyFy miniseries Childhood's End, which gave him his first big science fiction role.
Paul G. Raymond As Dudani
Raymond probably isn't one of your favorite TV stars yet, but it looks like he'll be taking some cross between the Chekov and the Scotty-esque role on the team here. Those were iconic characters who always got in some good one-liners — maybe Dudani will provide some comic relief in this episode. Raymond's background is as an actor, writer, and creator of short films.
The cast of Black Mirror episode "U.S.S. Callister" is just like the team of adventurers working on the ship: a diverse group, each with specific strengths, all working together to bring the fourth season to life.