Why Are Black Bodies So Underrepresented In The Breast Cancer Community?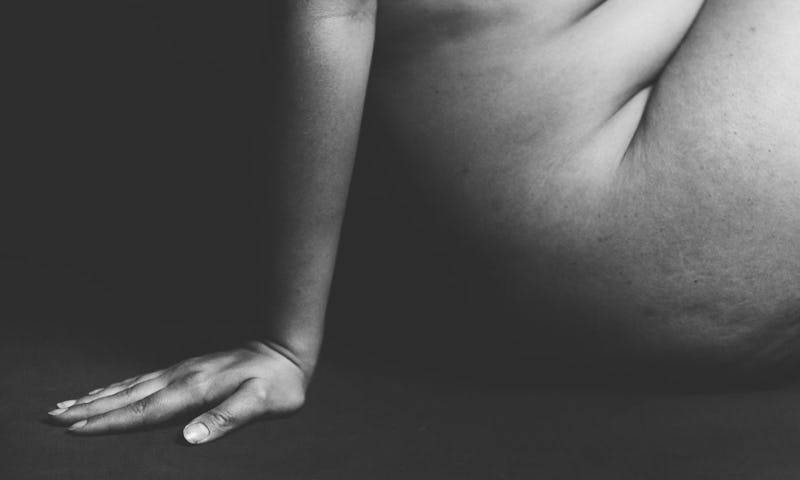 Vera Lair/Stocksy
Cancer is a disease that does not discriminate — no matter your age, race, ethnic origin, or class. And the number of people who are at risk for developing cancer in their lifetimes is continuously increasing in the U.S. But when it comes to breast cancer specifically, black women are now considered to be a high risk group, and three times as likely to be diagnosed with triple-negative breast cancer — a more aggressive form of the disease — than white women. On top of that, black women are also about 20 to 40 percent more likely to die from breast cancer than their white counterparts. But despite these concerning statistics, black women still underrepresented in the breast cancer narrative.
Doing a Google search of the terms "mastectomy" or "breast reconstruction," will likely lead you to a plethora of images of these procedures on white breasts, while black bodies are almost non-existent in the results. And even if you try being more specific by entering the phrase "mastectomy on black woman," a few more photos will pop up, but it's still clear that there are not nearly enough resources for black people fighting the disease. General medical diagrams of these procedures are typically no more diverse than what Google has available.
Dr. Nia Banks, a Lanham, MD-based plastic surgeon who specializes in breast reconstruction, suggests that the lack of racial diversity among medical professionals is likely one of the main reasons why there is poor visual representation for black women fighting the disease.
"It really is about who is publishing, who is contributing to the scientific communities, who is going to conferences, who's talking," she explains. "Quite frankly, very often African-American plastic surgeons, who may draw a lot of that market or that patient population, are not giving talks, or not going to conferences, or not putting pictures on their website, so it's harder to find the images."
Dr. Banks continues, "Most of the time when I go to a conference it's the same three or four guys all the time giving the same talk. That will control how many images that you're going to see when you do a Google search."
Studies from the American Society of Clinical Oncology echoes Dr. Banks' views. In 2017, they reported that while nearly 32 percent of oncologists identified as women, only a total of 2.3 percent of those in the practice are black or African-American.
But while there may be a lack of black oncologists, surgeons, and specialists who may have more access to patients of the same race, Dr. Christina Chapman, a radiation oncologist at the University of Michigan Rogel Cancer Center, personally believes that doctors across the board should be trained to take care of women of all races. "It's not really that different to talk to a black woman than it is to talk to a white woman with breast cancer," the physician says. "In general, we're all humans at our core."
That said, Dr. Chapman thinks more attention should be given to openly discussing and addressing racial disparities in breast cancer treatment and outcomes. "Much of the emphasis in medicine is on developing new treatments, but many people, including many black women, aren't even receiving the standard of care for a variety of reasons," she says. "I wonder what would happen if someone stopped to say, 'We are going to stop making progress in science in other ways until we get everybody some basic level of health care.'"
A 2007 study proves that racialized disparities in U.S. health care exists, many times starting with primary care physicians. The research concluded that when black people report symptoms of pain, for example, to doctors, their complaints were twice as likely to be trivialized than all other ethnicities combined. In addition, a 2015 study by the American Cancer Society found that black women's lack of access to adequate health insurance was one of the leading causes for their higher mortality rates of breast cancer.
It was clear he had very little experience with black skin.
Dr. Juliet Daniel, a professor at the Department of Biology at McMaster University in Hamilton, Canada, who focuses on molecular cancer research, felt the lack of diverse medical training first-hand after she was hit with a breast cancer diagnosis back in 2009. And while she shares that she initially didn't think about how race factored into her treatment, the scientist admits that once she was ready to undergo breast reconstruction, her plastic surgeon, who was a white male, seemed to be "very timid" when it came to using tissue expanders on her.
"It was clear he had very little experience with black skin," Dr. Daniel says. "That was the first time the whole thing about being black — and that they aren't necessarily used to this — that was the first time that I even thought about it." In the end, the surgery went smoothly, and she has been in remission for nearly 10 years.
Another crucial reason black women need more resources is simply because black skin tends to heal differently than those with less melanin. Scarring, for example, is more prevalent in black people than it is in whites, Dr. Banks explains. "The breast reconstruction, no matter how it's done, most of the time is going to create visible scars," she says. Since most breast reconstruction photos are on white bodies, it's very likely that a black patient may go into surgery not fully understanding how the results can differ on their skin.
This is one of the many reasons why it's so important for health care companies to create diverse visual brochures of these procedures. However, Dr. Banks explains that while inclusion may generally be a hot topic in 2018, there is still some pushback from inside the medical community. "The reality is that [physicians] have tried to get LifeCell and Allergan, which are two companies that create a lot of products and devices for breast reconstruction, to put more images in their brochures ... [but] everything is slow," she says. "There's not a lot of African-American plastic surgeons and it's not a priority ... There's no financial benefit for them to do it." Dr. Chapman also notes that studies have shown in general, black women tend to have inferior cosmetic outcomes post-treatment, which could possibly be a result of several of these issues.
Bustle reached out to Allergan and LifeCell for comment on the claim, but did not hear back by the time of publication.
Still, Dr. Banks — who offers photos of reconstruction surgery on black women online — is able to create natural-looking breasts for all her patients that have battled breast cancer, regardless of race. "We do nipple reconstruction and a lot of tattoos," the physician says. "We send [our patients] to a tattoo artist that is able to customize the skin color [of the nipple.]"
But North America isn't the only area where these issues exist. Even in countries like Ghana, where the majority of the population is black, black women still face major obstacles when it comes to reconstruction.
Dr. Lisa Newman, Chief of Breast Surgery at Weill Cornell Medicine and New York–Presbyterian Hospital, spends a lot of time in Ghana working with women who are fighting breast cancer. And while she says many of the cases she oversees requires a mastectomy, the lack of specialized plastic surgeons in the nation often leaves them without the option of reconstructing their breast(s). Thankfully, she has been able to bring a plastic surgeon with her on these trips in recent years who is helping to give these women the chance to regain their confidence.
But the breasts and skin aren't the only features that often are not taken into consideration when it comes to treatment for black people. Hair is also another element that is widely overlooked by medical professionals.
"Hair is actually a very important issue especially when we're talking about African-American women with this high rate of triple-negative breast cancer where chemotherapy is effective," Dr. Newman explains. "Recently, we benefited from advances in research in terms of developing ways that women can try to minimize the hair loss associated with chemotherapy through these scalp cooling or cold cap programs. But the cold caps are more difficult to sit on women that have curly, kinky hair. So you have to pay closer attention to the way that you protect against hair loss in African-American patients."
Outside of the health care world, visuals of black women in mastectomy clothing also tends to be quite scarce. But Dana Donofree, the founder of AnaOno, who is white, is using her platform to try to create a shift.
First creating her mastectomy-friendly lingerie and fashion line after she was diagnosed with ductal carcinoma breast cancer at 27, Donofree makes a point to photograph women of all races, shapes, and sizes who have dealt with the disease themselves, rather than models with breasts. "I started realizing very quickly that so many of us that are diagnosed are not included in any programming or pictures or what that 'face of breast cancer looks like,'" she says. "Cancer affects everybody."
"For me, [inclusion] comes naturally because these are all people I know that they are battling the same disease that I am," she continues. "And I think it's really important that the world sees it that way."
And while the seriousness of a breast cancer diagnosis cannot be denied, the stigma that those with the disease shouldn't focus on beauty or their appearance during their journeys is still prevalent — and can be extremely damaging. So how can we begin to disband this ideal? Dr. Daniel suggests it can start within the black community itself.
"I think in our cultures, first of all, a lot of black woman don't even want to say the word cancer," the professor shares. "I think some people really are afraid of talking about it with family and friends and getting [them] involved in their cure and their treatment." Dr. Newman echoes this belief, adding that she thinks patients are sometimes reluctant to voice their beauty-related concerns to their doctors, which makes it easy for these issues to be overlooked.
However, as a plastic surgeon, Dr. Banks stresses the importance of making sure patients feel beautiful and confident after they've gone through something as traumatic as breast cancer — especially those who are still in their 20s and 30s.
"We can't expect women to survive a disease and then not come out the other side of that as a whole person." Dr. Banks shares. "Our job is to leave you whole at the end of your treatment. Not just cancer-free, but whole."