Blake Lively Jokingly Posted A "Makeup-Free Selfie" With Makeup On & People Were Outraged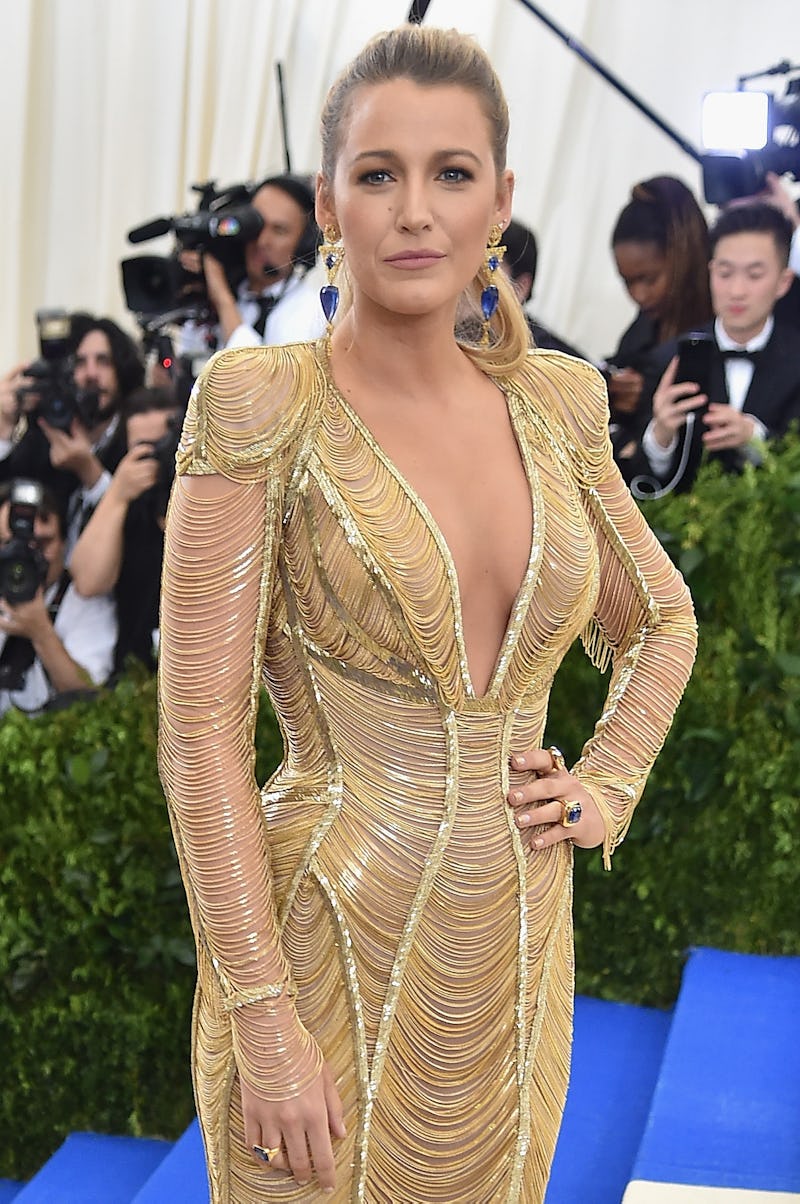 Theo Wargo/Getty Images Entertainment/Getty Images
Another day, another wave of outrage at a woman's makeup. If we're being honest, wearing makeup is hard. If you're the type that likes to swipe on some mascara and rose-colored lipstick, then more often than not you sneak under the radar. But if you step outside of those boundaries and opt for, say, fake eyelashes on a Tuesday or purple lipstick that says, "I'm doing this for me," then you might be in for a world of hurt. From unsolicited comments to death stares across the train, wearing makeup can be pretty political. And, apparently, so can joking about it. Blake Lively joked about a "no-makeup" selfie she posted, and Instagram oddly decided to drag her for it.
The controversial selfie in question was a 2007 throwback to her Serena Vanderwoodsen days, and true to the early noughties aesthetic, she had a lot of makeup on. I mean, it was globbed on, but that was the way we liked it. She was rocking frosted pink lip gloss, who's sheen was only second to her dewy, full-coverage foundation. Her eyes were nearly eclipsed by her heavy fringe of lashes, darkened by layers of mascara and eyeliner. She looked like she could be the third wheel to Nicole Richie's and Paris Hilton's "Do They Sell Walls At Walmart" girl gang, which should have made us all feel nostalgic. Instead, Instagram decided to explain the joke back to Lively, in case she wasn't aware of her own sarcasm.
It was almost like watching mansplaining at work, where comment after comment highlighted that she was, in fact, wearing heaps of makeup. And you were left wondering if these people really didn't think she realized she had a whole tube of mascara on, or if we're all ingrained with the knee-jerk need to correct women, lest our heads explode.
Just take the caption she wrote underneath the post: "Just a little #makeupfree selfie to round out the year. #2007 #aunaturale 😳" It was pretty obvious that it was sarcastic, but it's true that some people have a hard time picking up on sarcasm through text. That's where the bug-eyed emoji came in, highlighting that she was joking and slightly horrified with the makeup-heavy look from her younger days. (Like the majority of us are.)
But the responses were varied.
There were a lot of comments along the lines of, "There is nothing makeup free in this pic," while others wrote, "Oh god, that is so not makeup free. You have lost my respect."
However, many people came to her defense, pointing out she has a playful sense of humor and always jokes on Instagram. This is just another one of those moments where she's poking fun at herself. One fan wrote, "It's so surprising to see many people in this century still don't know and don't understand sarcasm. And obviously they won't get the idea behind this pic and the caption. If you are really following Blake, you know she has a great sense of humor."
Others picked up on the joke and ran with it, stating, "It's that natural glow."
Maybe next time Lively will spare herself the drama and throw in a #sarcasm hashtag, just to be safe.