Blake Lively's Latest Red Carpet Look Will Give You MAJOR 'Gossip Girl' Vibes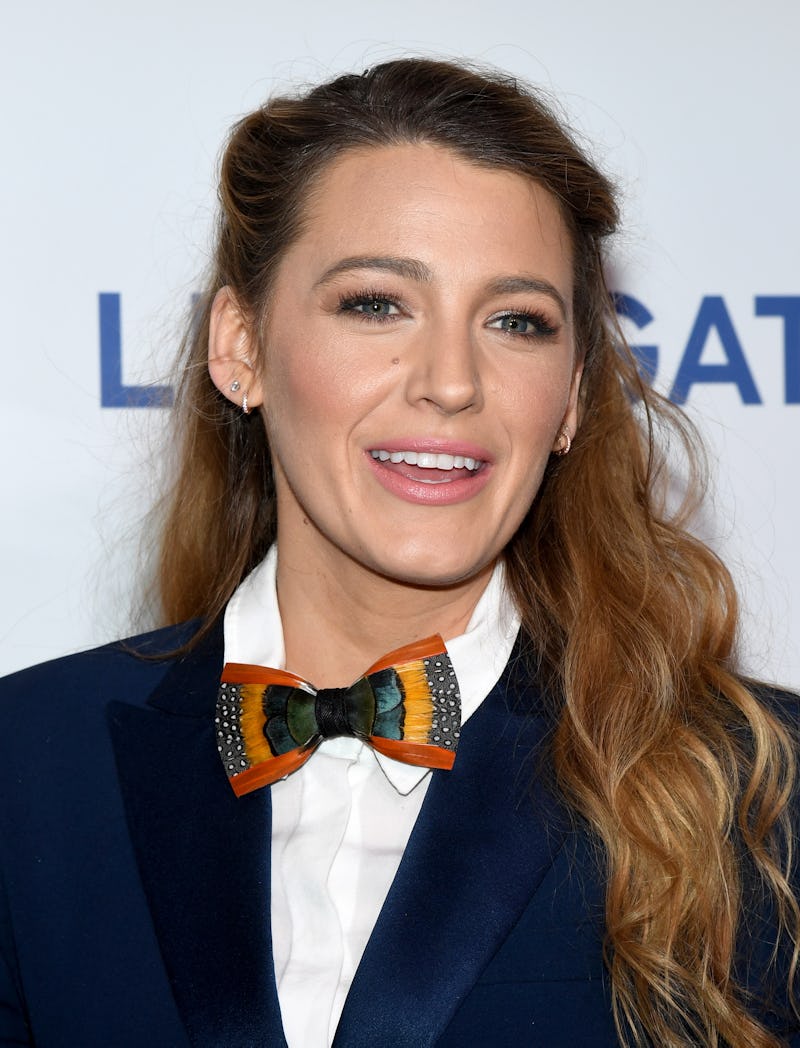 Ethan Miller/Getty Images Entertainment/Getty Images
Spotted: Blake Lively looking like she stepped off the set of Gossip Girl. It might be six years since this girl has sat on the stairs of the Met, but it looks like she can't shake off her prep school days. — xoxo, Gossip Girl.
As PeopleStyle found, Blake Lively wore a bow tie and blazer dress by Sonia Rykiel to CinemaCon. The outfit looked eerily similar to something that the cast of Gossip Girl would have worn to either prep school or a party on the Upper East Side. Whether or not she meant to give you flashbacks to the era, this outfit will make you want to binge watch the show ASAP.
Move over, Chuck Bass, because you're not the only one that can rock a suit. All Gossip Girl jokes aside, Lively's off-screen style is incredible. She's constantly surprising people with her color combinations and menswear inspired looks, and her latest is no different.
She rocked an oversized navy blue blazer with a white button up underneath to the event. Of course, in true Lively form, she added her pops of color, but it was different on the top and bottom. Up top, she opted for a Earth-toned, peacock feather bow-tie. On the bottom, she wore white, pointed-toe Christian Louboutin pumps with neon detailing.
Tell me that you didn't instantly get Gossip Girl flashback, and you would be lying. She opted for wavy, pulled back hair by celebrity hair stylist Rod Ortega, which also gave vibes from her throwback show. Maybe she was inspired by her visit to New York or maybe she just can't resist a moment to get a blazer on. Either way, she looks incredible.
This is far from the first time that Lively has been in a blazer. Even when she was of the small-screen, she has been known to rock a great jacket or two in her day. In fact, it's not her first time experimenting with menswear in general.
There was the time that she stepped out during a New York press tour wearing a head to toe black and gray suit completely with the floor-length jacket. That also happens to be when she wore seven different outfits in one day. Yes, you read that right. It looks like she learned a thing or two from her on-screen persona, who also loved the quick changes.
There wasn't one episode of Gossip Girl that ever went by where a blazer wasn't seen on one of the stars. If it wasn't on the infamous Chuck Bass, it was seen in the characters prep school uniforms. Why someone hasn't asked her if she borrow any from the set is beyond me.
Lively posted a photo of herself in the outfits on Instagram, as she does with some of her favorite outfits. In the most uncommon fashion poll of all time, she posted three photos of herself in the same outfits, all from a different direction, with the caption "who wore it better?"
Despite the idea that this is a rhetorical questions, fans did gather in the comments section to let her know that she did, in fact, wear it better than her other two selves. Lively is constantly having fun with her fashion and never taking one outfit too seriously — no matter how fierce of a look it is.
It's fun to see Lively going back to her fashionable on-screen roots with her style, with her own personal twist of course. There is nothing that this woman couldn't wear and look stunning in. Now excuse me while I go binge watch Gossip Girl all day.