Blake Lively's Regal Met Gala Makeup Was Created Only With Drugstore Products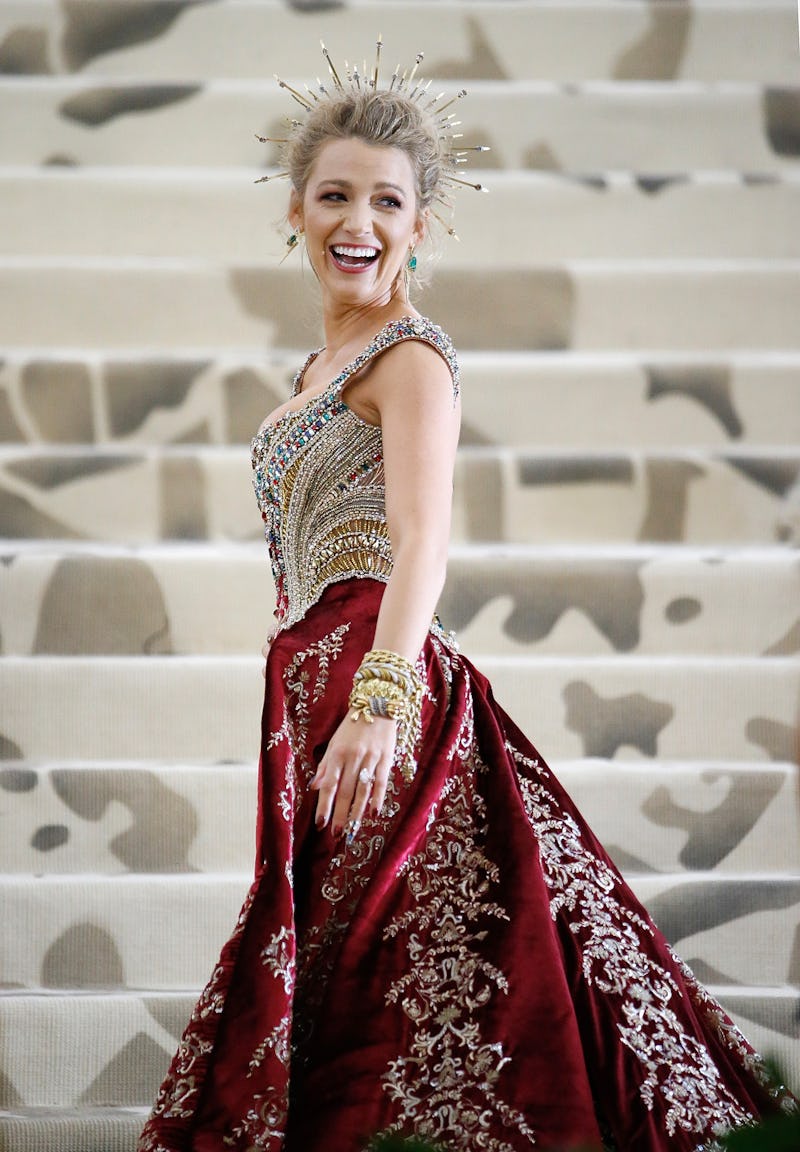 John Lamparski/Getty Images Entertainment/Getty Images
Drugstore makeup at the Met Gala was legit a trend. It was so much more than just a "thing." Blake Lively's regal 2018 Met Gala makeup was all drugstore products. Just like Solange's smoky-eyed, dewy-skinned, and nude-lipped look was created by Burt's Bees products, all of which were under $20, Lively also went with affordable and relatable when it came to her makeup.
The actor and former Gossip Girl star was a vision in red and that included her gown, lips, and lids. Most of the items used are easily accessible and widely available — more on that in a moment.
Lively's use of drugstore items is not surprising, since she is a L'Oreal spokesperson who appears in the brand's advertising. She puts her money where her makeup is.
Lively wore a spiked crown in her blonde hair, since the theme of the evening was "Heavenly Bodies: Fashion and the Catholic Imagination." Her custom Versace dress featured lots of red jewels. Since she was rocking an expensive and encrusted gown and approximately $2 million worth of jewelry, according to Allure, Lively balanced things out with her inexpensive beauty products.
Her makeup matched the main color of her dress — her smoky eyes were rimmed and winged with a halo of crimson. Her stained, flushed lips were also a pretty and pinkish red.
Breathtaking, right? Lively managed to match without being overly monochromatic.
Makeup artist Kristofer Buckle stated that Italian religious paintings were the main inspo for Lively's lovely look. "We wanted to create a very structured look with strong bone contouring like the statues of saints I've seen," he said in a press release.
You hear that? The goal was to create Saint Blake. He pretty much succeeded.
1. Smooth Skin
2. Foundation
3. Bronzer
4. More Glow
5. Lips
Those were the core components of the look that you can currently purchase. But what about her eye makeup, which was the source of high drama?
Lively's eyes featured a sneak peek at an upcoming product that is currently unavailable. Lively's rosy and smoky eye was crafted with shades from the new L'Oréal Paris Paradise Enchanted Eyeshadow Palette, which won't be available for purchase until July. So you will have to wait if you want to recreate this look. It'll be worth it, though. In case you are curious about her lashes, Buckle finished the eye with several coats of L'Oréal Paris Voluminous Lash Paradise Mascara in Brown Black.
Lively's cheeks were as rosy as her lips and lids. That's the feature on which Buckle also teased another L'Oreal launch — the brand's Paradise Enchanted Blush. That product will also drop in July. Here's another secret tip. He also used the blush on Lively's eyes for an additional scarlet pop.
While red makeup can be tricky to pull off, Lively made it look easy. Plus, her makeup artist was careful with placement and buffed out the shades beautifully.
In just a few months, you can totally copy this look. The teased products arrive just in time for autumn beauty looks and makeup bag refreshes.