Blake Lively Wore A Velvet Jacket Over Another Velvet Jacket In The Summer & I Am Sweating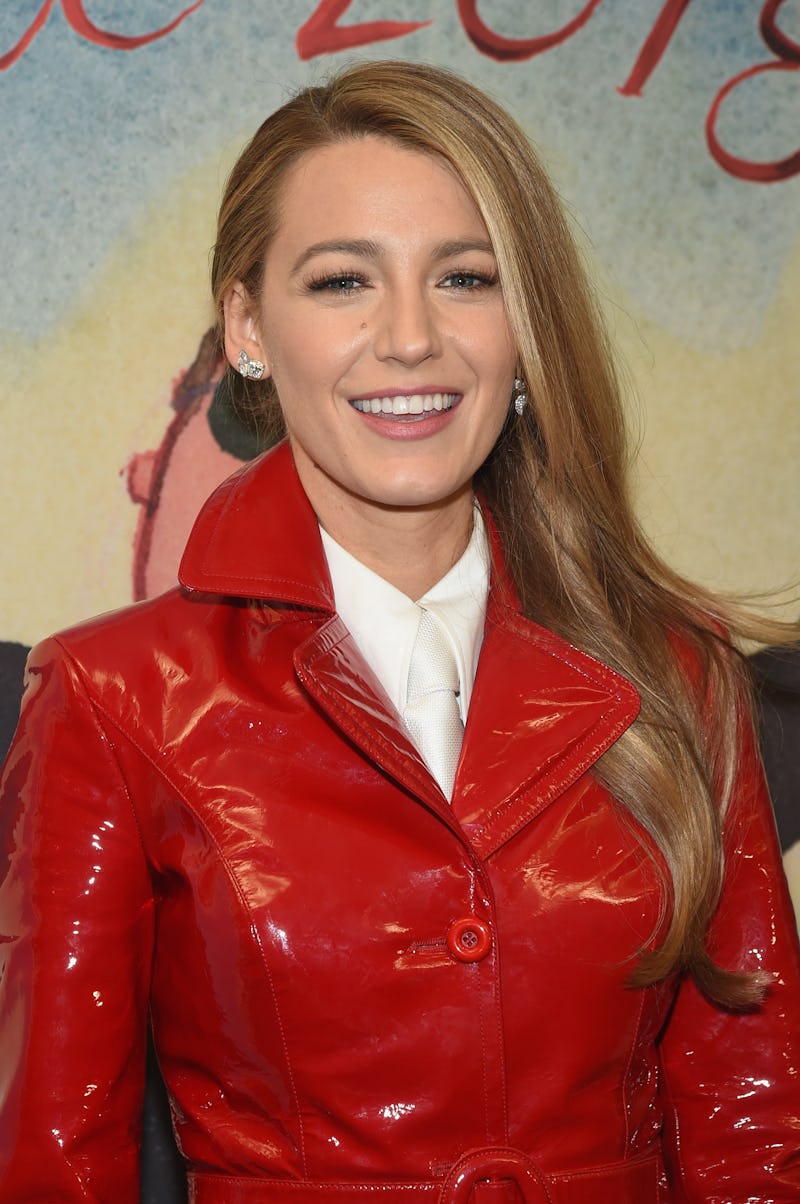 Jamie McCarthy/Getty Images Entertainment/Getty Images
This woman is a fashion daredevil, if there ever was one. First she stunned the world with her incredible — and high-heel filled — pregnancy outfits, and now she's defying the weather. As People Style reported, Blake Lively wore a head-to-toe velvet outfit in the middle of summer. Go ahead and grab a napkin, because just looking at this outfit will make you sweat.
Before you start reading this, please be reminded that it is the middle of August. Okay, carry on. When you hear that Lively wore velvet, that might not be extremely shocking. But then you hear that she wore not one, but two velvet blazers and velvet pants, and you basically just start sweating right on spot.
According to People Style, Lively rocked the maroon and navy blue velvet-on-velvet-on-velvet look in 85 degree day in New York City. To be fair, she skipped the shirt underneath, so she was getting at least a little bit of a breeze in the outfit. She also paired the look with an oversized bag and a pair of studded, Louboutin shoes.
Oddly enough, the star did not seem to be sweating at all. Even with her hair down. There's a good chance that Lively is not human, but a very fashion robot. Just kidding — kind of.
From the maroon and navy blue color scheme to the velvet and even the gold accessories, it's clear to see that Lively is ready for fall to get here. Aren't we all though? The end of August is this weird time where everyone is buying sweaters, but no on actually wears them. Unless, of course, you're Lively. Then you just throw on all the velvet you can and hope for a breeze.
Or perhaps Lively is mother nature herself. Maybe the heat will start magically leaving, starting with New York and we can all get to the next season once and for all. That's probably not true, but a girl can dream.
Lively hasn't been posting her usual fashion Instagram photos to social media lately. First, she erased everything from her Instagram page to promote her upcoming movie A Simple Favor. The movie, according to the previews, is about a woman who goes missing from her life out of nowhere. Naturally, Lively has been skipping out on that too.
Thankfully, she has not been been going into hiding in real life. She does plenty of appearances, and keeps the fashion moments coming. Lately, the actress has been very into blazers, which is a telltale sign that she is ready for fall.
Her most recent look is not your typical blazer look, though. She paired two of them overtop one another, making for a dimensional, multi-colored look that only Lively could create.sh
If Lively says that fall is here, then it must be true. This outfit is a clear indication that it will be one heck of a season, as far as fashion goes. Consider this the beginning of a whole lot of interesting fall looks.