Blue Ivy Made A MAJOR Bid At An Art Auction & It's The Cutest Thing You'll See Today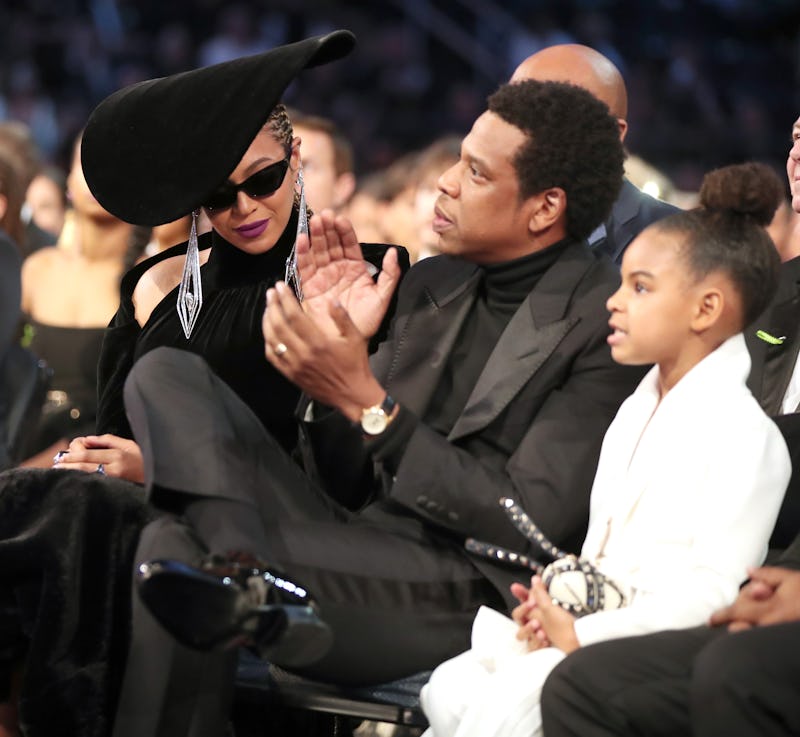 Christopher Polk/Getty Images Entertainment/Getty Images
Blue Ivy Carter is a known as an adorable spotlight-stealer, and she once again made headlines at the 2018 Wearable Art Gala in Los Angeles. Blue Ivy bid $19,000 at an art auction with Beyoncé and JAY-Z, and the video of the moment will make you laugh so much. As reported by E! News, the auction was organized by Beyoncé's mother Tina Knowles and her husband Richard Lawson to raise money for the WACO (Where Art Can Occur) center.
The theater would provide teen mentorship programs for be a place for young people to explore art and performance. Blue was eager to support the cause, and put up a bid for $17,000 for an acrylic painting of Sydney Poitier. She upped the bid to $19,000, and JAY-Z had to stop her from spending more, which was caught in a viral video on social media.
In the video, Blue Ivy was eventually outbid by Tyler Perry, but that didn't stop the funny vid from going viral. It's not the first time Blue's adorableness at an event made headlines. In January, her appearance at the Grammy Awards with Bey and Jay resulted in one of the evening's most meme-worthy moments. During Camila Cabello's acceptance speech, Bey and Jay were a little too enthusiastic and Blue put her hands up to signal for them to calm it down. A month later, Blue once again made headlines for snapping selfies and munching on snacks with Beyoncé while sitting court-side at the NBA All Stars game. It seems like Blue is stealing the show during all the superstar fam's outings, and the fundraising gala on Saturday was no different. The WACO Theater Instagram account posted a video of Bey's speech to their IG stories.
The bidding war wasn't the only reason Blue and Bey were in the news, and their matching gold outfits were also super adorable. The theme for the evening was from "WACO to Wakanda", and the both stars wore looks inspired by the Afrofuturist style in Black Panther. Photos from the event showed that the mother and daughter stunned in matching gold gowns as an entrance look, and Blue Ivy even completed her outfit with gold hair. Bey later changed into a more casual look for the ceremony, but kept with the gold theme.
Beyoncé was honored for her humanitarian work during the event as well, which includes clean-water initiatives across the globe and contributions to hurricane recovery in her hometown of Houston. The ceremony included a taped message from former-first lady Michelle Obama, and she thanked the singer for her ongoing charity work. "At a time where so many people are feeling afraid and looking inward, honey you give us the courage to reach out across every divide — race, class, gender, geography," Obama said, according to Vanity Fair. "It has been a joy to work with you on issues we care about and witness your outstanding work first hand. Because millions of girls around the world love you and admire you — including my daughters — it means even more that they see you standing up for others."
According to VF, Bey also delivered a speech of her own and reiterating the importance of charitable work. "I feel very overwhelmed and I feel really full and really blessed and fortunate," she said, according to the publication. "There's something that feels very off about receiving this award from my mother. She raised me to believe that giving was not an option, but a privilege and a responsibility."
JAY-Z also took the stage to pay tribute to his mother, Gloria Carter, and her work with the Shawn Carter Foundation. The organization, which Carter started, helps people with socio-economic struggles attend college and further their education. The WACO Theater Instagram account posted photos of Jay-Z introducing his mom to their IG stories.
It was an exciting evening for the Carter-Knowles family, and yet, Blue Ivy managed to steal the show yet again. Tyler Perry may have outbid her for the portrait of Sydney Poitier, but she still managed to go home with some new artwork. Blue put a winning bid of $10,000 on the next piece, which was created from law books in Indiana and medical books in California by artist Samuel Levi Jones.
Bey and JAY-Z are super stars, and only Blue could could steal the spotlight from her musical icon parents. From the fashionable looks to the funny and adorable vids, she's a natural Her hilarious art bidding against Tyler Perry is just her latest scene-stealing moment, and it will be exciting to see what she'll do next.