Bob Corker's World War III Warnings Are Chilling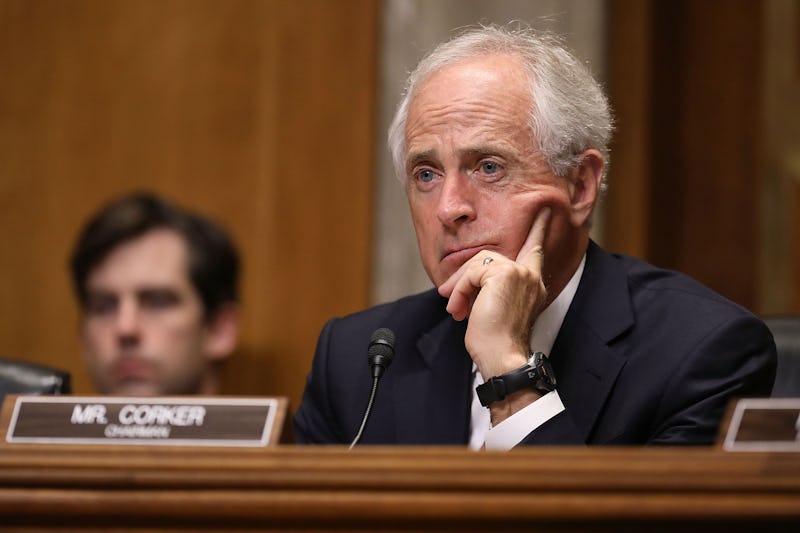 Chip Somodevilla/Getty Images News/Getty Images
In an interview with the New York Times on Sunday, a Republican Senator from Tennessee, Bob Corker, warned that Trump will spark "World War III" with his antics, suggesting that the president is behaving irresponsibly in his interactions with other countries.
Corker gave an extensive, 25-minute interview to the Times on Sunday, in which he repeatedly criticized Trump, expressing deep concerns about the president's performance. While the Times reported that Corker would not directly answer whether he believed Trump was fit for office, he did express hesitation about Trump's level of appreciation for the powerful nature of the role of president of the United States, saying,
I don't think he appreciates that when the president of the United States speaks and says the things that he does, the impact that it has around the world, especially in the region that he's addressing ... and so, yeah, it's concerning to me.
The New York Times also reported that Corker said that he was concerned that Trump is treating the office of the president like "a reality show ... like he's doing 'The Apprentice' or something" and noted that he was worried that the president's recklessness in his interactions with other countries could set the U.S. "on the path to World War III."
During the interview, Corker further noted that he believes that most members of the Republican Party share similar concerns about Trump's recklessness, pointedly noting,
Look, except for a few people, the vast majority of our caucus understands what we're dealing with here ... of course they understand the volatility that we're dealing with and the tremendous amount of work that it takes by people around him to keep him in the middle of the road.
Corker's comments to the Times came on the heels of a heated Twitter exchange between President Trump and Senator Corker on Sunday morning. Trump began the exchange by suggesting that Corker decided to not run for re-election (the Senator announced his retirement earlier this year) because he had "begged" Trump to endorse him and Trump had said no. In his series of tweets, Trump also suggested that Corker had wanted to serve as secretary of state and Trump had denied the request. He further blamed the senator for what he called the "horrendous Iran deal." The president concluded his series of tweets by saying that Corker is a "negative voice [standing] in the way of our great agenda," and also by accusing the senator of not having "the guts to run."
In response to the president's tweets, Corker issued a tweet of his own, saying "It's a shame the White House has become an adult day care center. Someone obviously missed their shift this morning."
The Times also reported that, during his interview with the paper, Corker said of Trump's Sunday morning tweets, "I don't know why the president tweets out things that are not true ... You know he does it, everyone knows he does it, but he does." Corker also directly denied the president's Twitter allegations, saying he had previously had multiple conversations with the president in which Trump had encouraged him to run for re-election and offered to hold a rally on his behalf, though Corker simply told the president he had already made his decision not to run again.
Overall, Corker's words, both in his tweet to Trump as well as during his interview with the New York Times, certainly seem to be indicative of a very strained relationship with the president. Moreover, Corker's warning about Trump potentially sparking World War III with reckless actions is likely very concerning for many, though Corker did assure the Times that "As long as there are people like that around him who are able to talk him down when he gets spun up, you know, calm him down and continue to work with him before a decision gets made, I think we'll be fine." The paper noted that Corker had previously referred to Secretary of State Rex Tillerson, Defense Secretary Jim Mattis, and White House chief of staff, John Kelly, as "good guys" who are working closely with the president.
Thus, while Corker's words about Trump and his leadership capabilities are certainly disquieting, the senator seemingly remains confident in the abilities of those who advise the president. Time will tell if and how Corker's words impact Trump as well as whether or not they will have implications on Trump's ability to get his agenda through Congress.