Bode Miller's Net Worth Comes From His Skiing Days, Not His NBC Gig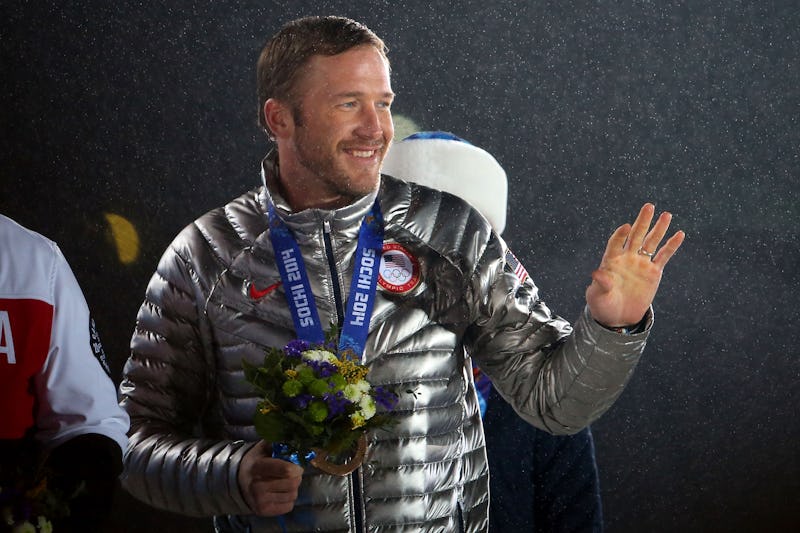 Quinn Rooney/Getty Images Sport/Getty Images
Six-time Olympic medalist Bode Miller is at the Winter Games once again, this time as commentator rather than a competitor. Three years after retiring from professional sports, the alpine skier is now an on-air analyst for NBC, and he's been calling and analyzing the ski events since they kicked off earlier this the week in PyeongChang, South Korea. In all likelihood, he's doing this out of love for the game — Bode Miller's net worth is high enough that he probably doesn't need any extra spending money.
So just how much money does the Olympic skier have? According to TheRichest.com, Miller is worth $8 million. Some of that money came from competing in and winning tournaments: he earned $332,000 by winning the alpine skiing World Cup in 2008, per TheRichest.com. Miller has also won six Olympic medals, including one gold medal. The U.S. Olympic Committee does give out (relatively modest) bonuses to athletes who win medals at the games.
Perhaps more importantly, though, Miller has landed several lucrative endorsement deals throughout his career. Nike, Visa, the Italian pasta company Barilla and Head, a ski manufacturer, are just a few of the companies that Miller has inked deals with during his time as an Olympian. By the time he hit the slopes for the 2006 Turin Games, Miller had already accumulated $4 million in endorsement deals, according to Fox Business.
Miller has competed in every Winter Olympics since the 1998 games in Nagano. In addition to his six Olympic medals, he also has World Cup overall trophies, five world championship medals and 33 World Cup victories under his belt, according to CBS Sports.
Despite his athletic accomplishments, however, Miller is often remembered for his disappointing performance at the 2006 Winter Games in Turin. Although he headed into those games with sky-high expectations — the New York Times called him "the American face of these Olympics" — he ended up finishing just two of his five races in Turin, and didn't place higher than fifth in either of them. Compounding matters was the fact that in interviews, Miller sometimes expressed what the Times characterized at the time as a "general lack of interest in winning Olympic medals."
"I just did it my way," he told the Associated Press during the 2006 games. "I'm not a martyr, and I'm not a do-gooder. I just want to go out and rock. And man, I rocked here...It's been an awesome two weeks. I got to party and socialize at an Olympic level."
In an interview Monday with CBS Sports, Miller expressed some regret for his behavior in Turin — but only a little bit. While acknowledging that he "probably should've done different things and probably behaved differently," he nonetheless said that he's "sort of always been the way that I was," and accused the media of being unjust in its depiction of his performance at the 2006 games.
"They didn't do a very good job portraying my performance, they just said it was a massive failure," Miller said, adding that he was only 11 hundredths of a second away from winning a bronze medal that year. "And the reality is what I just described to you. It was only a minor failure, especially considering that all year I hadn't won a single race. It was actually better than what I'd been doing all year."
Negative press aside, Miller had the last laugh: Despite flaming out in Turin, he went on to win three medals at the 2010 games in Vancouver — including one gold — and a bronze medal in Sochi four years later. Now, as a commentator at NBC, he hopes to be able to educate American viewers on the intricacies of Olympic skiing.
"I think half the people watching it will not have seen a World Cup race or a ski race since the last Olympics, which is four years ago," Miller told CBS Sports. "The Europeans are very educated and it's part of their culture and they love it that way. A lot of Americans don't really understand and it only becomes about winning medals."