This Woman Is Behind Katy Perry's Greatest Hits — Now She's Using Her "Superpower" On Herself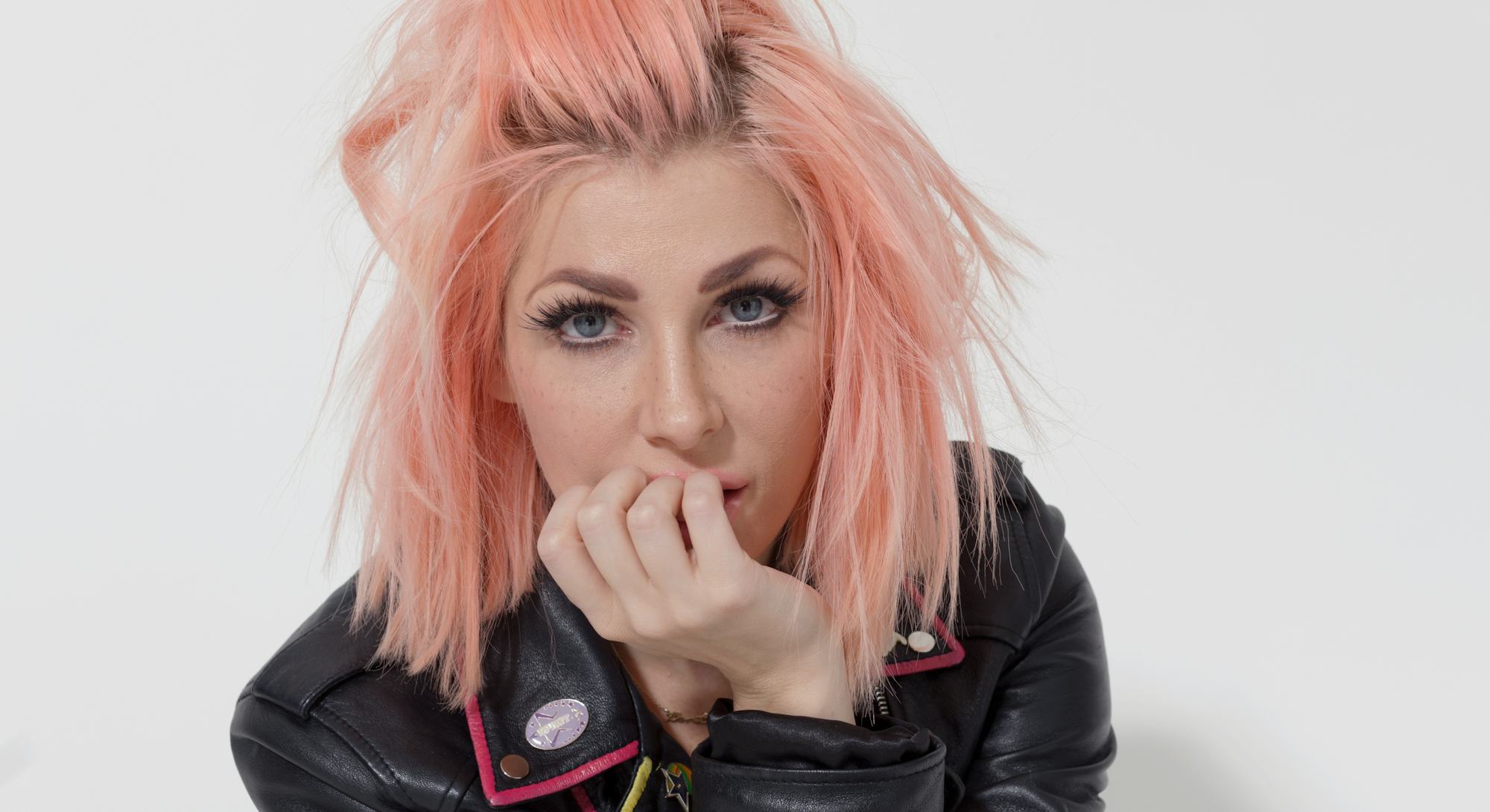 Ashley Batz/Bustle
Bonnie McKee has a superpower that's been captivating music lovers for years. You might not even know it, but McKee helped Katy Perry write her biggest hits. From "Teenage Dream" and "Roar" to "California Gurls" and "Last Friday Night (T.G.I.F.)", you've been listening, whether by choice or not, to songs made famous with help from McKee. The songwriter, who is also a singer known for her own songs (such as "Bombastic" and "American Girl"), opened up to Bustle about what it was like working with Perry.
"It's a fun novelty job, where everyone's like, 'Oh! So you wrote that?' It's like a superpower," McKee tells Bustle of being a songwriter. As for working with Perry, she adds, "I think that Katy Perry was really kind to me in the beginning as far as crediting me and talking about me in interviews and stuff, so I really owe a lot of my fanbase to her."
Before 34-year-old McKee became a hit songwriter, she was busy dreaming of becoming a singer. "In my perfect world, as a little girl, imagining what my life would look like, I thought that I would be a huge pop star. And maybe on the side I'll write some songs for other people," she says.
It didn't go exactly as planned, as McKee explains, "And then I got started as an artist first, and that didn't work out like it doesn't for so many people the first time around, and I started writing songs for other people out of necessity because I was broke and I didn't have anything else going on and so I did not expect it to blow up the way that it did."
It blew up so much, in fact, that McKee is now known for co-writing many of Perry's songs. They created a beautiful journey together, too. When it came to writing "Teenage Dream", the song hit close to home for both Perry and McKee, because neither of them had the typical high school experience.
"Katy and I both kind of have an obsession with the all-American high school experience that neither of us got to experience," she says. "You know, she was an artist and working from a young age, and I got kicked out of school in ninth grade. I never went to prom, there were never bleachers, there was never cheerleaders and sh*t like, that wasn't an experience that I had."
They also love to inspire other women through music, like they did with "Roar." McKee credits Helen Reddy's 1972 anthem "I Am Woman" for allowing them to write the song.
Ashley Batz/Bustle
Ashley Batz/Bustle
"But you know, we could not have written that feminist anthem without the original feminist anthem, 'I am woman, hear me roar,'" McKee says. "And that was of course the inspiration. We knew we wanted to do an empowering song and I brought up that song."
Clearly, when they join forces, these two have an amazing ability to empower and uplift other women — just like do with each other. And they've known each other for a long time. McKee told Glamour in October 2013, they've been friends since they were teenagers and before Perry (aka Katheryn Hudson) was even known as "Katy Perry".
Perry and McKee don't have any immediate plans to work together again, but that doesn't mean they aren't rooting for each other. "I mean, she made this last album with a different group of people and wanted to try something new and I'm fully supportive of that," McKee says of them going their separate ways, for now. "There are a lot of super talented people involved and, you know, I think it's good to kind of step away from the usual formula and go out on your own and see what happens."
Ashley Batz/Bustle
Ashley Batz/Bustle
Since taking a break from Perry, McKee has focused on herself. Yes, she's worked with other artists — including the one and only Cher — but McKee also released "Sleepwalker" in February and began her tour with Kygo that same month. Next on her list is playing at Coachella.
"Oh my God, it's a bucket list thing for me," she says about her festival performances with Kygo set for the weekends April 20. "Yeah and to get to play main stage headlining for your first Coachella performance is pretty amazing."
She's also getting ready to release new music. Compared to the songs she wrote for Perry, the new tracks from McKee will sound different — and for good reason. "I'm really good at writing perfect, sparkly pop songs that are just fun and of course that's fine, but people expect that from me and I've done a lot of that and so I'm diving a little bit deeper on this next batch," she says.
Speaking of "diving deeper" into her next bunch of songs, there is one in particular that will hit home for many. The song is called "Mad, Mad World" and McKee wrote it after the Las Vegas mass shooting in October 2017.
"It was something that had already been bubbling up inside of me already with all the political turmoil and all of the sexual harassment stuff and Donald Trump and just waking up every morning and looking at my phone and reading the news and being like, f*ck," she says.
McKee says her fans can expect a "large body of work" from her sometime in the next year. Whether that be McKee releasing one single at a time or releasing an album all at once, she's definitely no longer holding her music back.
"I think I need to be a little less precious about what I'm putting out and trying to flood the whole internet with more of my work because I have been very precious and secretive about the work and I have been sitting on 100 songs," she says, "But I put them out one at a time and I do a whole campaign and I make a video and I'm very like precious about it and I'm more interested in just getting a larger body of work out there."
She's certainly earned her space in the industry. Whether she's working with Perry or writing music for herself, McKee's "superpower" is one that hasn't gone unnoticed.
Editor's Note: A previous version of this article misstated McKee's Coachella dates.