This Lawsuit Claims The Boy Scouts Discriminated Against A Teen With Down Syndrome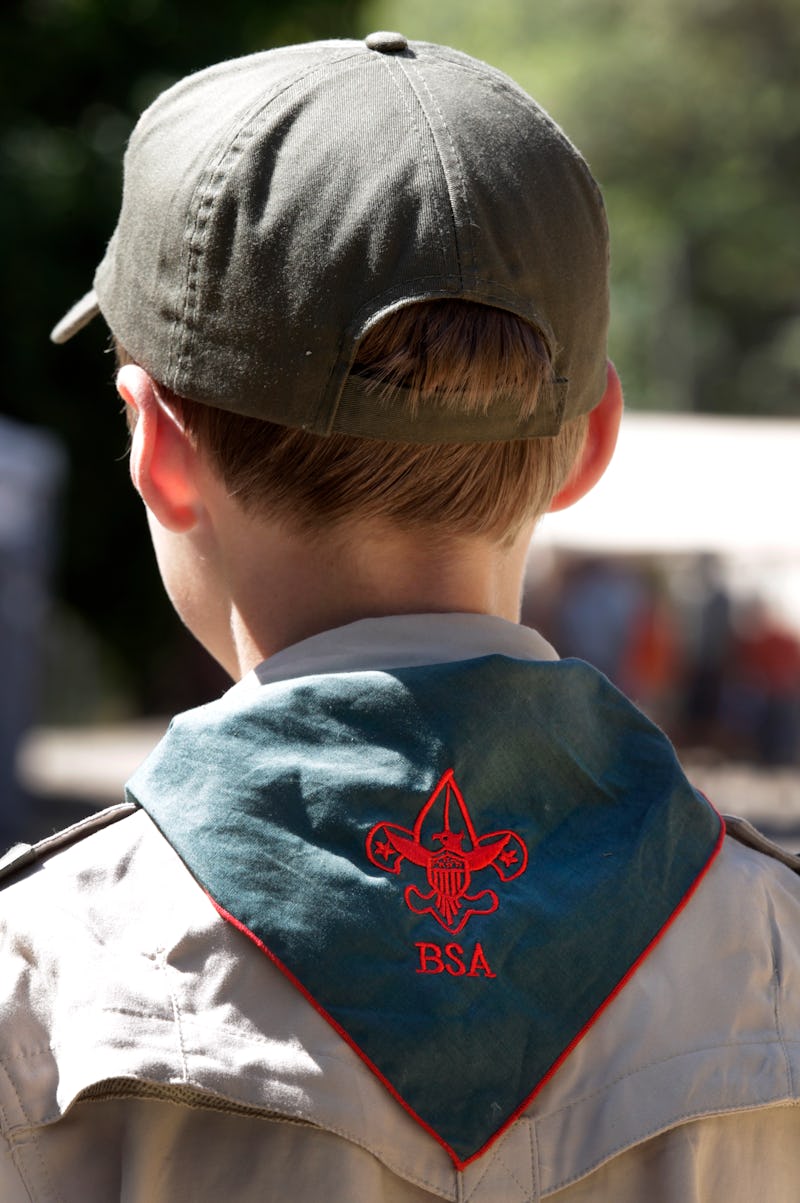 George Frey/Getty Images News/Getty Images
The father of a teenage boy with Down Syndrome and autism has filed a lawsuit against Boy Scouts of America, alleging that the organization discriminated against his son, according to USA Today. Logan Blythe, who is 15, had reportedly received permission to complete an Eagle Project that accommodated his disabilities, putting him on the path to becoming an Eagle Scout. His family, however, allegedly received an email in November 2017 telling Logan to stop work on the project. Edward McBride, the family's lawyer, also claimed that the boy's previously earned badges were revoked, a claim that the Boy Scouts denies. Chad Blythe, Logan's father, is suing the National Boy Scouts of America Foundation, Boy Scouts of America, and the Utah National Parks Council, asking for damages of at least $1 and that Logan be accommodated, according to the Washington Post.
Boy Scouts of America released a statement on March 20 denying that Logan's badges were revoked and saying the Eagle Scout process is "rigorous for any Scout, but it is designed so that accommodations can be made for Scouts with disabilities or special needs." Bustle has reached out to the Blythe Family, their lawyer, and to the Boy Scouts of America for comment, and will update this post when we hear back.
Chad told the Washington Post that Logan's disabilities mean he "has the cognitive abilities of a 4-year-old and is incapable of writing or holding an intelligible conversation." Logan earned his way up through the Boy Scout ranks and intended to become an Eagle Scout by producing kits for newborn babies in local hospitals, the Washington Post reported. According to USA TODAY, Boy Scouts with disabilities "are eligible for Eagle Scout Rank Merit Badges only if they've been approved through a formal application." In an interview with the Washington Post, Chad claimed that Logan's project was approved, but that approval was allegedly reversed the next day.
In a video statement posted to YouTube on March 14, Chad said, "Logan is able to participate in various activities that would normally earn a boy a badge within Boy Scouts of America. But because Logan is unable to meet every requirement of any given merit badge due to his mental disabilities, Logan is not qualified for any merit badge or any rank advancement." He added, "This is the very definition of discrimination."
In its posted statement, the Boy Scouts of America wrote, "The National Disabilities Advancement Team wants to work directly with the Blythe family to review what Logan has accomplished based on his abilities and help determine a path to earn the Eagle Scout rank that is both appropriate and empowering for him."
According to the Washington Post, Chad claims that Boy Scout officials have not reached out to him to help Logan establish that path, and that "the organization's statement [...] contradicts policies listed on the Boy Scouts' website." As the Washington Post reports, a page on the Boy Scouts' website states, "Alternatives are not available for the Star, Life, and Eagle rank requirements. Scouts may request approval for alternative merit badges, but the other requirements for those three ranks must be fulfilled as written."
The page, which is part of a section in the 2017 Advancement Guidebook that covers "Advancement For Members With Special Needs," also states, "It is important to remember that the advancement program is meant to challenge our members; however, not all of them can achieve everything they might want to — with or without a disability. It is for this reason all Scouts are required to meet the requirements as they are written, with no exceptions."
In its statement, the Boy Scouts of America said it is committed to "continuing [our] long history of working with Scouts with disabilities, including Logan Blythe, to help them succeed in and beyond Scouting."
Salt Lake City-based attorney McBride, who is representing Chad, told USA TODAY, "We are hopeful that this suit raises public awareness of [Logan's] treatment so that others similarly situated don't face the same shame and disappointment that this has caused Logan and his family."