Brandi From 'Real Housewives Of Dallas' Is Now A Mom Of Three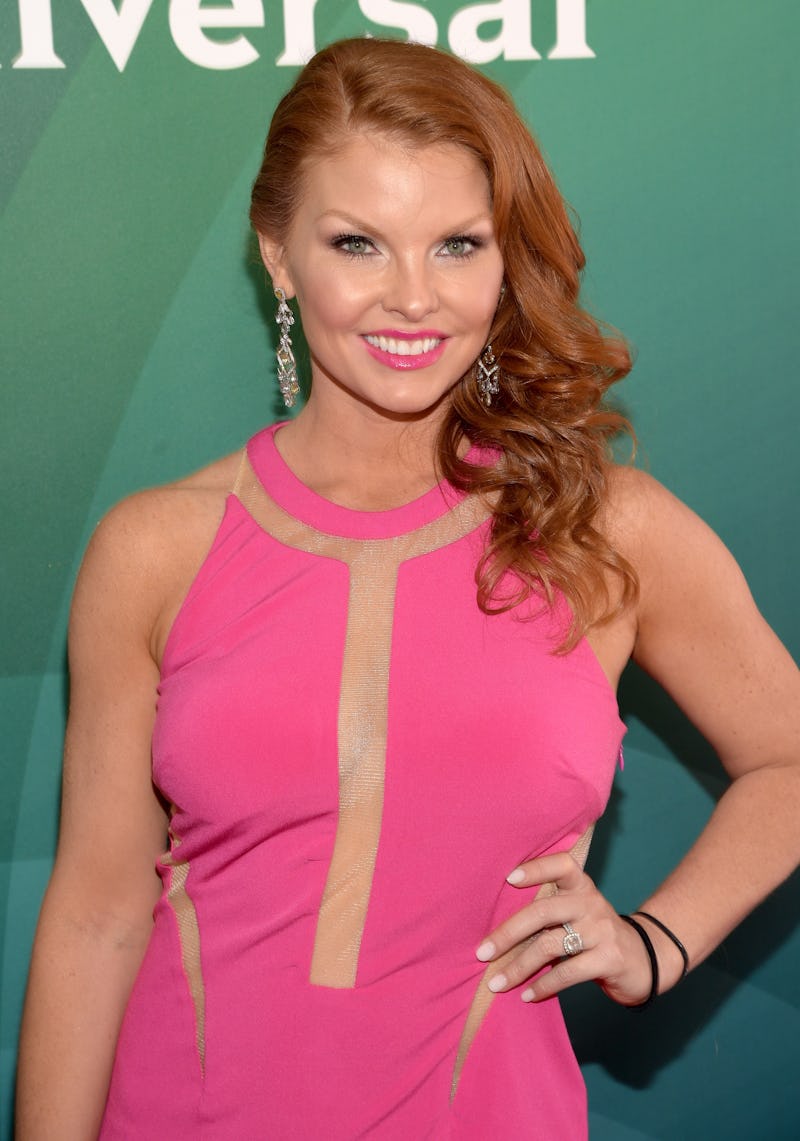 Jason Kempin/Getty Images Entertainment/Getty Images
A new face is coming to the Real Housewives of Dallas and it's one that will make fans melt. Brandi Redmond adopted a baby boy, People revealed Wednesday. His name is Bruin Charles and the Housewife and her husband, Bryan Redmond, couldn't be more thrilled about the latest addition to their family. The couple is also parents to 9-year-old Brooklyn and 6-year-old Brinkley. "It's changed our lives forever," Brandi said. "We are obsessed with him, my whole family is. We're just so blessed."
Bruin, who also has reddish hair like the rest of the family and was born on Dec. 31, 2017, got his name from one of Bryan's favorite sports teams. "When I was pregnant with Brinkley, the doctor's said that she was a boy and my husband always loved the name Bruin," Brandi explained. "My husband's into sports and I think he's a UCLA fan [despite the fact that] he didn't go there. And he just loved that name. So Brinkley was 'Bruin' for a little bit until they said, 'Oh no, it's a girl.'" As for Charles, it's a "family name".
The way the adoption happened sounds like something straight out of a movie. Bruin was awarded to the state of Texas at birth by his teenage biological parents. Social workers struggled finding him a home, when a friend connected to a social worked reached out to Brandi and Bryan.
"It happened pretty much overnight," Brandi said. "He was in the neonatal intensive care unit because he was born prematurely, so we flew out of Dallas — he was still in Texas — and we met him in the hospital. We just immediately fell in love."
As RHOD fans recall, Season 2 featured Brandi's fertility struggles and her opening up to best friend and co-star Stephanie Hollman about having a miscarriage. Brandi also said in an episode how much it would mean to Bryan to have a son. Brandi also worried in the second season if her choosing to have plastic surgery (a "mommy makeover") after her two daughters were born caused her to struggle have another child.
"With my mommy makeover, my core of my stomach was separated," Brandi said in the Season 2 episode. "So they sewed it back together very tightly, and I was made aware that if I were to have another pregnancy, that baby may not be able to grow to full term."
However, the doctor she went to see about her miscarriage and pregnancy issues told Brandi she shouldn't blame herself, because many women get pregnant post-"mommy makeover" surgery. The doctor also said the plastic surgery probably didn't cause her miscarriage, either.
Unfortunately, Brandi couldn't conceive naturally. She and Bryan decided their family of four was perfect enough, despite Brandi never feeling like it was "complete" yet.
"I'm blessed to have two beautiful children, but even after having them, in my heart, I knew it wasn't complete," she told People. "So we tried again for years. But my fertility was on the decline, and in October, Bryan and I said, 'You know what, we're not going to even try anymore.' I turn 40 in July, and there are so many risks. We just said, 'Our family is fine with the four of us.'"
Brandi, who's one brother is also adopted, said they never even thought about looking into the adoption process. But, welcoming Bruin, whose adoption was closed, into their family kind of fell into their laps.
This is definitely an exciting time for Brandi, and her fellow Housewives are congratulating her on the adoption of Bruin. Former RHOD star Tiffany Hendra commented on Brandi's Instagram announcement, "God gives us the desires of our hearts [double heart emoji] What a beautiful blessing! Congrats [party hat emoji]". Brandi's BFF, Stephanie, also tweeted, "Congrats! Love you girl! So happy for you and your sweet family". Monique Samuels from the Real Housewives of Potomac also sent Brandi love by tweeting, "Congratulations!!!! This is awesome! God bless you!!! @AdoptTogether here's a great story of adoption".
Fans will even get to see Bruin's adoption whenever RHOD returns for its third season. "They followed the whole thing from start to finish," Brandi revealed to People.
Brandi's pain of miscarrying and not being able to carry a baby to full term made for a hard Season 2, but it sure sounds like her third season of Housewives will be quite the joyous one.