Why Bre-Z's 'All American' Character Is The Perfect Best Friend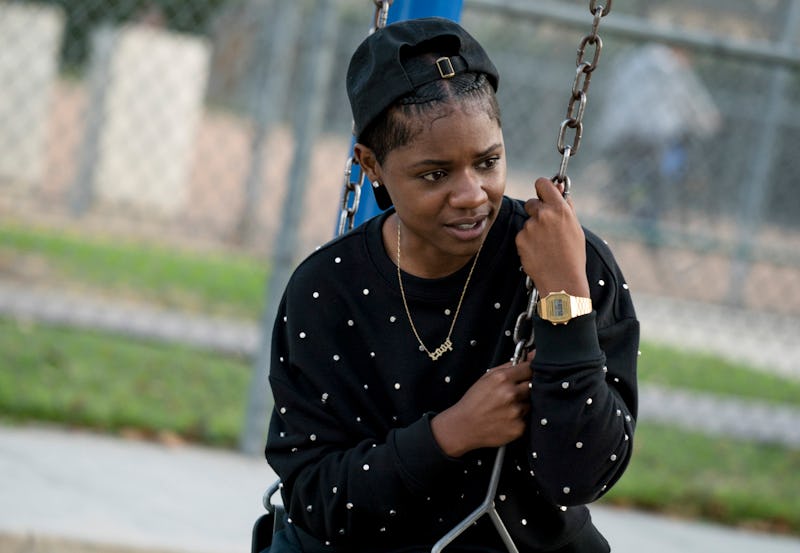 Jesse Giddings/The CW
You might have already known her from her career as a rapper, or maybe you still think of her as Freda Gatz from Empire. But whether you've heard of her or not, it's time to get reacquainted with Bre-Z, the rapper-turned-actor with a major supporting role in the CW's new drama, All American, which premiered on Wed. Oct. 10. While the series itself has already brought in multiple optimistic reviews, some writers have already called out Bre-Z's All American character, Coop, by name, singling her out as one of the highlights. But it's not only Bre-Z's acting that makes Coop such a scene stealer — although her acting is admirable, especially for someone who only got into the business just three years ago — it's the complex character of Coop herself that makes the part so important.
Tiana "Coop" Cooper is the tough, loyal best friend to protagonist Spencer in the show, a role that could have been easily (perhaps even more easily) filled by another straight male character. Instead, All American made the conscientious decision to diversify and try and tell a story from a another perspective, which is always welcome. She's also gay, but not out to her church-going parents, although she's out to her friends in Crenshaw, the Los Angeles neighborhood where she lives.
In an interview with THR, showrunner Nkechi Okoro Carroll explained that for her, that's a point of pride with the series. "One of the things that The CW and WB do really well is tell the "teen drama" in a multitude of different ways," she began. "[...] I think All American is one of the most inclusive shows on the network across the board, not just in terms of race, but in terms of sexual identity."
And it sounds like it's been a success so far, at least when it comes to people responding to Coop's storyline. Daniel D'Addario of Variety praised the "subplot about [how Coop's] religious mother can't accept her daughter's truth," but wondered if it fit in evenly with the rest of the story. THR's Daniel Fienberg also applauded Coop's storyline, going as far as calling it "often ... more compelling than the A-story in these early episodes."
Later in the interview with THR, Carroll explained that she and the other writers have a lot that they hope to gain by telling Coop's story, and they understand what a tremendous responsibility it is to do such a story justice. "We want to tell a relatable story, of a girl who wants to feel like she's loved and accepted for who she is," she explained. "[A]nd I think in our teen society these days that is a constant challenge. We're telling the story of the challenges Coop is going to face as she searches for that, and the journey we're going to take the family on. If we can help pave the way for one more person, or help one more person out there feel like they're seen, then we've done our jobs."
Bre-Z has hopes for Coop, herself, and she spoke with Glamour's Jessica Radloff to explain what it is she hopes viewers take away from meeting her new on-screen counterpart. "I want women to understand that they can do it. I'm not afraid to tell [my] story," she explained. "I don't come from a bad place, but I do come from a place of uncertainty. We don't know what the plan is going to be for our lives. Your faith, along with your drive, is only going to take you where you allow it to. I really hope women are inspired and not afraid to dream or do it."
Although the series is meant to focus on Spencer and football, it's likely that more and more fans will be sticking around for Coop.