'Better Call Saul' Is Bringing This Villain Back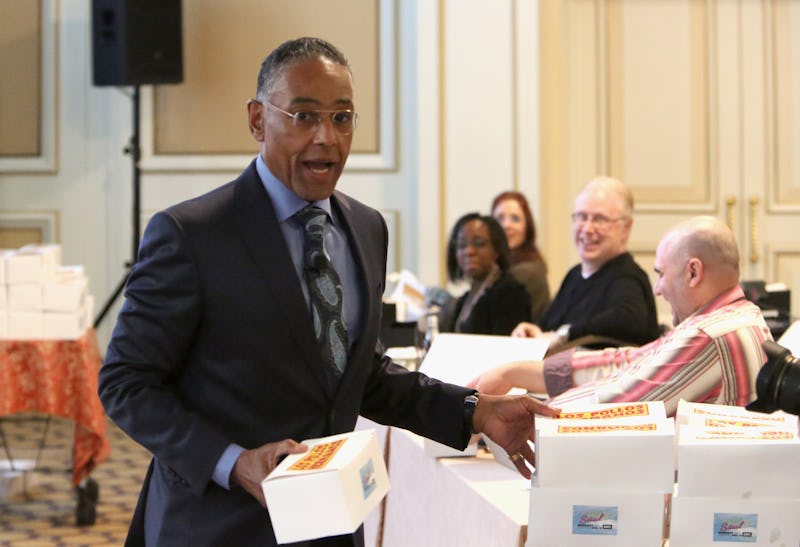 Jesse Grant/Getty Images Entertainment/Getty Images
As any Breaking Bad fan knows, the name Gustavo "Gus" Fring will immediately send chills down your spine. Played by Giancarlo Esposito, Gus was a ruthless drug lord who wore classy suits and owned, of all things, a fast-food fried chicken chain in Albuquerque, New Mexico. At the Television Critics Association Winter tour on Saturday, Esposito confirmed that Breaking Bad's Gus Fring is coming to Better Call Saul Season 3, reported Variety. I have to admit — I'm both excited and terrified, because it's Gus Fring, you guys.
Better Call Saul is a prequel of sorts to Breaking Bad and its third season premieres on Apr. 10, so that means fans will get to see the villainous drug lord during his younger years, according to Variety. "We are at a time when he is a little more immature," Esposito said as a surprise guest to the Better Call Saul panel at TCA. "He's still finding his way." At the end of Breaking Bad Season 4, Gus is killed by Hector's wheelchair bomb, which literally blows half of Gus' face off. So thankfully, Gus isn't coming back from the dead or as an evil ghost on Better Call Saul, but I think it's cool that fans will get to see what the supervillain was like when he was just a young, aspiring drug lord/fried chicken joint owner of Los Pollos Hermanos.
According to Deadline, Esposito describes young Gus as a man who "wanted revenge, and to create a business but also was very caring about his family of business people." As Variety reports, Gus will appear in the second episode of Better Call Saul Season 3, which was directed by Breaking Bad creator and Better Call Saul co-creator Vince Gilligan. And Esposito said he was excited to be back on set as Gus alongside Gilligan. "Gus is a cagey character," Esposito said at the TCA panel. "I'm going back to the original stage direction that was really inspiring to me, which was 'Hiding in plain sight.' You're not who you think you are. Sometimes you have different agendas and go about achieving things in different ways."
Now, I can't say Gus' return is a total surprise, because last week, a 30-second fake commercial for Los Pollos Hermanos aired, teasing the villain's return to TV, reported Digital Trends. The ad looks like it's advertising just another fast-food fried chicken place, until a smiley Gus shows up, offering to pay for your curly fries if you don't like them. The chills are real.
So if this is a sneak peek at a younger, smiley Gus, I can't help but wonder what evil lurks behind that happy exterior — and how Better Call Saul will reveal it to fans in its third season.