Brett Kavanaugh & His Accuser Will Testify Under Oath About The Alleged Sexual Assault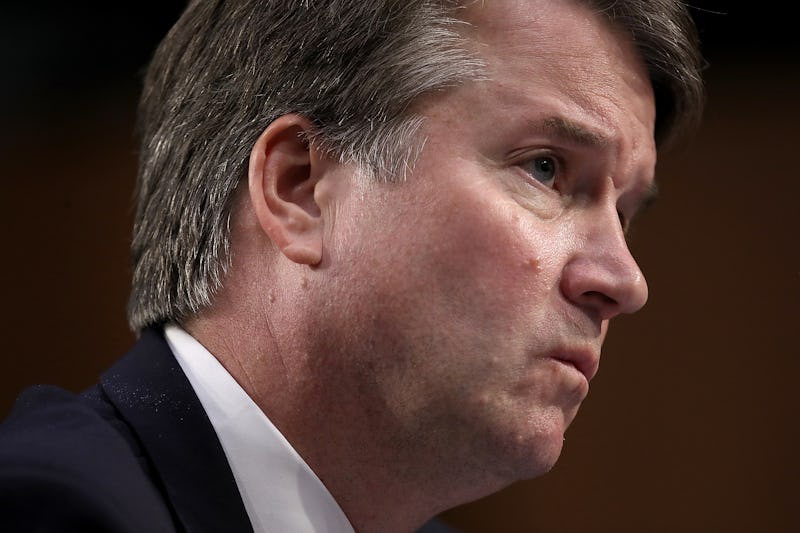 Win McNamee/Getty Images News/Getty Images
On Sunday, Christine Blasey Ford came forward as the woman who accused SCOTUS nominee Brett Kavanaugh of sexual assault (an allegation he denies). Now, the chairman of the Senate Judiciary Committee has called Kavanaugh and Ford to testify before the committee on Monday, more than seven days after Ford went public.
The committee chairman, Iowa Sen. Chuck Grassley, said that the public hearings would be an "opportunity" for Kavanaugh and Ford to answer questions from the senators, as The New York Times reported. A scheduled committee vote for Kavanaugh was set for Thursday, but with the call for hearings before the Senate Judiciary Committee, the vote will be delayed, according to The Times.
White House Deputy Press Secretary Raj Shah told The Times, "Judge Kavanaugh looks forward to a hearing where he can clear his name of this false allegation. He stands ready to testify tomorrow if the Senate is ready to hear him." Bustle has reached out to the White House and Ford's attorney, Debra Katz, for comment.
The Times also noted that for many in the United States, the public "showdown" between Kavanaugh and Ford possibly on Monday is eerily similar to the 1991 testimony given by attorney Anita Hill against Justice Clarence Thomas.
In her interview with The Washington Post, Ford accused Kavanaugh of sexually assaulting her in the 1980s. Per Ford's allegation, which Kavanaugh has denied as false, he and a friend were "stumbling drunk" after which Kavanaugh reportedly took Ford to a bedroom in a house in Montgomery County. According to Ford, who teaches clinical psychology in California, Kavanaugh allegedly forced himself on her, attempting to remove her bathing suit off along with the apparel she donned over it. She accused Kavanaugh of covering her mouth with his hand when she tried to scream for help. This took place, Ford told The Washington Post, as Kavanaugh's friend watched.
"I thought he might inadvertently kill me," she told The Washington Post. "He was trying to attack me and remove my clothing."
Ultimately, Ford says she escaped Kavanaugh and his friend. For years, she did not speak of the alleged incident until she shared the details of it with her therapist in 2012, she said. Ford discussed the alleged account during a couples' therapy session, The Washington Post reported.
In July, Ford contacted California Rep. Anna Eshoo as it became evident that Kavanaugh could replace former justice Anthony Kennedy. In the same month, she sent a letter detailing Kavanaugh's alleged assault in a letter to California Sen. Dianne Feinstein. She asked for anonymity — a request that Feinstein honored, according to The New Yorker. By late August, according to The Washington Post, Ford had not come out publicly. She said, "Why suffer through the annihilation if it's not going to matter?"
In spite of her desire to remain anonymous, Ford said she witnessed her story spread through media — and in some cases, she said there were inaccuracies in reports. "These are all the ills that I was trying to avoid," Ford said in her interview on Sunday. "Now I feel like my civic responsibility is outweighing my anguish and terror about retaliation."
With Ford having come forward and Kavanaugh saying he's prepared to address questions from the Senate Judiciary Committee, things have gotten tense on Capitol Hill.
Naturally, the reports have given senators much to mull over. According to The Times, Maine Sen. Susan Collins said, "Obviously if Judge Kavanaugh has lied about what happened, that would be disqualifying. For my part, I believe that it's very important that both Professor Ford and Judge Kavanaugh testify under oath about these allegations. I need to see them and listen to their answers to the questions in order to make an assessment."