Justice Brett Kavanaugh Will Teach A Summer Law School Course In England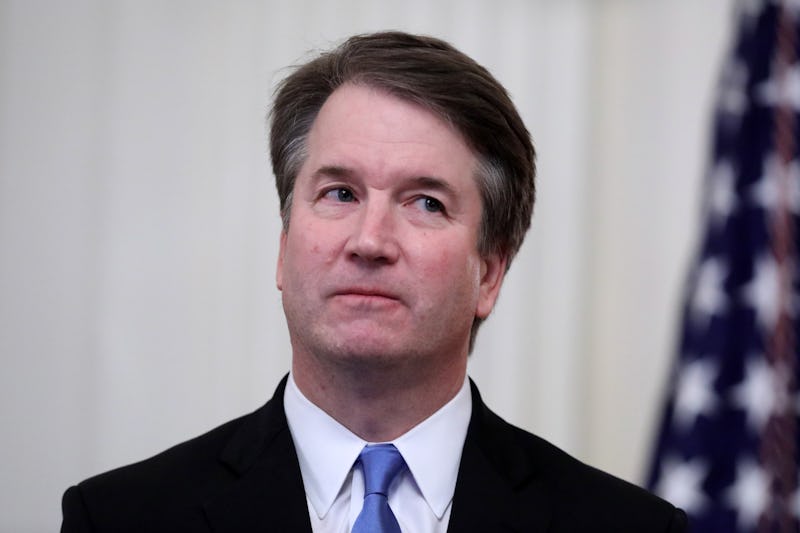 Chip Somodevilla/Getty Images News/Getty Images
One controversial Supreme Court justice will begin teaching abroad in Europe this year. Justice Brett Kavanaugh will co-teach a summer course in England, according to CNN, as part of George Mason University's Antonin Scalia Law School study abroad program. The course will reportedly focus on the history of the U.S. Constitution.
"It is a rare opportunity for students to learn from a U.S. Supreme Court Justice, and we believe that contributes to making our law program uniquely valuable for our students," the school said, according to CNN.
The course, itself, will examine "the origins and creation of the U.S. Constitution just outside of London in Runnymede, England, the location of the sealing of the Magna Carta," the university's Antonin Scalia Law School said, according to Politico.
While taking a course with a sitting Supreme Court justice might be a "rare opportunity," it's not unusual for the justices to take short-term teaching positions, according to The Hill. Justice Neil Gorsuch will also be teaching abroad this summer, according to the news outlet — albeit in Rome, not England.
That course, according to CNN will be "about the historical roots and the modern application of the separation of powers in the national security context."
Kavanaugh teaching a summer law school course is significant because, as Politico reports, the announcement comes just several months after Harvard announced that the Supreme Court justice would no longer be teaching a class there this spring. The class was canceled just as a group of alumni put together a letter demanding that Kavanaugh's position at the university be rescinded in light of several sexual assault allegations against him.
Kavanaugh repeatedly and vehemently denied all allegations. "I have never done that to her or to anyone," he said of the first woman to publicly accuse him, Dr. Christine Blasey Ford. "I am innocent of this charge."
It's important to note that the alumni letter was not the reason that Kavanaugh's Harvard class was canceled, as it reportedly was completed afterward, according to The Washington Post. Associate Dean Catherine Claypoole said simply at the time that "Kavanaugh indicated that he can no longer commit to teaching his course in January Term 2019, so the course will not be offered," according to Vox.
Speaking before members of Congress last fall, Kavanaugh lamented the impact that the allegations against him could potentially have on his legal teaching career. "I love teaching law, but thanks to what some of you on this side of the committee have unleashed, I may never be able to teach again," he said at the time, per Politico.
Of course, this week's announcement indicates that that is far from true.
There aren't currently a lot of details available about Kavanaugh's upcoming teaching appointment, and reactions on Twitter were limited. Although some alumni from Harvard gathered to condemn the justice's position at the university, it was unclear over the weekend whether alumni or students from George Mason will respond in a similar way, if at all.