Why These 3 Women Senators Will Decide The Fate Of Trump's SCOTUS Nominee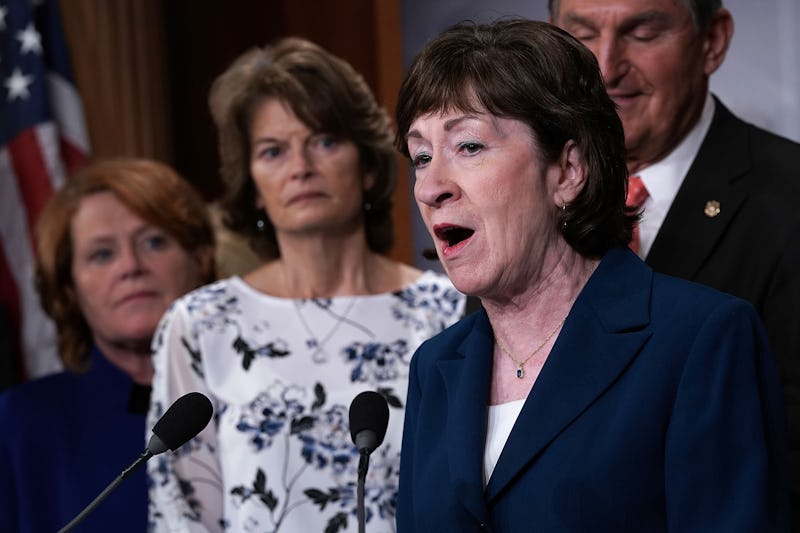 Alex Wong/Getty Images News/Getty Images
As senators look toward Supreme Court nominee Brett Kavanaugh's confirmation hearing next week, pressure is mounting on a handful of lawmakers, most of them women. These lawmakers have been digging through Kavanaugh's record and meeting with the nominee in the weeks leading up to Tuesday's confirmation hearing. Within days, they'll cast decisive votes on whether Trump's staunchly conservative nominee will earn a lifetime appointment to the nation's highest court.
The Senate is largely expected to vote along party lines, with 50 Republican senators voting for Kavanaugh and 49 Democrats voting against him. (Republicans hold a 51-seat majority and the late Sen. John McCain's seat remains unfilled.) That means that if just one Republican breaks from their party, it'll be enough to hold up Kavanaugh's nomination.
That's why all eyes are on a pair of Republican women senators: Susan Collins of Maine and Lisa Murkowski of Alaska. In the past the two have been willing to buck their party on issues like health care and taxes, and their votes will be crucial to Kavanaugh's confirmation.
But a handful of Democrats could swing the vote, too. While it would only take one Republican "no" vote to sink Kavanaugh's nomination, a "yes" from a Democrat would almost certainly seal his victory. Sen. Heidi Heitkamp of North Dakota is up for re-election in a state Trump won by a whopping 36 percentage points in the 2016 election. If she and other red-state Democrats can be persuaded to vote with the Republicans, they could earn some goodwill with a GOP-heavy constituency back home by sealing the deal in Kavanaugh's favor.
Susan Collins
Collins, a supporter of abortion rights, has said that one of her main concerns around any Supreme Court nominee is their view on whether Roe v. Wade is "settled law." Kavanaugh's critics have warned that the conservative nominee will tilt the ideological balance of power on the Supreme Court and make Roe ripe for re-examination.
Back in July, Collins said point-blank that a candidate "who would overturn Roe v. Wade would not be acceptable" to her. "What I want to see is a nominee who, regardless of his or her personal views on the very difficult and contentious life issue, is going to respect precedent," she said.
Then in August, Collins told reporters that Kavanaugh had assured her in a one-on-one meeting that he agreed that Roe v. Wade is settled law. But legal scholars say that's no reason to believe Kavanaugh won't contribute to dismantling Roe once he's on the bench.
"No law is currently settled because even though it's precedental, there are also precedental decisions allowing for reversals of settled law," Robert Weisberg, a professor of Criminal Law at Stanford, tells Bustle. "So he can just mumble something about settled law, sort of acknowledging that it's settled law without [committing]."
That may prove enough for Collins, who characterized the more than two-hour long meeting as "an excellent session" and "very productive [and] informative," dampening Democrats' hopes for a confirmation fight.
It's worth noting that voters in Collin's home state of Maine are in favor of upholding Roe. According to a survey commissioned by Planned Parenthood Action Fund, 68 percent of Maine voters are in favor of upholding Roe, including 53 percent of Republican women and nearly half of Republicans overall. Seventy-one percent of independent Maine voters agreed.
More than 230 Maine attorneys also signed a letter pushing Collins and fellow Sen. Angus King, an independent, to vote "no" on Kavanaugh. In a letter dated Aug. 28, the attorneys argue that Kavanaugh would not only endanger Roe, but also threaten the future of the Affordable Care Act. Collins voted in 2017 against a Republican proposal to repeal and replace the law, which is particularly popular in her home state; that vote helped sink the months-long GOP effort to overhaul former President Obama's signature health care law.
"The appearance of impartiality is as important today as it has ever been," in this hyper-partisan climate, the attorneys write. "There are many appropriate roles for such a partisan to continue to serve the public, but replacing Justice Kennedy on the United States Supreme Court should not be one of them."
The head of the Democratic Party in Collins' home state agrees that Kavanaugh is too conservative to win her approval. "With such critical values at stake, including the right for Americans to marry who they love and the right for women to have control over their own bodies and medical decisions, Senator Collins must reject Kavanaugh and do everything in her power to support a qualified, mainstream, consensus choice to fill this vacancy," Maine Democratic Party Chairman Phil Bartlett tells Bustle.
Lisa Murkowski
Like Collins, Murkowski is a supporter of abortion rights and hails from a state where the majority of voters — both Democrats and Republicans — are in favor of reproductive choice. Sixty-three percent of Alaska voters polled in July said they want Roe to remain in place, including 72 percent of independents.
As swing voter herself — she was part of the Republican trio of senators that blocked their party's efforts to scrap the Affordable Care Act last year — Murkowski has said that she'd prefer a Supreme Court nominee in the mold of retired Justice Anthony Kennedy, who cast crucial votes throughout his tenure on the bench.
"It is my longstanding practice to carefully scrutinize the qualifications of judicial nominees and to cast an independent vote when judicial nominations come before the Senate," Murkowski said in a statement upon Kennedy's retirement.
Tuckerman Babcock, the chairman of the Alaska Republican Party, praises Murkowski's approach. He says that a nominee's smarts, integrity, and professional conduct are paramount — and beyond that, he says a justice should follow the U.S. Constitution as their primary guide on the bench.
"If the politics of an issue need to change, then the people need to do that at the ballot box, not through judges," Babcock tells Bustle.
Beyond abortion rights, Murkowski is reportedly considering Kavanaugh's stance on gun ownership rights and regulatory issues. Asked in late August whether she's seen anything in Kavanaugh's record that she considers disqualifying, Murkowski replied, "no."
If Kavanaugh's statements to both Murkowski and Collins that Roe is settled law is enough to win both women's support, Republicans won't need any votes from Democrats to confirm him.
Heidi Heitkamp
If Murkowski or Collins wavers, however, Republicans will lean on a red-state Democrat up for a tough re-election battle in a state Trump won handily in 2016: Heitkamp. She was one of a handful of red-state Democrats who last year voted in favor of Trump's first Supreme Court nominee, Neil Gorsuch. (Three other Democratic senators up for re-election in states Trump won — Claire McCaskill of Missouri, Jon Tester of Montana, and Bill Nelson of Florida — voted against Gorsuch.) And she voted for confirmation despite the fact that every Republican in the Senate majority voted in favor of Gorsuch, ensuring his confirmation regardless of how any Democrat voted.
Heitkamp has been flaunting her record of voting with the President more than half the time in a effort to win over Trump-loving North Dakotans in her re-election bid, but she also insists she'll make her voice heard where she breaks with Trump. The president himself teed up a SCOTUS-themed attack line against her earlier this summer. He claimed the senator would vote against whoever he nominated to serve on the Supreme Court during a June campaign rally in Heitkamp's home state.
Heitkamp met with Kavanaugh earlier this month, and her office issued a statement afterward describing the meeting as a "thorough and substantive discussion." The senator also called out the special interest groups and fellow lawmakers who voiced an opinion about how she should vote.
"Before making a decision, I needed to meet with Judge Kavanaugh, as I did today, and I will closely study his answers at his Senate hearing. I'll also continue reviewing his record," Heitkamp said. "North Dakotans expect more of their elected officials than partisan judgements. Politics should not be part of the vetting process or the decision-making process. Determining who should serve on the U.S. Supreme Court is too important."
Republican interest groups are making sure no red-state Democrat feels safe opposing Kavanaugh this fall. Groups including the pro-Trump super PAC America First Action, the Judicial Crisis Network, and Americans for Prosperity are organizing ad blitzes targeting vulnerable lawmakers, including seven-figure ad buys, throughout the confirmation hearings.
Some polling shows red-state Democrats would have a high price to pay for voting against Kavanaugh. A survey conducted this month by WPA Intelligence and Definers Public Affairs showed that the four states where support for Kavanaugh's nomination is highest are ones Trump won by double-digits in 2016, including Heitkamp's North Dakota. There, 80 percent of voters are in favor of confirming Kavanaugh.
Around 70 percent of like-minded voters in Montana, West Virginia, and Missouri — all states where Democratic senators are facing tough re-election battles this fall — will likely have those senators mulling their options, too. But none hold more power than these Republican women and red-state Democrats, who will decide whether Kavanaugh will replace the Supreme Court's most famous swing voter.