Brett Kavanaugh's Answer To This Question About Gay Marriage Will Give You Pause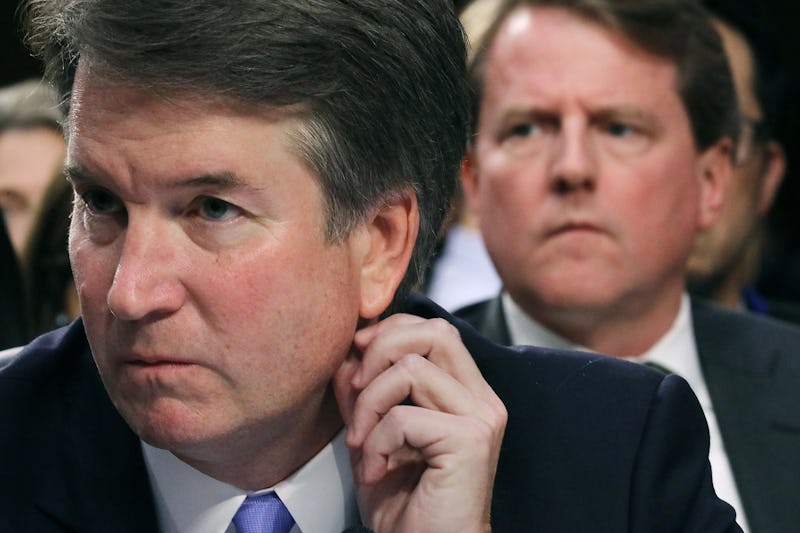 Chip Somodevilla/Getty Images News/Getty Images
In the past three days, Senate Democrats have taken every opportunity to probe the newest SCOTUS nominee for his opinions on hot button issues like abortion rights and executive privilege. On Thursday afternoon, California Sen. Kamala Harris specifically brought up Obergefell v. Hodges, the 2015 landmark case which legalized gay marriage. Asked whether he felt the case was correctly decided, Brett Kavanaugh's comments on Obergefell and gay marriage rights revealed little about his personal opinions on the matter.
The majority opinion on Obergefell was written by Justice Anthony Kennedy, who retired in July. In it, he wrote that excluding gay and lesbian couples legal recognition of marriage was unconstitutional and violated the Equal Protection Clause of the 14th Amendment. On Thursday, Harris briefly introduced the case and then asked Kavanaugh whether he believed it was correctly decided. Without directly responding, Kavanaugh, who has called Kennedy a friend and mentor, began explaining Kennedy's history of writing landmark majority opinions in LGBTQ+ cases during his time on the bench.
Harris, noting her limited time for questioning, interrupted Kavanaugh to tell him she was well-versed in the history, and returned to her original question. Ultimately, Kavanaugh continued his explanation to reiterate Kennedy's opinion that Obergefell served to remove the second-class status of gay and lesbian Americans.
"The days of discriminating against gay and lesbian Americans, or treating [them] as inferior in dignity and worth, are over," he said. Despite Harris repeatedly asking for Kavanaugh's personal opinion on the case, Kavanaugh never directly gave it.
As he has done in recent days, Kavanaugh repeatedly leaned on the idea of precedent to answer questions about his personal opinions. Describing Kennedy's opinion in Obergefell, Kavanaugh said, "That is the precedent of the Supreme Court agreed with." Harris then interrupted to repeat her original question, emphasizing that she wasn't interested in any opinion other than Kavanaugh's own.
"Sir, I'm asking your opinion, you're the nominee right now," she said. "It is probative of your ability to serve on the highest court in our land." When Kavanaugh still continued to deflect, citing previous nominees who declined to give opinions during their nominations, Harris changed course. She noted that Kavanaugh previously called Brown v. Board of Education, which ruled segregation in schools unconstitutional, one of the greatest moments in court history. "Do you believe that Obergefell was also one of those moments?" she asked. Again, Kavanaugh refused to give an opinion.
With Harris' questioning, and at many other times in his hearing, Kavanaugh has repeatedly invoked the so-called "Ginsburg Rule," referencing Ruth Bader Ginsburg's confirmation hearing, at which she refused to give an opinion on future court cases for fear of jeopardizing her judicial independence. "If I say something and the case comes before me five years from now, I'm going to feel morally bound by what I said here," he said on Wednesday. Citing the rule as precedent, Kavanaugh has opted to avoid giving opinions on a variety of fundamental questions during his hearing, including affirmative action, executive power, and health care.
With Kavanaugh's personal opinions on gay marriage rights remaining something of a mystery, some argue that the danger of his confirmation lies in the fact that he will shift the ideology of the Supreme Court to the right. Where Kennedy, a centrist, used to be the median judge, Kavanaugh's nomination would place Justice John Roberts, a reliable conservative in the center of the bench. Opposed by many LGBTQ rights group, Kavanaugh's nomination could at the very least create a court less outwardly in support of gay marriage rights.