Brett Kavanaugh's Opinion On Gay Marriage Is Backed By A Notorious Anti-LGBTQ Group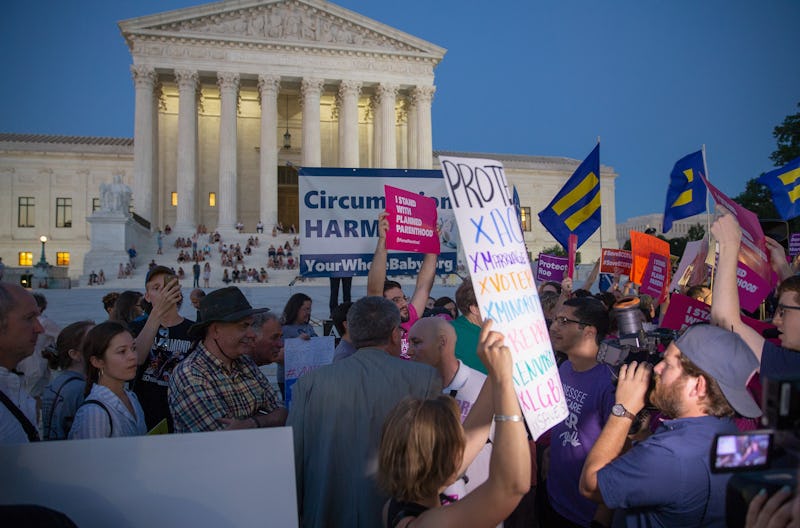 Tasos Katopodis/Getty Images News/Getty Images
President Trump's pick to replace retired Supreme Court Justice Anthony Kennedy has been announced, and before the Senate confirmation hearings arrive, many are picking apart the nominee's lengthy history of legal opinions. Trump's choice has left many LGBTQ advocates on edge, and it's no wonder: Brett Kavanaugh's opinion on gay marriage is backed by an anti-LGBTQ group.
Kavanaugh, 53, currently serves on the U.S. Court of Appeals for the District of Columbia Circuit, and though he's been around for decades, his judicial record on LGBTQ issues is a bit hazy. His exact opinion is not clear, but according to NBC News, Kavanaugh was "promoted heavily by the Family Research Council in 2005" during his nomination for the U.S. Court of Appeals for the D.C. Circuit. The Family Research Council is a vocal opponent of gay rights and has called homosexuality "disgusting" and "unnatural." Kavanaugh has not aligned himself with the group's strong anti-LGBTQ stance, and it's unclear what he thinks about gay rights.
In a press release issued on Monday, the president of Family Research Council, Tony Perkins, said:
For a second time, President Trump has followed through on his promise to select a nominee from the list he presented during the campaign. President Trump promised a constitutionalist – someone who will call balls and strikes according to the Constitution. We trust the president that Judge Kavanaugh will fit this mold as a justice. Judge Kavanaugh has a long and praiseworthy history of judging as an originalist, and we look forward to having a justice with his philosophical approach on the Court.
From the day Justice Kennedy retired, the Left has sought to make this vacancy all about abortion – even though many other significant issues are at stake including religious freedom and free speech. Under the Obama administration, we saw a growing assault on religious freedom and the courts became a battleground for secularists seeking to remove faith from the public square. Judge Kavanaugh resisted this trend in at least two instances --- an HHS contraceptive mandate case and in an opinion supporting inauguration prayers. We are committed to working with President Trump and senators to help move the grassroots to gain the confirmation of Judge Kavanaugh.
Family Research Council has been designated as a hate group by the Southern Poverty Law Center, which wrote that the group often makes "false claims about the LGBT community based on discredited research and junk science," with the intention "to denigrate LGBT people as the organization battles against same-sex marriage."
Though Kavanaugh's record on gay rights is a "relatively blank slate," as The Daily Beast called it, LGBT activists still worry Kavanaugh could restrict or overturn the gay community's constitutional right to marriage. The Daily Beast pointed to a "case anticipating the Supreme Court's Hobby Lobby case" in which Kavanaugh opined the Affordable Care Act's requirement that qualified insurance plans must offer contraception coverage violated the employer's religious freedoms. The same vein of logic can be seen in the cake shop case that went before the Supreme Court in June, which saw a fight from the LGBT community for the right to be free from discrimination against a bakery owner's right to religious freedom.
Elected officials around the nation took to Twitter to express their concerns with Kavanaugh's nomination.
Another pointed out something that Kavanaugh had said in the past.
And he wasn't the only one to notice.
For one senator, Kavanaugh's record on people with pre-existing conditions preceded something potentially worse.
This senator broke it down to basic government structure, reminding the public of the Supreme Court's intended purpose.
While Kavanaugh's thoughts on same-sex marriage and gay rights are not transparent, you can certainly tell where anti-LGBTQ activists stand. And for those groups to so heartily support Kavanaugh likely means Trump's pick leans in the same direction.