What The NRA Thinks Of Brett Kavanaugh's Views On Gun Control Speaks Volumes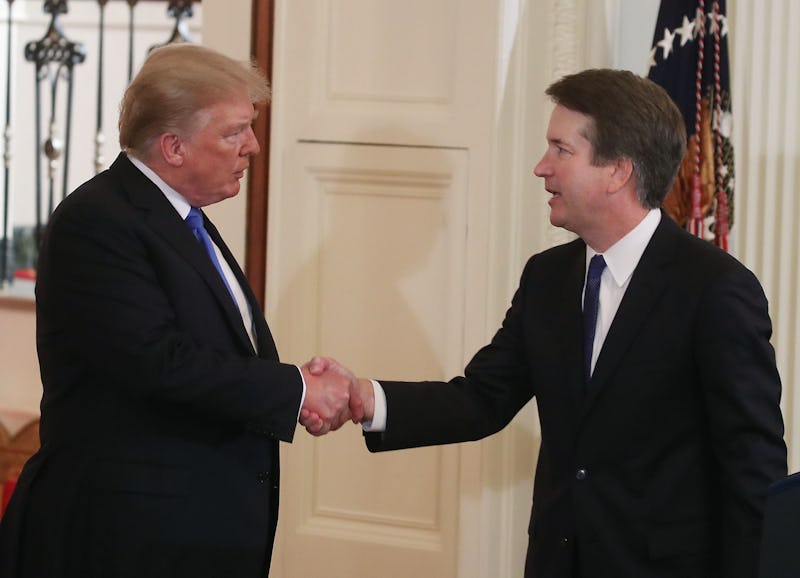 Mark Wilson/Getty Images News/Getty Images
Immediately after Donald Trump revealed his pick to replace Justice Kennedy on the Supreme Court, the National Rifle Association applauded his nomination. And that instant approval of Brett Kavanaugh's stance on gun control speaks volumes. Chris Cox, the Executive Director of the NRA, said in a statement immediately following the announcement, "President Trump has made another outstanding choice in nominating Brett Kavanaugh for the U.S. Supreme Court. He has an impressive record that demonstrates his strong support for the Second Amendment."
Cox continued, "We urge the Senate to swiftly confirm Judge Kavanaugh to the U.S. Supreme Court, just as it confirmed him to the U.S. Court of Appeals for the District of Columbia Circuit."
He concluded his statement by reinforcing the power and depth of the NRA voters base: "On behalf of our six million members, the NRA strongly supports Judge Brett Kavanaugh's confirmation to the U.S. Supreme Court. We will be activating our members and tens of millions of supporters throughout the country in support of Judge Kavanaugh. He will protect our right to keep and bear arms and is an outstanding choice to fill Justice Kennedy's seat."
As a staunch conservative, Kavanaugh has maintained strong support of the Second Amendment, though he hasn't devoted much of his career to that area of the Constitution.
According to The Los Angeles Times, Kavanaugh's potential appointment to the Supreme Court will move the court to the right in terms of gun control, in addition to other issues such as health care and abortion.
The Los Angeles Times also noted that Kavanaugh filed a 52-page dissent when an appeals court upheld an ordinance prohibiting semi-automatic rifles and magazines holding more than 10 rounds. In the dissent, Kavanaugh reportedly argued that the the ban on semi-automatic weapons violated the Constitution because they were in common use in the country. he wrote,
As one who was born here, grew up in this community in the late 1960s, 1970s and 1980s, and has lived and worked in this area almost all of his life, I am acutely aware of the gun, drug and gang violence that has plagued all of us…. But our task is to apply the Constitution and the precedents of the Supreme Court, regardless of whether the result is one we agree with as a matter of first principles or policy.
In addition to having an extremely strict interpretation of the inflexible role of guns in our society, Kavanaugh harbors several other controversial opinions, as noted by Splinter News. For example, he was one of the largest critics of Barack Obama's environmental legislation, and reportedly "pounded the administration in a series of legal opinions rebuffing some of its most high-profile air pollution rules."
What's more, Kavanaugh has made some extremely conservative decisions related to abortion, which is especially relevant given he could provide the majority advantage to the conservative vote on the bench, if confirmed, which could then lead to a reversal of Roe v. Wade.
According to Splinter News, Kavanaugh was in the minority of dissenters trying to bar an undocumented girl from getting an abortion (her right to get one was upheld, at the time.)
Now that Kavanaugh has been nominated, the next step is to go through a series of Senate hearings in which senators will no doubt ask him a variety of questions, including about his particular opinions on such topics as gun control and abortion. There has to be a majority vote of approval in order for Kavanaugh to be appointed to the bench, meaning that at least one Republican would have to vote against Kavanaugh in order to block his nomination.