Trump's New SCOTUS Nominee Has A Heck Of A Story About Him & His Wife's First Date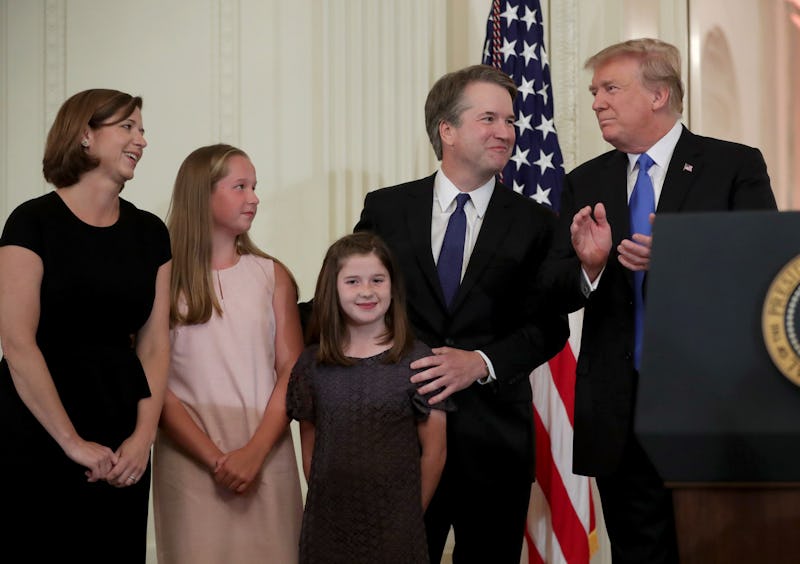 Chip Somodevilla/Getty Images News/Getty Images
On Monday night, after being officially announced as Trump's nominee to replace Justice Anthony Kennedy on the Supreme Court, Brett Kavanaugh talked about his wife Ashley Estes to reporters at the White House. "We met in 2001 when we both worked at the White House," Kavanaugh said. "Our first date was on September 10th. The next morning, I was a few steps behind her when the Secret Service shouted at all of us to sprint out the front steps of the White House because there was an inbound plane."
Kavanaugh continued, "In the difficult weeks that followed, Ashley was a source of strength, for President Bush, for everyone in this building. Through bad days, and so many better days, she's been a great wife and an inspiring mom."
Kavanaugh finished by saying, "I thank God every day for my family."
As the Supreme Court nominee, Kavanaugh will now have to go through the voting process by the Senate, in which more than half of the Senate will have to approve him before he can be confirmed as a Supreme Court justice. Currently, there are 49 Democrats in the Senate, which means that at least one Republican would have to vote against Kavanagh for him not to get the appointment.
According to Politico, Estes was the personal secretary to George W. Bush during his presidency, which was where she met Kavanaugh. She worked in the White House from 2001 to 2005, and was also Bush's secretary during his stint as Governor of Texas from 1996 to 1999.
Estes and Kavanaugh's wedding was as politically star-studded as one would imagine — President Bush and his wife attended their wedding, and their wedding planner noted, according to The Washingtonian, "It was the only wedding in the hundreds I have planned where all of the guests were in their seats 15 minutes early." She added, "There's no lollygagging when Secret Service are holding machine guns outside of the church."
Now, Estes is the town manager of the village of Chevy Chase Section 5, a section of Maryland. Her position is reportedly nonpartisan, and she oversees 227 houses as well as one restaurant.
Estes and Kvannaugh have two daughters, Margaret and Liza. In Kavanaugh's speech, he noted that Margaret was "an athlete and loved books," while Liza was "an athlete who loved to talk."
Estes didn't speak at Kavanaugh's appointment, though it's likely that she will be more prominent in the spotlight during the voting process in the future.
If Kavanaugh is confirmed to the Supreme Court, The New York Times' Mark Landler and Maggie Haberman report that his appointment will "cement the court's rightward tilt for a generation," with many fearing that it will mean an imminent reversal of Roe v. Wade.
However, Kavanaugh's opinions on Roe in the past have reflected a slightly less conservative perspective than you might expect. During the appointment process to the D.C. appellate court in 2006, Kavanaugh said, "I would follow Roe v. Wade faithfully and fully. It's been reaffirmed many times."
With that said, there's still significant fear that Kavanaugh's opinions on Roe might change once he's appointed to the the highest bench of law in the United States. During the appointment process, he will undoubtedly face a barrage of questioning related to abortion.
Though Estes worked as the personal secretary to Bush, a stark conservative, her own political values have been kept under wraps. Since leaving her position as secretary, she's stayed out of the realm of politics, though this might change in the coming months.
She might take a page out of her husbands book when it comes to political stances, though: In a 2015 speech at Catholic University Law School, Kavanaugh stressed the importance of being bipartisan as a judge. "Check those political allegiances at the door when you become a judge," he said.