Britney Spears Is Ending Her Las Vegas Residency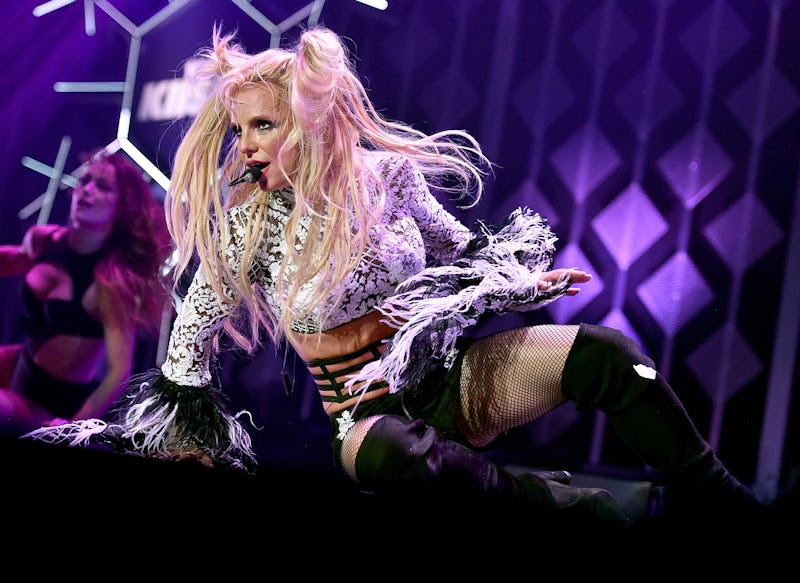 Mike Windle/Getty Images Entertainment/Getty Images
Anyone who wants a piece of Britney Spears' live show in Las Vegas should book their ticket now. While fans would prefer the singer continue her time at Planet Hollywood until the world ends, Spears will end her Las Vegas residency in December when her contract expires. Spears' "Piece of Me" show has been a staple in the city for four years, and it's become an extremely popular destination for visitors. The show sells out nearly every night, and tourists hit the musical event every time they're in Vegas.
According to Vulture, Spears won't leave Las Vegas without fanfare. Her last show will be a blowout extravaganza on New Years Eve, and given the star's penchant for glitter, it's sure to do her time in the city of lights justice. Spears' manager Larry Rudolph spoke to the Las Vegas Review-Journal about the star's final performance, and her plans for the "Piece of Me" show moving forward. "We are done with this show, and our next move is undecided," Rudolph said in the interview. "We are still talking with Caesars Entertainment and other interested parties in Las Vegas."
It's unclear whether or not Spears will continue to perform in Vegas in some capacity. Right now, she has a tour of Tel Aviv, Israel in the works, but in the interview with the Review-Journal, Rudolph evaded questions about Spears' future in Las Vegas. ""Anything is possible. We have made zero decisions," he told the publication. "We expect a lot of interest from all parties. Britney basically sells out every show, and she loves Las Vegas, she loves performing in Vegas, and Vegas is a possibility going forward."
While Rudolph insisted that Vegas could certainly be in Spears' future, it's clear the star is pretty booked moving forward. This summer she'll tour in Japan and the Philippines as well as Israel, and there are rumors of another album in the works. With all the touring and potential future recordings, so it might be a while before she settles back down in Las Vegas for another run like the residency at Planet Hollywood. Fortunately, given the love the city has for the singer, Vegas fans aren't likely to hold it against the singer.
With Britney Spears' future in the city uncertain, those tickets are going to be a hot commodity. For those fans lucky enough to snag a seat, it will be a coveted chance to see the singer one more time.