Britney Spears & Ryan Gosling's 'MMC' Reunion Is A '90s Dream Come True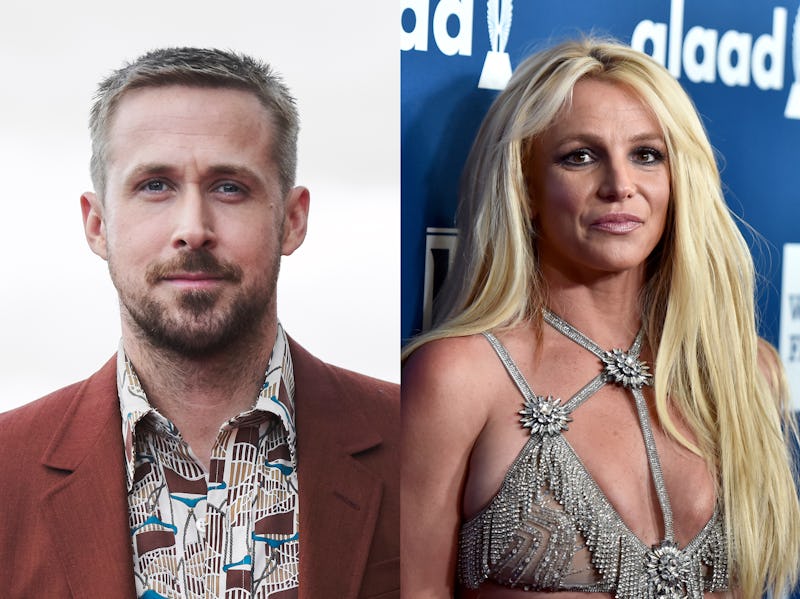 Carlos Alvarez/Getty Images Entertainment/Getty Images; Alberto E. Rodriguez/Getty Images Entertainment/Getty Images
It seems like ages ago now. But once upon a time, Britney Spears and Ryan Gosling were costars on The All New Mickey Mouse Club. In the early '90s, the two of them were hamming it up in the Disney show, alongside other stars like Christina Aguilera and Justin Timberlake. So when Ryan Gosling and Britney Spears had a mini MMC reunion at a taping of The Ellen DeGeneres Show this week, it was a pretty big deal.
More than two decades have gone by since the show aired, and it sounds like Spears and Gosling didn't stay in touch much after being on the show. During his Ellen appearance, Gosling admitted that he couldn't remember the last time he saw the "Till The World Ends" singer, saying that his bad memory was "a sign that it's been quite a while."
Still, it looks like the reunion was a happy one. The First Man actor took a photo with Spears and DeGeneres backstage, and the trio was all smiles. Plus, Gosling shared plenty of praise for Aguilera and Spears, explaining how impressed he was with their performances on the Mickey Mouse Club. He told DeGeneres,
"I remember when we first got to the show, they sort of had all the kids perform for one another. And it was sort of, I remember it was Christina Aguilera, and then Britney performed, and I remember thinking, 'Oh, okay, so they're, like, freakishly talented. I was used to working with talented people, but that was another level."
And if you're wondering what Gosling's talent was during these performances, he had a surprising answer. When DeGeneres asked if he sang or danced, he said, "I think I was just like, 'I'm Canadian!'"
Naturally, DeGeneres couldn't help sharing a throwback photo of the two stars together, too. There's a picture of Gosling and Spears on the show at 2:18 in the video above, complete with a '90s-style ruffled shirt for Spears and a sassy grin and thumbs-up from Gosling.
As E! News pointed out, this isn't the first time Gosling has praised Spears. In a 2013 interview with The Sunday Times, Gosling called the singer a "sweetheart," E! News noted. The same year, Spears shared with DeGeneres that while the cast members played Spin the Bottle together, her only liplock was with Timberlake, not Gosling, according to E! News.
Meanwhile, during Spears' appearance on Friday's Ellen episode, the singer shared with DeGeneres that she had a special announcement for her fans. Unfortunately, the "announcement" was actually that another announcement is coming next Thursday, October 18. For curious fans, though, DeGeneres did reveal that Spears' news will be posted on her YouTube channel. Could there be new music on the way?
The Mickey Mouse Club alumni may not all be super close these days, but it's nice to see that Gosling and Spears still have happy memories about their time together on the show. Now all fans need is for Aguilera and Timberlake to join in on the reunion fun — that would be one heck of a throwback.