Britney Spears Posted A Video With JT's Music Playing In The Background & Fans Had *Thoughts*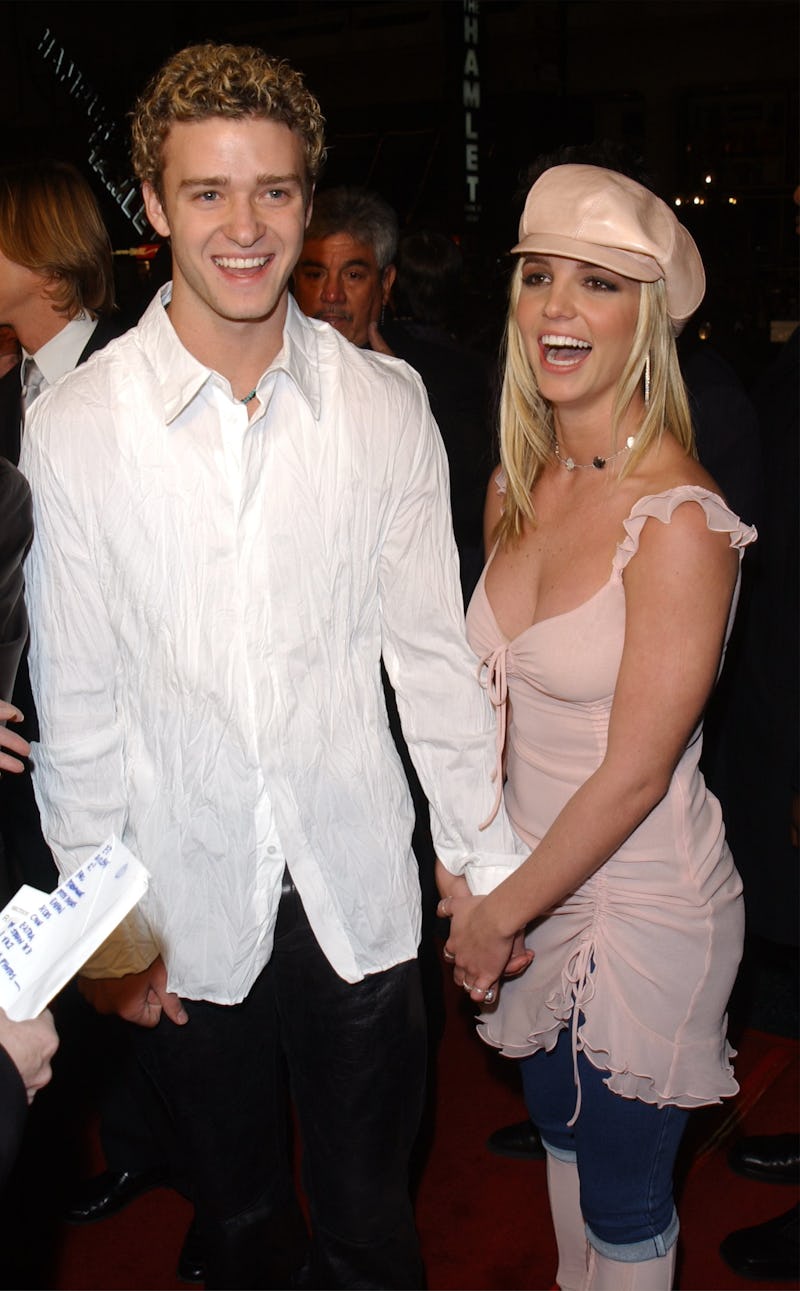 Vince Bucci/Getty Images Entertainment/Getty Images
Pretty much everything Britney Spears posts on social media becomes news, especially to the Britney Army. As Cosmopolitan pointed out, Spears worked out to a Justin Timberlake song on Instagram, and fans just couldn't handle it. Most people avoid anything that has to do with an ex, but Spears is not one of those people. Even she can't help listening to Timberlake's music and no one can blame her for that — he does have some great songs.
On Oct. 20, the pop star shared a video working on some backflips with the caption, "Nothing like flips and Mother Nature!!!" There was no mention of her famous ex-boyfriend, but if you turn on the sound, she's clearly listening to Timberlake's song "LoveStoned/I Think She Knows" from Futuresex/LoveSounds. Sure, that's a great song and the backflips are definitely impressive, but that's not what her followers are talking about in the comments.
Fans are downright shook. One person commented, "She is listening to Timberlake's song and it's just not something the fandom can look past." Another fan wrote, "JT PLAYING?? .... I'm so affected by this @britneyspears. I need someone to come hold me." It's fair to say that this person isn't the only one who's affected by this, given the plethora of replies.
One person even declared, "This Justin Timberlake song took me out. I'm sitting in a pool of my own tears. This is too much. Do you even care about my feelings?" Another added, "The shock is the JT song." It really is, since this is not the first video Spears has shared showing off her gymnastics abilities.
Some fans were even looking for greater meaning in the choice. One person commented, "Did she just use JT's song? What does this mean?!!! I am excited and confused." Does it really mean something? Or is it just a great song with a beat to do backflips to?
Well, one member of the Britney Army viewed it as a power move and wrote, "She's got MF JUSTIN playing in the background, fml biggest power move I've EVER witnessed." Whether it's actually a power move or not, it's evident that Spears is not someone to get caught up in the past. This compliment is definitely applicable: "Britney playing justin in the background? The growth in this woman is everything!!!"
What does Timberlake think about this? As of this moment, he has not acknowledged the noteworthy Instagram, but some people did tag him. On top of that, multiple fans even brought back their combined couple name: Justney. One person wrote,
"Guys can you imagine that after almost 17 years JUSTNEY is still special and alive for us. Pinky and Stinky you have to make a musical collaboration for your fans. You to make history of pop music, come back @britneyspears @justintimberlake."
While there's no official announcement of a Justney reunion, the two exes are open to the idea — professionally, that is. In an August 2016 question-and-answer segment for Most Requested Live, Spears was asked to name people she wants to collaborate with.
She named Aerosmith and Gwen Stefani, which are both quality picks, but there was another person who stood out. At the 4:13 mark of the video, Spears declared, "Justin Timberlake is very good."
Just a month later, Timberlake confirmed that he would collaborate with Spears in an interview with E! News. At first he seemed pretty shocked that the "Toxic" singer mentioned him in that interview, saying, "She did? Sure! Absolutely, absolutely." He explained why he was not aware of her comment, "I have a 17-month-old so I don't get the headline news."
The father-of-one added, "I apologize for not being in the know…I'm accessible, give us a call!" Was this Instagram post Spears' version of "giving him a call"? That's up for debate, but clearly she's a fan of his music, so maybe they should just give the fans what they want and collaborate already?