Brock Turner's "Outercourse" Appeal Just Got Struck Down By A California Court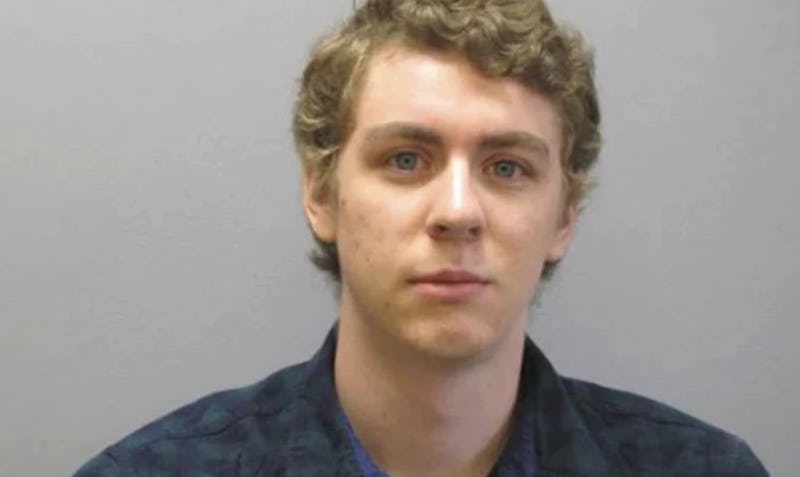 uncredited/AP/REX/Shutterstock
Two years after a jury convicted him of sexually assaulting an unconscious woman, Brock Turner's appeal for a new trial was rejected by a California Court. Turner's appeal was based on a claim that he only wanted "outercourse," AKA sexual contact with clothes on. Turner's lawyer, Attorney Eric Multhaup, also argued that Turner's trial had been a "detailed and lengthy" set of lies, according to The Huffington Post, and that he never intended to rape the woman.
In 2016, Turner was charged with three felonies: assault with intent to commit rape of an intoxicated woman, sexually penetrating an intoxicated person with a foreign object, and sexually penetrating an unconscious person with a foreign object. Turner was hoping for a new trial so these felony convictions could be overturned.
The three-judge panel at the state Court of Appeal had no interest in this argument. Turner's bid for a new trial was denied, and that there was "substantial evidence'' that he had received a fair trial. Now the convictions, his probation sentence, and his sex offender status will stand.
Turner's case became just as notorious for the outcome as for the crime itself: the former Stanford University swimmer was only given six months jail time, a sentence handed down by former Judge Aaron Persky that was widely believed to be way too lenient.
In fact, people were so infuriated with Persky's sentencing (and the way he talked about the sentencing) that Stanford Law Professor Michele Dauber gathered approximately 100,000 signatures to introduce a ballot to recall Persky.
In June 2018, Persky, a Stanford alumnus, was the first California judge in 86 years to be voted out of office.
Though the woman that Turner assaulted has stayed anonymous, the letter that she wrote to Turner and published online has since gone viral. She was heartbreakingly honest about the trauma of being assaulted and said she couldn't technically prove that the assault was "unwanted." Part of "Jane Doe's" speech read,
I was not only told that I was assaulted, I was told that because I couldn't remember, I technically could not prove it was unwanted. And that distorted me, damaged me, almost broke me. It is the saddest type of confusion to be told I was assaulted and nearly raped, blatantly out in the open, but we don't know if it counts as assault yet. I had to fight for an entire year to make it clear that there was something wrong with this situation.
Turner only ended up spending three months in jail before being released in September 2016. By December of 2017, Turner had filed for an appeal.
According to Judge Franklin Elia, that appeal wasn't going to go anywhere. Elia spoke on behalf of a unanimous panel on Wednesday, according to ESPN, and told Turner that there was "substantial" evidence that he'd known "Jane Doe" was unconscious when he assaulted her.
If Turner chooses to, he could continue onward and try to petition the California Supreme Court for a hearing. His attorney has not yet confirmed if they plan to do that, or drop the case once and for all.