I Tried Brooklinen's New Towel Collection & I Have Never Been More Excited About Towels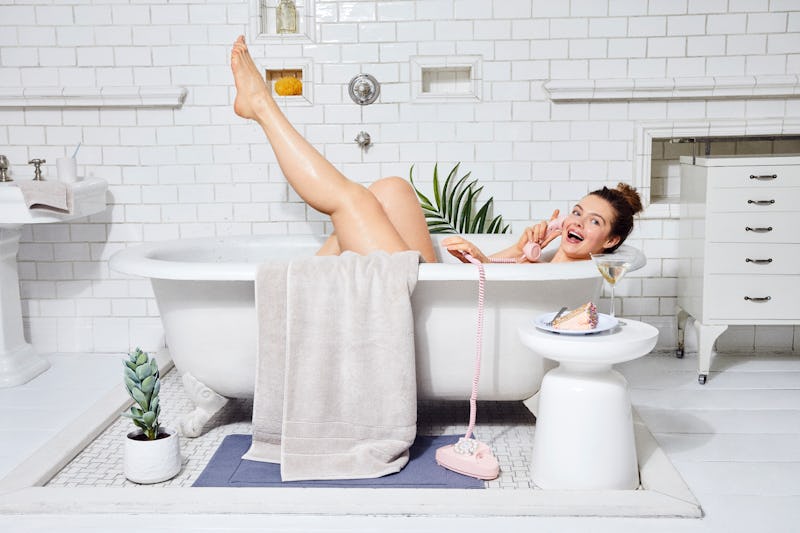 I am the child of financially sensible Polish and German parents, sturdy people who know when to splurge and when to save. When it comes to everyday home goods, my instinct was always to save — until, of course, I tried Brooklinen sheets for the very first time. The brand's ultra luxe bedding (available in three different types of fabrics) has utterly transformed my sleeping experience from one of endless, somewhat sweaty tossing and turning, to a cool, breezy, unbothered slumber.
Naturally, when I heard about Brooklinen's Super-Plush Towel collection, I didn't hesitate. When I heard that they weren't just making towels, but washcloths, and bathmats, and hand towels, and (wait for it) extra large bath sheets, perfect for enveloping your entire body and treating yourself to an at-home spa moment, I was virtually foaming at the mouth. Just like good sheets, there's simply nothing — nothing — like a good bath towel.
Brooklinen's Premium Plush towels are made from 100 percent combed Turkish cotton — if you've already tried a Turkish towel, you know exactly what to expect. This particular kind of cotton is extremely soft, but also extremely absorbent. In other words, it's not one of those towels that allows the water from your body to turn cold before it absorbs it, making the sensation of drying off feel like a futile exercise.
Brooklinen claims that the towels are the "plushest on the market," and after testing them out, I concur. In a press release, the brand explained that the noticeably soft cotton is a result of the craftsmanship: Each towel has a special "Z-twist" terry weave, guaranteeing that they will hold their shape through endless washes. That last bit is yet to be determined, but I definitely have high hopes.
The Super Plush collection comes in two sizes: Bath towels, and bath sheets. The brand also designed washcloths, hand towels, and bathmats from the same premium Turkish cotton, meaning you can deck out your entire bathroom if you feel so inclined. Right now, the towels, washcloths, and bathmats are all available in four colorways: White, Putty, Smoke, and Graphite — shades you might recognize from their linen collection.
As I mentioned, a good bath towel is worth a bit of indulgence — after all, you work hard, and you deserve to feel like you're in a spa every time you take a shower. Brooklinen's Super Plush towels aren't the cheapest on the market, but they're certainly worth saving for. Towels are available for purchase in sets of two: The Super-Plus Bath Sheet set of two is $89; the Super-Plush Towel set is $69; the Super-Plush Hand Towels are $39; the Super-Plush Washcloths are $19, and the Super-Plush Bath Mat is $25.
You can also purchase several different versions of the Super-Plush Complete Towel Set. The Super-Plush Complete Towel Set includes two Bath Sheets, two Hand Towels, two Washcloths, and one Bath Mat — the price is $195 for the entire set. The Super-Plush Bath Sheet Set includes two Super-Plush Bath Sheets and two Super-Plush Hand Towels for $109, and the Super-Plush Bath Towel Set includes two Super-Plush Bath Towels and two Super-Plush Hand Towels for $89.
There are plenty of options to mull over here, but one thing is certain: You need to have at least one Brooklinen towel on or around your body, as soon as humanly possible. The new collection is consistent with the quality you're used to from the brand, and there's simply nothing like getting excited about the smaller, albeit finer, things in life. I never thought I'd be this excited about, well, literally any towel — but I am about Brooklinen's Super-Plush collection, and getting out of the shower will simply never be the same again.