Stephanie Beatriz's 'Brooklyn Nine-Nine' Co-Stars Made Her Wedding Day Extra Special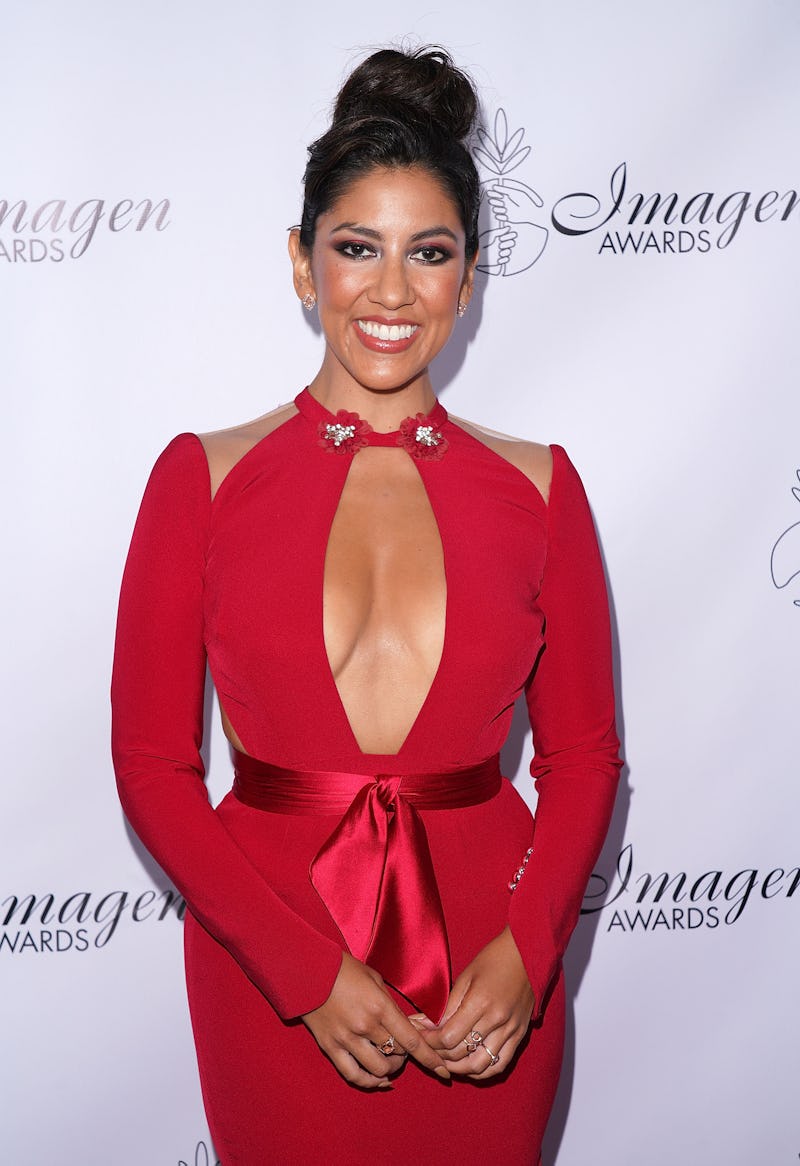 JC Olivera/Getty Images Entertainment/Getty Images
OK Nine-Nine fans, this is not a drill. Remember Rosa and Adrian's great big matrimonial fake-out of Season 4? Thankfully, second thoughts were evidently not in order when Brooklyn Nine-Nine star Stephanie Beatriz got married over the weekend, according to several new reports. On Saturday, Oct. 6, Beatriz (who plays Detective Rosa Diaz on the show) tied the knot with her real-life partner, Brad Hoss, in a ceremony dreamed up by the duo themselves. Even better? Some of Beatriz's pals from the 99th precinct were there to celebrate the newlyweds' big day.
"That's all we talked about this last week at work," Beatriz told People during a pre-wedding conversation, referencing her Brooklyn Nine-Nine family and their obvious excitement about the wedding. And per the actor's next comments, it sounds like the cast reacted in perhaps the most Nine-Nine way possible. "We were just like, 'Yeah, we can't wait to party!'" Beatriz finished.
So, which of the 99's lovably goofy staff actually made it onto the dance floor Saturday night? Less than 24 hours later, photos from Beatriz and Hoss' wedding are still trickling in. Which makes sense, since the evening's festivities probably didn't finish up very long ago in the first place.
But, if the current output of nuptial-related posts to social media from Beatriz's fellow 99-ers is any indication, then it looks like at least two of the actor's co-stars were in attendance Saturday night. Unsurprisingly — given the trio's sweet public declarations of friendship over the years — those co-stars definitely in attendance were Melissa Fumero and Chelsea Peretti, otherwise known as Detective Amy Santiago and Gina Linetti, respectively.
How do we know? Both Fumero and Peretti were pretty active on Instagram throughout Saturday afternoon and into the evening. The first — and perhaps most swoon-worthy — post came from Peretti, who shared a photo of Beatriz and Hoss standing hand-in-hand, during what appears to be their actual wedding ceremony. Appropriately, Peretti captioned the perfect shot with two heart-eye emojis and the hashtag, #stephandbrad.
Fumero, for her part, chronicled the couple's wedding reception a bit later on in the afternoon via her Instagram Story. "En route to celebrate #StephandBrad," the actor wrote, captioning a selfie which sees her donning a truly fabulous cheetah-print ensemble. Two more clicks through Fumero's IG Story gives inquiring fans a glimpse into what Beatriz and Hoss' wedding reception actually looked like, courtesy of a quick Boomerang video from inside. (Seriously, those who'd like to take a peek at the happy event, in all its mood-lit glory, should really check out Fumero's Instagram Story.)
Per Beatriz's pre-wedding conversation with People, it sounds like Fumero and Peretti weren't the only 99-ers holding down the fort at Beatriz and Hoss' blowout reception. So, while Andy Samberg might not have been vocal about the wedding on social media Saturday, Beatriz's earlier comments to People do seem to suggest pretty strongly that Samberg was totally set on attending just several days before. And why was that, exactly?
"I think Andy's excited to have another Hot Cheetos burrito," Beatriz joked at the time, referencing part of her and Hoss' mastermind wedding plan. Which, as she told the publication, featured classic L.A.-style food trucks in lieu of traditional hors d'oeuvres. Plus, much like the rest of the Brooklyn Nine-Nine cast, the actor said Samberg was probably looking forward to busting out some dance moves, too. "I think all of us are excited to dance," Beatriz told People. "Everybody loves to hit that dance floor."
Unfortunately, much as Brooklyn Nine-Nine fans would probably love to see videos of the cast "hitting the dance floor" at Beatriz's wedding, it doesn't seem like anything of the sort exists — or is publicly available, anyway — right now. With that said, here's to hoping it still happened. And, here's to also hoping there are lots more photos and videos from Beatriz and Hoss' wedding where all these came from.