A Nevada Brothel Owner Who Wrote 'The Art Of The Pimp' Is A Step Closer To Being Elected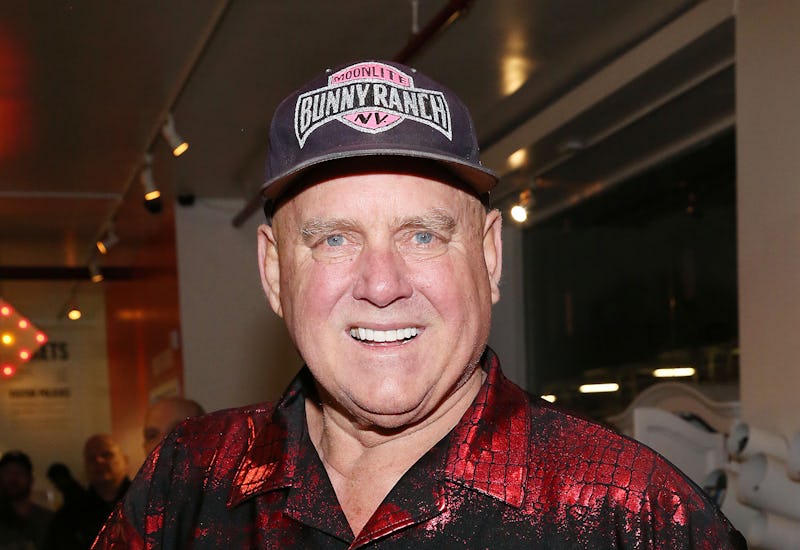 Sylvain Gaboury/StarPix/REX/Shutterstock
The man who has dubbed himself "The Trump from Pahrump" just clinched a victory in a Republican primary race in Nevada. The GOP winner, Dennis Hof, runs six brothels throughout rural areas of the state, and will come into November's race for a state legislature seat as the favorite against his Democratic opponent.
This isn't Hof's first political gambit. As ABC News reported, he tried for the same seat in 2016 while running on the Libertarian ticket. Hof lost that race to the Republican contender, a hospital executive named James Oscarson. That would be the same Oscarson who Hof just defeated in the GOP primary.
Hof credited his win to a political repositioning based on President Trump's unforeseen success. "It's all because Donald Trump was the Christopher Columbus for me," Hof told the Associated Press. Before Hof bested his opponent, Oscarson had won and served three terms in office.
As far as notoriety goes, Hof brings a heap load more with him than your average state politician. For starters, the HBO series Cathouse chronicled the lives of him and a handful of the women who worked at his Moonlite BunnyRanch brothel. The series was first broadcast on HBO in 2005.
Hof also published a book whose title — The Art of the Pimp — riffed on the famous bestseller by Trump himself. The book offered a unique take on the traditional memoir, with Hof agreeing to include several passages from his ex-girlfriends — who also happened to be ex-employees of his brothels — that were highly critical of Hof. According to Esquire, one ex-girlfriend named Cami wrote that Hof was a "soulless pimp," and claimed she had been "emotionally and mentally abused" during her relationship and employ with Hof.
Parker, another one of Hof's former girlfriends/sex workers, described her experience with Hof as a threat to her very life. News.com.au reports that Parker wrote she developed a "nearly deadly" eating disorder due to Hof's desire for an ever-skinnier girlfriend. "Everyone knows Dennis likes skinny, little girl bodies," Parker wrote, after detailing her extreme weight loss on his watch — from 107 pounds to just 96 pounds. She also claims Hof dumped her after she turned 23, quoting him as saying she'd grown "too old" for the then-65-year-old man.
In response to Parker's account, Hof wrote a brief reaction: "Can you believe I put up with that craziness for so long?"
The book also shares some fascinating tidbits about Hof's life outside of brothels, including his relationship with Fox News host Tucker Carlson. The two are apparently close enough that Carlson once gave him a personalized gift — a cane constructed wholly from the penis of a bull. And Hof's relationship with his very best friend — adult film star Ron Jeremy — would likely raise eyebrows in any other context. As News.com.au reports, Hof writes that he refers to Jeremy as his "b*tch" and uses the "she" pronoun when talking about him.
Most of this is probably not news — or at least, not too surprising — for viewers of Cathouse. But as it's not the stuff most politicians' stories are made of, Hof enlisted the campaign help of a few familiar names. Grover Norquist, the president of Americans for Tax Reform, endorsed Hof and even made an appearance to support him. Trump enthusiast and long-time Republican strategist Roger Stone also cast his name behind Hof, appearing at a rally in April for the insurgent GOP candidate.
With Hof running in a Republican-leaning district, the brothel owner and reality TV star is expected to win his bid for a seat in Nevada's state legislature.