Bryan Broke A Long-Running 'Bachelorette' Trend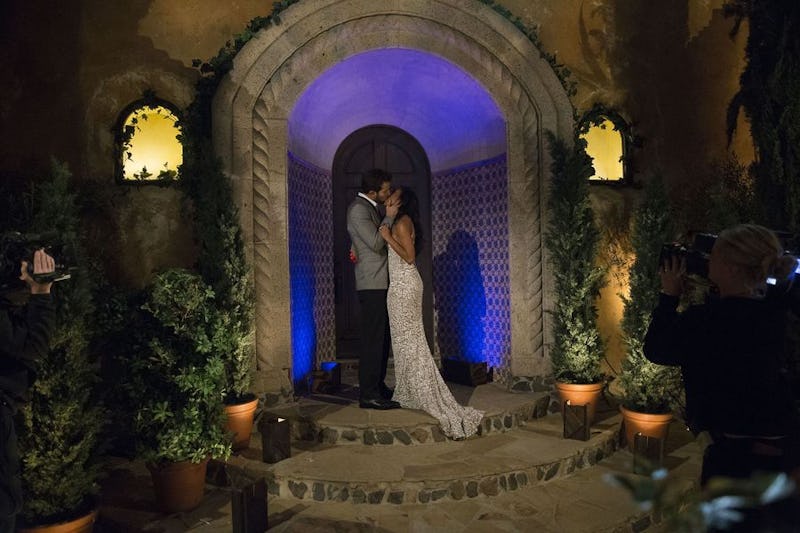 Paul Hebert/ABC
In Bachelor Nation, contestants' ages tend to skew toward the younger side of the spectrum, but Rachel Lindsay's Bachelorette season is breaking boundaries in more ways than one. Not only is she the franchise's first-ever black lead, but at 31, Rachel's also the oldest Bachelorette the series has ever cast. That seems to be reflecting on her suitors, too, as Bryan may be the oldest frontrunner on The Bachelorette to date.
During Monday night's premiere, the 37-year-old chiropractor from Florida caught Rachel's eye early on, eventually winning the coveted first impression rose and the first kiss. Of the men on Rachel's season, he's the oldest of the bunch — in fact, Bryan is one of only six men who are Rachel's age or older, despite that ABC attempted to make her dating pool slightly older than average.
But he's not the oldest contestant to ever grace the show. According to Romper, that title goes to Matt, a then-42-year-old gym owner who vied for Trista Rehn's heart way back in Season 1. Brent Richter is a close second — he was 41 when he appeared on Season 8 with Emily Maynard — and Spero Stamboulis was 38 when he joined DeAnna Pappas' season in 2008.
But Bryan does differ when it comes to his staying power. Matt, Brent, and Spero were all sent home on night one, while Bryan has fast become an early standout. That could be due in part to Rachel's age: In April 2015, The Huffington Post found that the average age for bachelorettes was 27. Rehn, Maynard, and Pappas were all in their 20s when they starred on Bachelorette, so perhaps, to them, a 10-year age gap felt like a stretch.
However, if Bryan ends up as Rachel's final pick, it would actually follow suit with Bachelor Nation's overarching trend. According to the Huffington Post, the average bachelor chooses a winner who is six years younger than himself, while the average bachelorette tends to choose someone who is one year older. Bryan is five years Rachel's senior, but the broader picture is that Bachelors choose younger and Bachelorettes choose older.
Upon first glance, Bryan's success on the show thus far would seem to feed into the outdated stereotype that men prefer younger women and vice versa, but that would overlook the fact that the remaining men are overwhelming younger than Rachel, and they all still have a fair shot at the final rose. Instead, it speaks to Rachel's commitment to what she wants. She's been vocal that she's looking for someone who's serious about finding love and eager to start a family, and Bryan made a point to say that's what he's searching for, too.
Of course, there's a tie to be made between Americans' growing tendency to marry later in life. A 2011 study from Pew Research found the median age for both men and women to marry is at an all-time high, with men marrying at around 29 and women at 27. That's not to say a younger contestant is any less serious about marriage, but it's certainly difficult to detach preconceptions from hard data. If Rachel is dead set on marriage and family, it's not surprising that she opted for an older man.
That being said, Bryan was by and large the most forthcoming about his intentions based on what was shown on TV, and given Rachel's priorities, it seems that's what stood out to her, not his age. At only one episode in, it's far too soon to make any generalizations — but this is shaping up to be a record-setting season in a number of ways.