BTS Dropped A New Single With Nicki Minaj & An ENTIRE New Album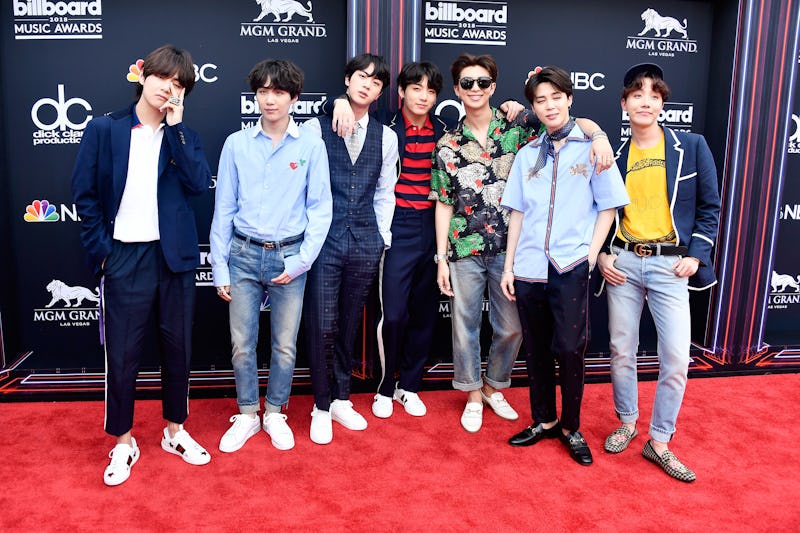 Frazer Harrison/Getty Images Entertainment/Getty Images
If you haven't had a chance to check this act out yet, now is the time. The Korean boy band (and K-Pop idols) BTS is making a strong case for world domination by releasing a Nicki Minaj collaboration on BTS' new single "Idol." The track includes a full verse from the self-styled Queen of Rap embedded amongst BTS' signature mix of English and Korean lyrics, and the song's irresistible beat will have you aching to dance.
The song is the lead single on BTS' highly-anticipated Love Yourself: Answer album. It's the seven-member group's second compilation album, and completes their Love Yourself series, tying together a short film, an EP, and a studio album. (The pieces all live in the same storyline, à la Janelle Monae and the fictional android Cindi Mayweather.)
Forbes reported that in May, the septet's previous album Love Yourself: Tear had become the first K-pop album ever to debut at the top of the Billboard 200. And just months later, BTS seems poised to repeat the same feat with the follow-up, and that was before the boybanders even announced that Minaj would be a part of the project.
According to Billboard, that reveal was made just two hours before Love Yourself: Answer's release on Friday, Aug. 24, when anticipation was already at a fever pitch. In fact, the version of "Idol" that features Minaj isn't even included on the album — her version is available solely as a digital release — nor does the rapper appear in the song's video, also released Friday.
According to Seoul Economic Daily, Minaj wasn't even asked to record a part on "Idol" until Love Yourself: Answer had already been completed. (Obviously she quickly agreed.) So clearly V, Jeon Jung-kook, Jimin, Suga, Jin, RM, and J-Hope know they have a good thing going here. Fans of the K-Pop stars would argue that Minaj is as lucky to be a part of it as they were to get her.
At the end of the day, the track is a true collaboration, with Minaj's agile flow matching perfectly with BTS' bouncy rhythms, catchy lyrics, and seamless transitions between languages. Here are the 35-year-old's bars in their entirety:
"Uh what's good, Korea / You know I've been a boss for my whole career / I'm 'bout to Jet in the leer / And put more than my hands in the air / Hands in the air, put your hands in the air / If you getting money, rubber bands in the air / Never gave an F, they can cancel my care / 'Cause if he look good, throw my pants in the air / I'm here word to John Mayer / Body's a wonderland my face is top tier / I swear watch the ice glare / They be like I'm Gucci but don't shop there / One time, press rewind / Tryna come up off Nicki name press decline / So much power in the mind, yes divine / Take your change you'll never be next in line"
BTS and Nicki Minaj might sound like an odd pairing, but even their personal styles match up. BTS favors bright colors, intense patterns, and bold visuals almost as much as the rapper. So now that they have their first collaboration under their belts, maybe BTS and Minaj will put out a video, too. Because "Idol" is living proof that this collaboration was a match made in heaven, and fans are definitely going to want more.