Buddy The Elf-Themed Cookie Dough Hit Shelves Just In Time For Your Annual Rewatch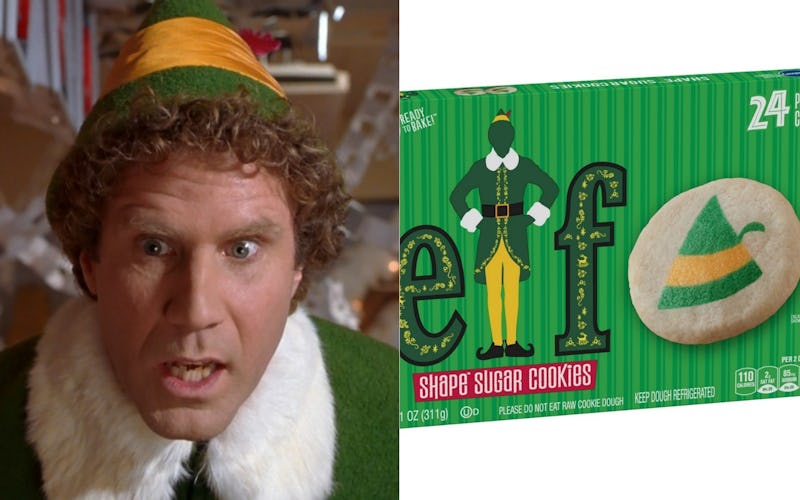 New Line Cinema; Walmart
There exists some debate over the ultimate Christmas film. Classics like Miracle on 34th Street and It's a Wonderful Life come to mind, as do animated classics like Rudolph the Red Nose Reindeer and A Charlie Brown Christmas. Most of the best Christmas films were released decades ago; there haven't been too many noteworthy modern releases.
Except one.
Elf is, without a doubt, one of the most influential holiday movies released in the 2000s. Just look at how many Elf-themed products you can still get 15 years after its release — including this Buddy the Elf-themed sugar cookie dough from Pillsbury, which is all too fitting of the beloved character and his notorious sweet teeth.
Dessert lovers and Elf fans alike, prepare yourselves: each of the two dozen cookies included in each package is emblazoned with Buddy's signature green and yellow elf hat. They are the perfect for leaving out for *Buddy voice* SANTAAA, or for enjoying with a class of hot cocoa after a day in the snow .Instagrammer JunkFoodAdventures recently discovered the package of cookies at Walmart; the image below is from Target, indicating that you may be able to purchase them there as well.
When Elf was released in 2003, it changed the holiday movie game forever — particular by casting Will Ferrell, a Saturday Night Live alum known for raunchy sketches and physical comedy, in the role of an orphan who was raised by Santa in his workshop. When Buddy the Elf grows up and his stature (among other things) makes is apparent he is not, in fact, an elf, he heads to New York City to find his long lost family. His adjustment to the city, and inner identity as an elf causes hilarity to ensue. Zooey Deschanel is also present, sans bangs, plus blonde hair.
The movie has understandably gained a devoted crew of fans, who will undoubtedly be pleased to see Buddy's legacy is holding strong. Here are a few more things you can get in honor of your favorite overgrown elf this year.
1. Funko POP! Movies Elf Collectors Set
2. Mr. Narwhal Shot Glass
3. Elf & Buddy's Musical Christmas
It's likely as the holiday season approaches that you'll be able to grab a package of the Elf-themed sugar cookies from Walmart or Target; it would be a good idea to call your local store first, as online they are listed as "Not Available" at the time of publishing.